What Are Google Posts?
One of the best ways for ac repair companies and appliance repair businesses to increase their prominence in the local Google search results is by claiming and optimizing their presence in Google My Business (GMB) or Google Map Listing. Even though Google Admits this does not guarantee rankings in the Google search results, other SEO experts like MOZ have explained why GMB listings are a crucial factor to boosting your local SEO rankings.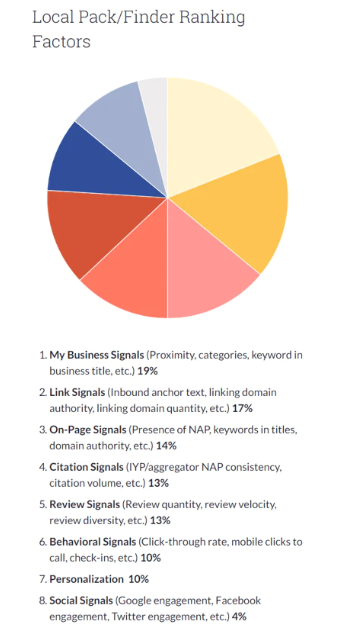 Not only will your local search results see a positive impact from having a Google My Business listing, but even more importantly it's a great way for you to connect with your potential customers that are looking to hire an hvac company or appliance repair company. Let's take a closer look at what this can mean for your marketing efforts.
Google has invested a lot of resources into making their GMB service absolutely stellar. Since it began several years back, GMB has received many updates and upgrades that make GMB listings more effective for local heating and cooling or appliance service companies. The goals of these various features have been to allow local air conditioner repair or appliance repair businesses to provide extensive information for potential customers who would like to learn more about who they are and how this qualifies them as the best air conditioning repair company or appliance repair company in their local service area.
One especially impressive upgrade is called "Posts". This feature allows for additional information about an ac repair company or appliance service company to be presented to interested customers when they search for a specific business online. After the search is made, the prepared Post will be presented front and center on the businesses Knowledge Panel.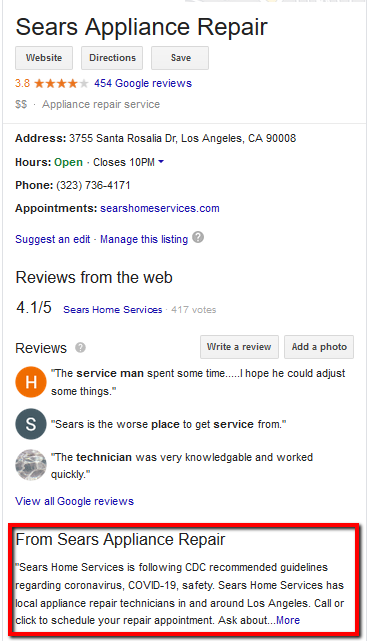 If the customer is interested and clicks on the Post, the window is expanded on the display into an eye-catching and engaging Ad Box that can provide more information.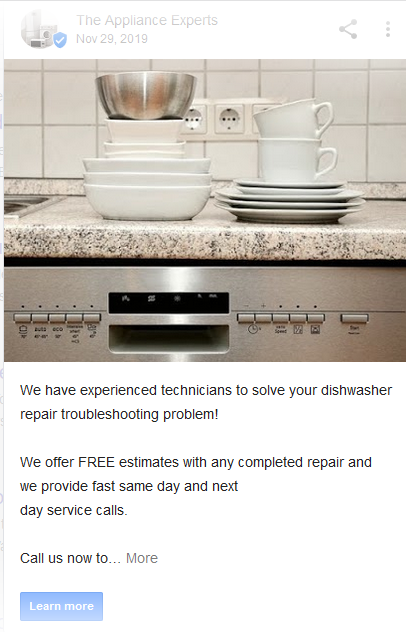 A GMB Post can include all the information needed for that important first impression. You get an image, text content up to 300 words and a link back to your website. While each GMB Post has a 300 word limit only the first 100 of these words will ever be displayed on the Knowledge Panel.
Here Are Some Important Tips To Take Full Advantage Of GMB Posts.
Use only 80-100 of the available words –– even though you will be allotted much more than this, there is no need to be using them all. After all, only the first 80 to 100 words will be displayed unless they click. This is especially true on mobile devices with smaller screens.
For best search engine optimization results, consider placing your ac repair or appliance repair keywords and the most impactful message in these first few words of the Post.
Choose a good sized image, the best image size is 750 X 750. Images that are sized 250 X 250 and below will not even be accepted. Before publishing your new GMB post, make sure to preview it first to make sure it will look appealing to consumers. Another image size that you can try to also gives good results is 400 X 300.
If you have an image that features text content, it is quite likely that the text may be hard to read on a mobile device. If possible, use images that have no text content.
Consider this your chance to meet a customer face to face so be conversational when writing the content for your posts.
Make sure the page that you link to on your hvac company site or appliance repair website, is going to a relevant page that will provide visitors with the information they are looking for. For example, if you write a post about refrigerator repair and you have a page on your website that is about the different refrigerator problems that you fix, then that would be the best page to link to.
The Different Types of Google My Business Posts
A great way to use GMB Posts is for announcing your latest events, promotions, deals, special offers, new service releases right on the Google. While there are several different types of posts that can be created, you will find that you only use a few types to promote your heating and cooling company or appliance service company.
Book an appointment

Order Online

Buy

Learn More

Events

Get Offer

Sign Up
When you use the "Book an Appointment" button or Call To Action, select the Booking option and link this back the scheduling page of your website. You could also just include the phone number or contact information to schedule the appointment right in the post content.
Using Google Posts to Get Local Consumers Attention
If a potential customer is searching for your air conditioner repair company or appliance service business online, the knowledge panel for the company will take up a good amount of the visible space on the search engine results page.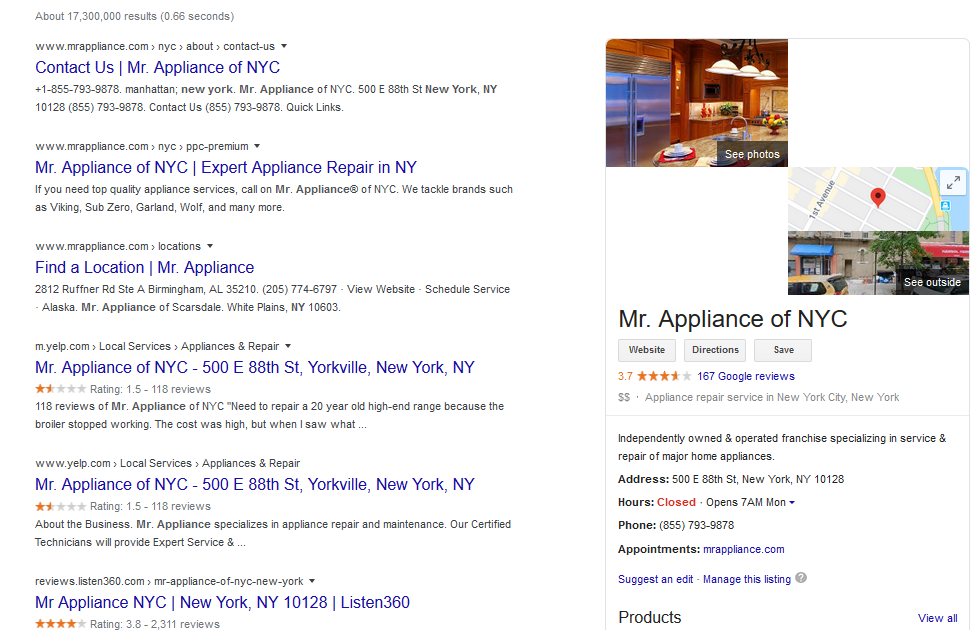 Be sure to use this valuable real estate to its full potential with Posts that will grab your local customer's attention.
This space must be dedicated to featuring something that is valuable to your potential customers.
Create a GMB Post Calendar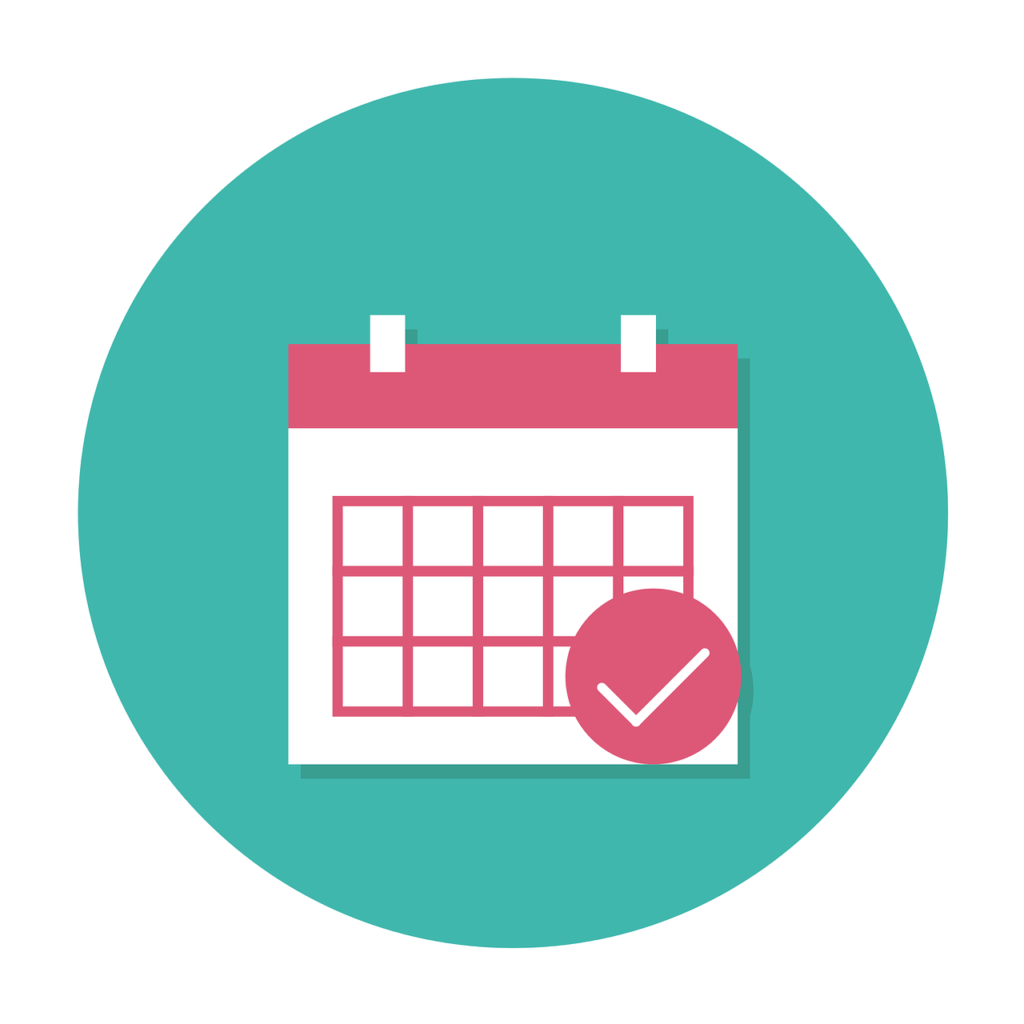 All online marketing agencies will use some type of marketing calendar such as blog post calendars, social media calendars and print ad calendars, so why not a GMB Post Calendar. If you are not using an agency to do your online marketing and instead you are doing all your marketing in-house, you may want to consider using a marketing calendar to help keep your marketing consistent. Be sure to spend plenty of time learning about using GMB posts and planning the types of posts you will create and when.
The GMB post feature is a mix of SEO, marketing, creative and public relations. And you will also need to get everybody on your marketing team to give input on the different types of Posts that you will publish or schedule on a daily or weekly basis, for holidays, special offers and promotional activities etc.
Get Creative and 'Standout' From Your Competition
Many marketers believe that Google My business Posts are more a part of the overall marketing function as opposed to just a digital marketing strategy.
But what if you are a one man operation and have no marketing team?
We have good news for you! Google has a program known as Small Thanks With Google, this program allows small businesses to take advantage of their online reviews from their Google My Business listing and use them to create and design materials that can be posted on social media, print ads and more.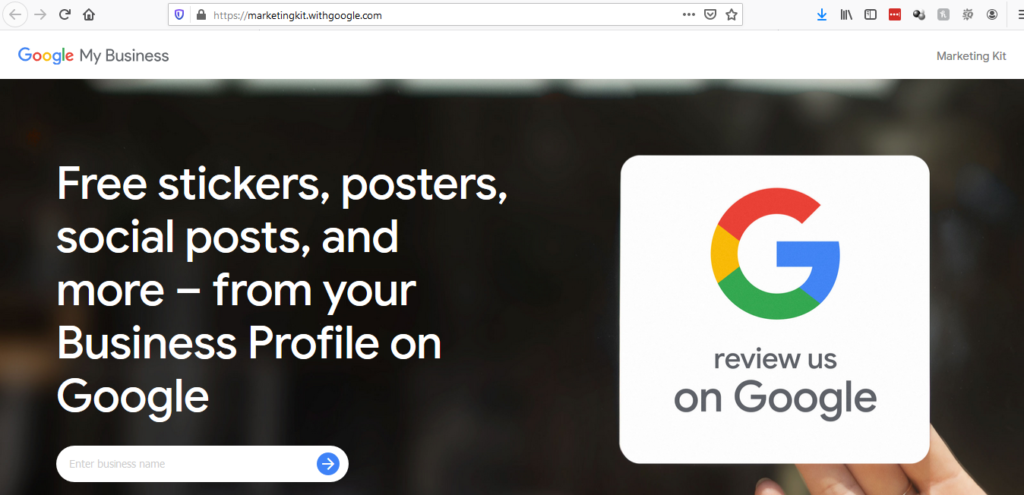 This Small Thanks program can provide your air conditioning repair company or appliance repair business with a wide variety of useful design materials that can be used for promoting your business –– furthermore these pre-designed images can be used seamlessly in your Google My Business Posts.
You Posts will remain "Live", for a full seven days, except for events which will stay live until the end of the event. But, don't think that all your hard work and creativity is wasted, older posts are archived and recycled for further use later. This allows consumers to go back and look over some of the previous Posts made from your business.
Creating Content That "WOW" Your Customers
One of the hardest things for some people is coming up with creative content. Here are some creative content ideas that can help you get your creative juices flowing.
Make a sentence summary of your latest blog post and link back to that.

Talk about any trade shows or newspapers your business will be featured in and any other events.

Got some Video content on YouTube, link to it.

Have a new ac repair or appliance repair service you are excited about, tell them why!

Have a special employee that going above and beyond with customer service? Talk about them.

Do you have an opening for a position? Who are you looking for?

Just got a 5 star review? Brag about it in your posts.
The possibilities are truly endless!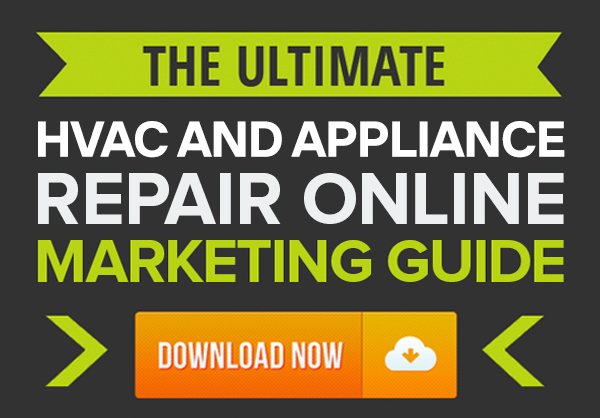 Google Is Just Getting Started!
We can be sure that Google is thinking of the next biggest thing right now. We can't be sure what that will be, but with the speed they have been churning out new innovative features for attracting and engaging customers, we can rest assured it will be pretty amazing.
Looking for hvac business or appliance repair lead generation? Contact us today to see if your service area is still available.
You can also check out our hvac seo guides for tips to help with your business marketing online.