Optimize Your HVAC Company Or Appliance Repair Google Map Listing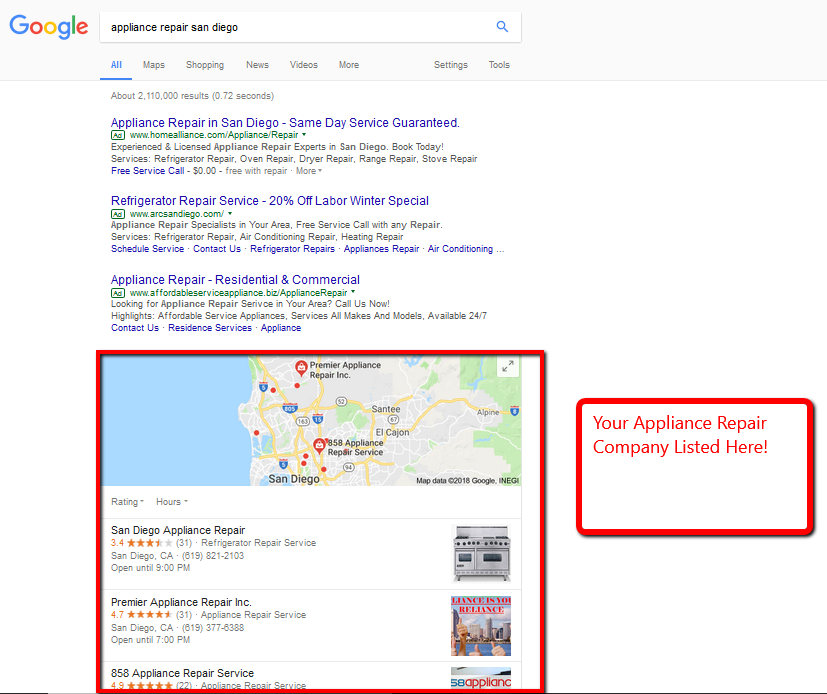 Google Maps aka Google Places or Google Local are all the same thing, the name just changed over time, I just wanted to mention that just in case you are already familiar with one of the other names.
There are 3 main criteria for getting your heating and cooling company or Appliance Repair Business listed in Google Maps for important keywords like "Appliance Repair + Your City."
Optimize Your Google Map listing.

Getting real reviews from your existing customers within your local service area
You are probably saying you can handle #1 and #3 on your own, but how the heck does someone optimize a Google Map listing? In this post we are going to discuss just that.
If you don't already have your Google Map listing claimed and you want to get step by step instructions you can check out one of our other air conditioner repair and appliance repair marketing post on that topic by clicking here.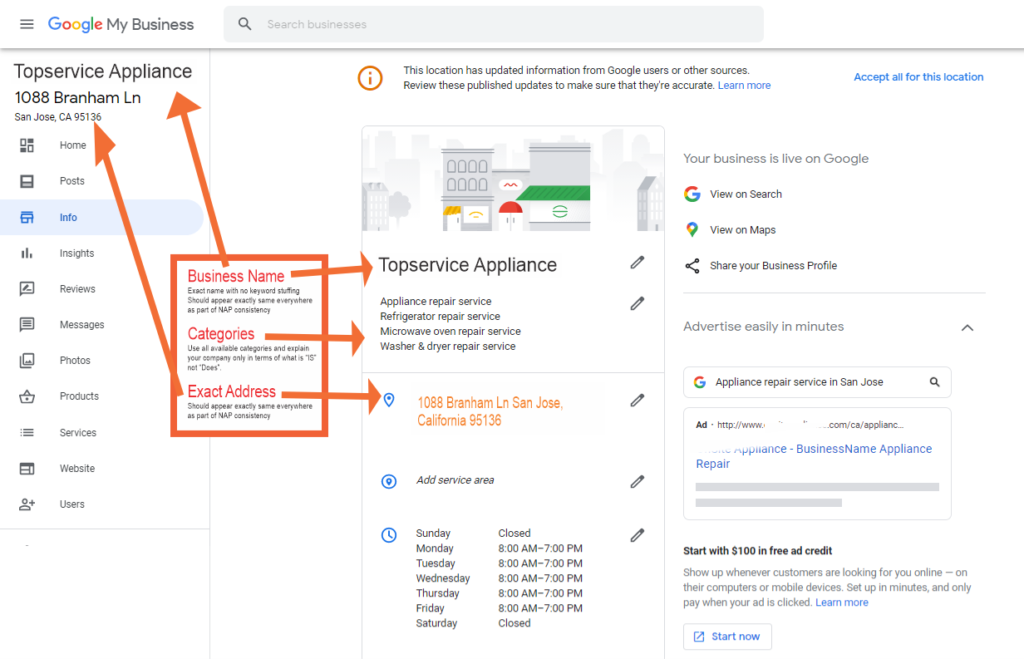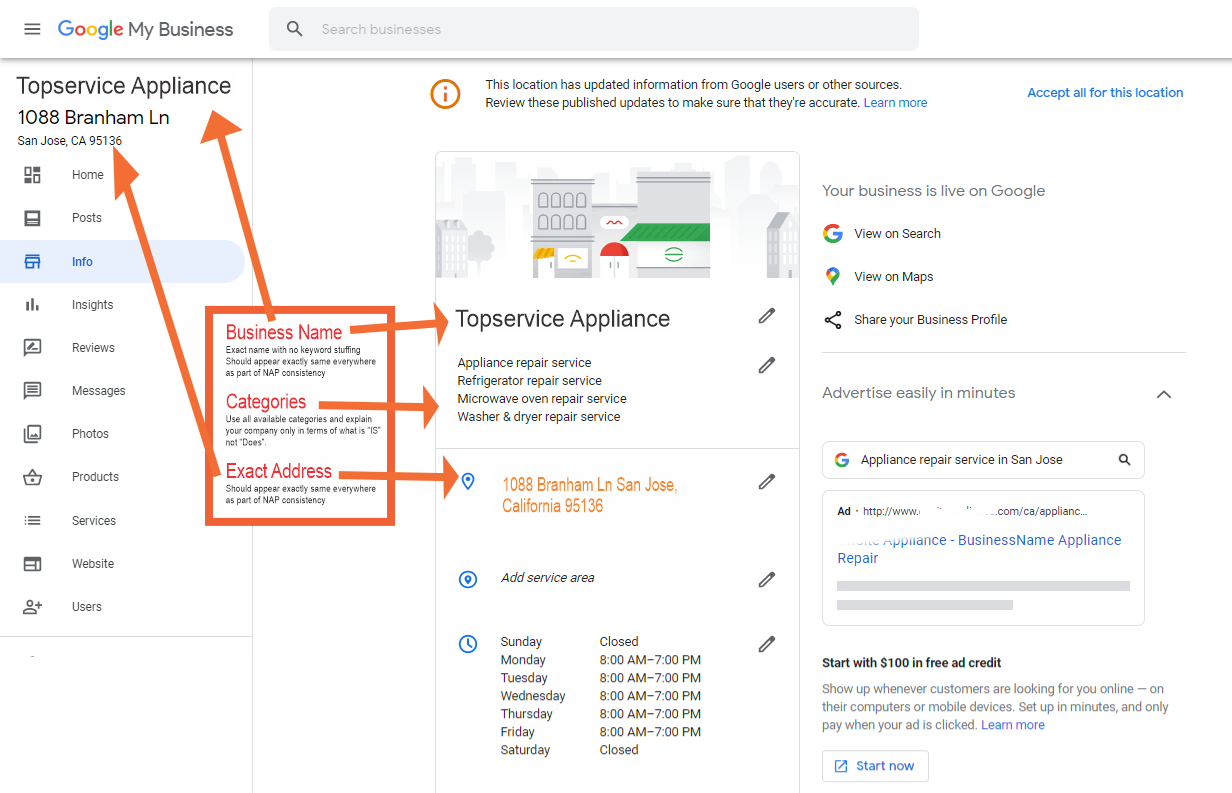 Why it is critically important to optimize Google My Business listing for your hvac or appliance repair business?
Getting listed on Google My Business (Google Maps) is the best and easiest way to provide Google itself and your consumers with a wealth of information about your ac repair or appliance repair business. Google will pull that business information from your listing to populate different sections of its search results pages including Google Maps and the knowledge panel usually displayed with on the right. The information will also assist with voice search results and all apps on Google that are important for your business to have a strong local search presence.
It is usually easy, quick and free to set up a Google map listing for your air conditioning repair or appliance repair service business. But after that, you have to start optimizing the listing which helps improve it to show up more in local search results.
What it means to optimize your Google My Business (GMB) listing is to update and use it in any way that helps to tell Google everything it should know about your business, how to list the business more accurately, both in the right places and at the right times. That means when potential customers type in a local search term in Google search and then come across your GMB profile or Google Maps listing, it will best impress them in terms of meeting the needs defined in their search keywords.
Let's get started on discussing some of the best practices for optimizing your Google Map listing.
#1: Ensure the accuracy of your NAP
Getting the basics right should be the first most important step to take towards optimizing your google maps listing. That includes your NAP or the fancy abbreviation that simply stands for the 'business name', 'address', and the 'phone number'. These basic details must always be not only correct and up to date but also consistent across all your other business listings in various online directories or local business citations. Your business discovery is highly boosted through citations as customers can easily find your business. Google also obtains information from the local citations to help rank your business.
Business Name – Make sure that you use the registered name of your air conditioning repair company or appliance service business and don't try to include any keywords here that you would like to rank for. For example, if your legal company name is "Ron's Appliance" do not add keywords to it like "Ron's Appliance Repair Fort Lauderdale." This goes against the Google Maps terms or service and you run the risk of getting banned or not ranking well.
Address – Use your legal address, now if you are a smaller operation and your home address is also your business address, still list it in the address field, you will have an option to not show your address, but Google still needs it so that they can send you a verification postcard to verify your hvac business or appliance repair Google Map listing.
The address you use for Google Maps should be in the exact format as the address that you have on other heating and cooling or appliance service Online directory listings like Yelp, CitySearch or Yellow Pages, etc. In the SEO industry, this is referred to as N.A.P (Name, Address, Phone Number), the consistency of your N.A.P is an important factor in ranking your listing.
Phone Number – You may be tempted to use an 800 number here, but don't. A local number is best as it will help you convert more consumers in your local service area, when consumers see an 800 number they normally think of large nationwide air conditioner and appliance repair companies who will charge them an arm and a leg to fix their home appliances, so instead they are looking for a local guy or gal that is close to their home address. Same also applies for Phone number, make sure it matches the phone number that is on other directory listings.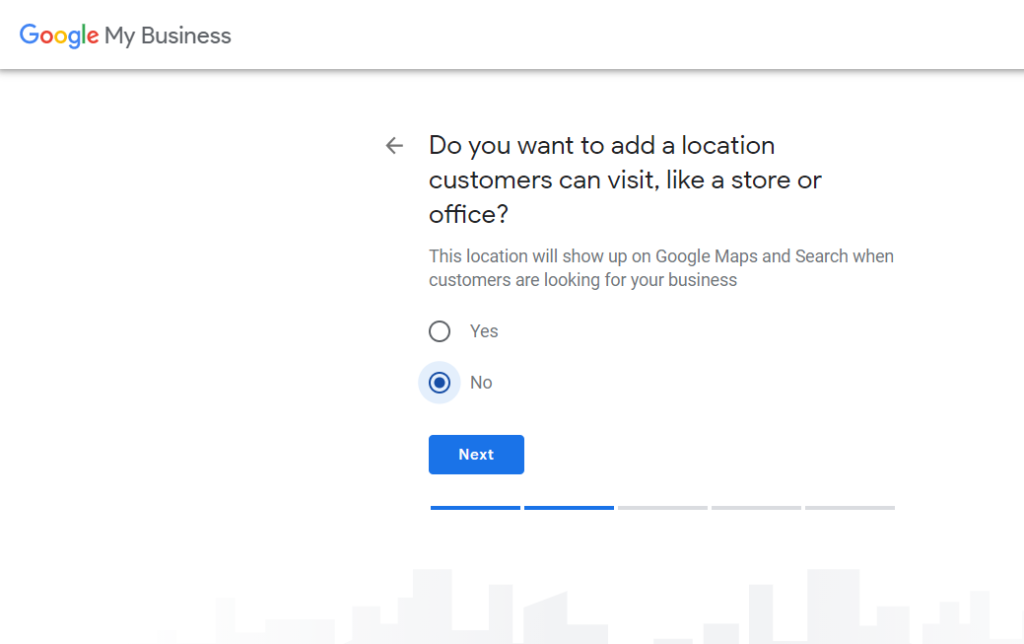 Location and Service Area – This is where you will have the option to display or not display your address, the options you will see are:
NO, all customers come to my location

Yes, I serve customers at their location
Unless you have a physical office location that you want clients to come to so that they can buy parts or if you sell appliances, then your best option is #2. You will see a check box that says, "Do not show my address." If you use a P.O. Box or you have an address with the UPS Store, you won't be able to verify your listings, only physical home or business address will work.
#2. Claim your GMB short name
Claiming your short name is the next step you should take after verifying your GMB account. It is basically a custom name that your potential customers or local search users can easily use to find and recognize your ac repair or appliance repair business. Google recommends using for the short name, what customers often like to refer to your business or at least something that is relevant or is associated with it.
The short name url takes a format like "g.page/[yourcustomname]" and customers can enter it directly into a browser's address bar to access the profile of your air conditioning repair or appliance repair business. A location if included makes the business short name more distinct, so include your city or neighborhood but still keep the short name as simple as possible so that customers don't have a hard time remembering it. A short url that you can easily share with your customers and request reviews will be provided once you create a short name.
Most hvac companies and appliance repair businesses normally have multiple locations. It is possible to optimize GMB and for each of the locations claim a short URL while adding your location in the manner Google suggests. A good example of a short name format can be something like [companyname][branchlocation] which should be consistently followed across all locations for your hvac business or appliance repair business.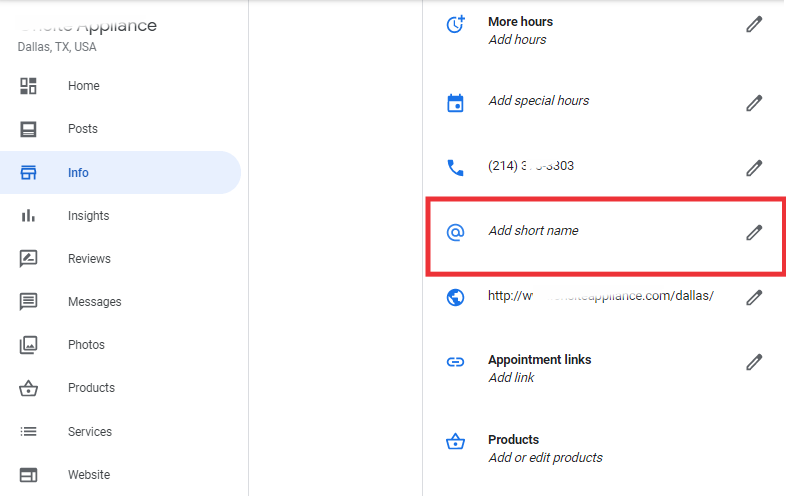 #3. Writing your perfect business description
As part of your GMB optimization, one of the most basic things to do is to add a written text for the description of your ac repair or appliance repair business. Describe it in a manner that is authentic and engaging without promotions or sales references. Include your brand story, history and mission while also focusing on one or two keywords that you should introduce in the first few lines or paragraph. A location keyword should also be included since the optimization process is required for local search purposes.
#4. Choosing the right category and sub-category
When optimizing your GMB listing, the categories you end up choosing do play an important role as they let Google know what's relevant for your business as far as local searches are concerned. So the choice definitely impacts on your local search rankings.
Categories – You have 5 different categories to use, make sure you use all 5 of them, as this will help you to rank for more keywords. Make sure the categories that you choose describe the services that your hvac company or appliance service business provides such as:
Refrigerator Repair

Washer and dryer repair

Stove Repair

Freezer Repair
#5. Uploading great photos & videos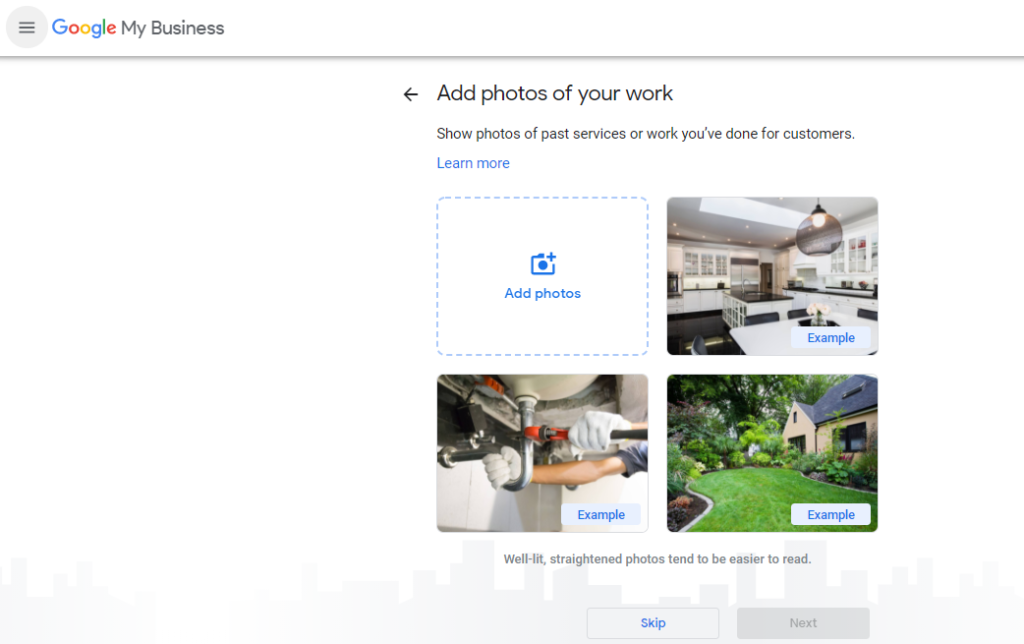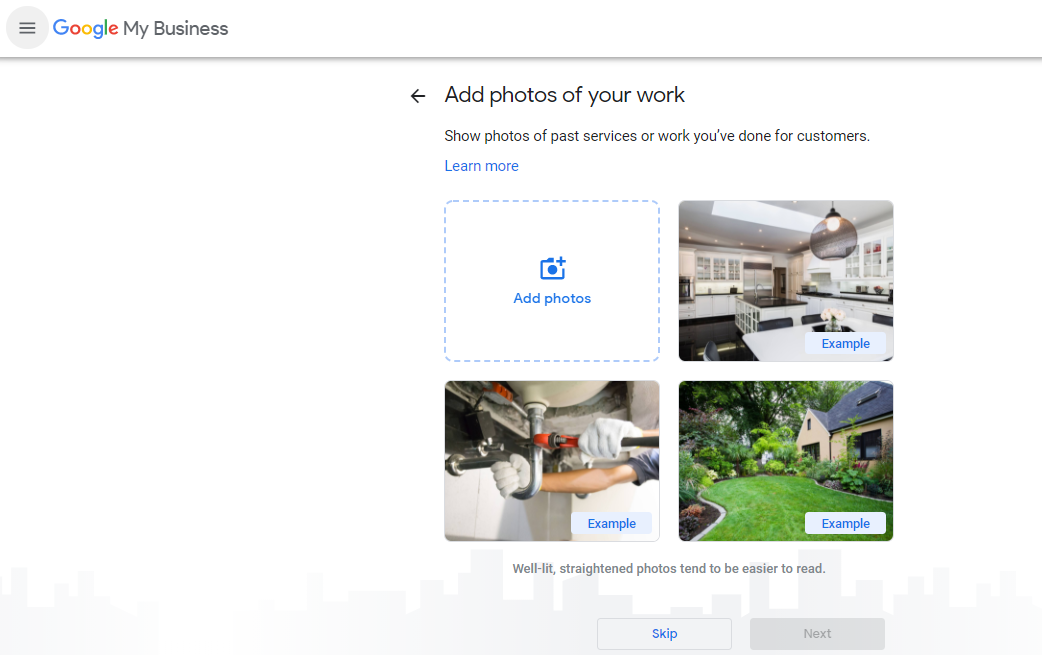 Pictures & Videos – You can upload 5 videos and 10 pictures, I strongly recommend that you upload as many as you can and it's best to use actual pictures that describe your business instead of generic stock photos that you find online. So examples of photos you should consider using are photos of your truck, equipment, the owner, your team etc.
Optimizing Your Pictures – This is another way to expand the number of keywords that your listing will rank for. Save the pictures to your desktop and name them with this format "your city + ac repair – your company name," or "your city + appliance repair – your company name," instead of just whatever file name your camera or smart phone named the image. Using your smart phone to take the pictures will add geo-coordinates to your images. Adding these Geo-Tags is an advanced strategy used by air conditioning repair or appliance repair seo companies to rank their client's listings. If you have images that were already taken by a regular camera, you can still geo-tag them by using a website like https://www.geoimgr.com/.
Videos – Don't think you have to run out and hire a professional videographer to get a Hollywood style video produced. Consumers tend to resonate with videos that are not professionally produced, it gives them more of a family owned and operated feel to it, so by all means use your smart phone or digital camera to create videos to upload to YouTube and you will have the option in the advanced section of the video in YouTube to Geo-Tag it as well. That's an advanced strategy to get your video to not only help your map listing but so that it can also rank in the organic search results.
#6. Generating, monitoring, and responding to reviews
The purchase process greatly benefits if you can generate enough positive reviews for your listing with Google My Business. Customers on average may need to read about 10 reviews before they can trust a local business and proceed to purchase any products or services like ac repair or appliance repair service. Review signals include quantity, diversity and velocity, and collectively are among the top 3 factors for ranking in Google Maps and related local search results. Generally, your chances of ranking within the top 3 spots in Google search results pages are significantly boosted if your business profile has generated positive Google reviews. Most potential customers are interested in air conditioner repair or appliance repair companies with a rating of 4 – 5 stars.
Some customers will naturally leave reviews after using your services as a way of providing feedback, which could be positive or negative feedback depending on whether they had a great experience or not. In order to generate more reviews, you need to consistently make an effort to request reviews from customers you have served through your hvac business or appliance service company. While requesting reviews keep in mind that Google has a policy on requesting reviews and that's important to follow carefully.
A variety of tools are available to help with automation as far as the process of requesting reviews is concerned. That can be done during check out or an email sending just a few days after ac repair or appliance repair service is completed. Different customers respond to review requests differently so you will need to find different methods you can use to reach out them for the review requests. In some cases you may have to make a phone call follow up after sending an email. Sometimes you can also request reviews from customers that ask you questions about things related to your services if you end up helping them just on the phone. If the customer is happy with your help, then it's a great opportunity for you to request for a positive review right away. Make sure you also provide them with quick steps to guide them on how to leave the reviews.
When you start having the reviews coming in, it's a good idea to make sure you or someone else is monitoring and responding to the reviews as needed and in a timely manner. Thank you customers for the reviews or provide detailed responses if necessary. You have to respond appropriately to both positive and negative reviews as a way of managing your online reputation.
#7. Using Google Posts for boosting conversions and to showcase brand personality
Google posts is a new feature which can be useful towards your GMB listing optimization efforts. You can use it to share the latest news, offers or details of any events to do with your air conditioning repair or appliance repair business. The latest posts are normally pulled up in the knowledge panel on the right of local search results on Google and can significantly boost conversions.
Important Note: You want to be careful of duplicate listings, so make sure your company doesn't show up more than once, as this can cause confusion for the search engines and as a result hurt your rankings.
To search for duplicate listings, got to https://www.google.com/maps/ and do a search for your company name and city.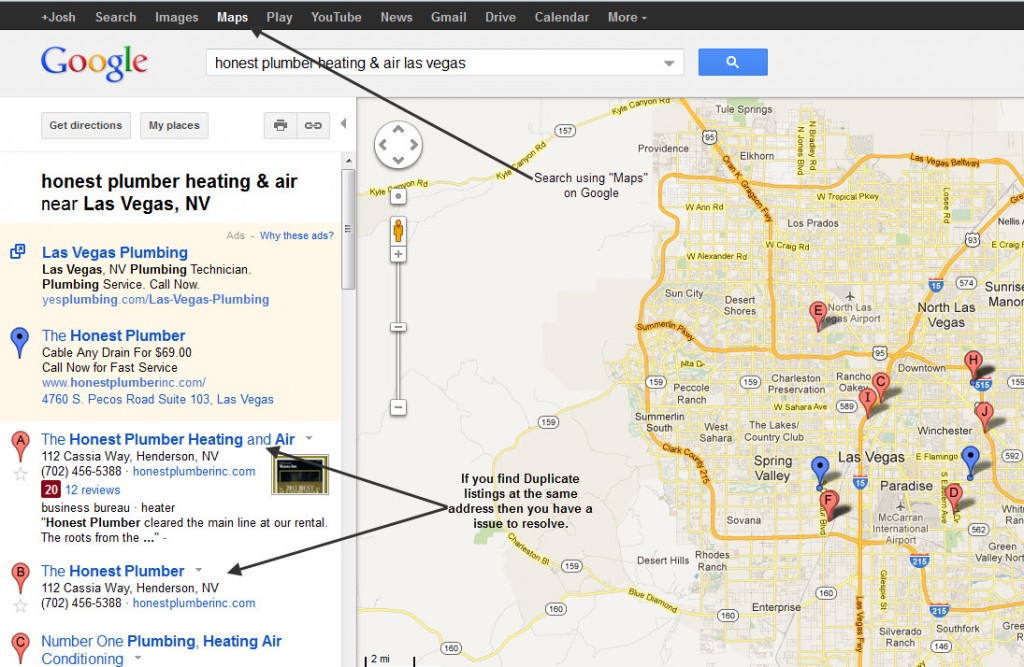 So what the heck do you do if you find a duplicate listing???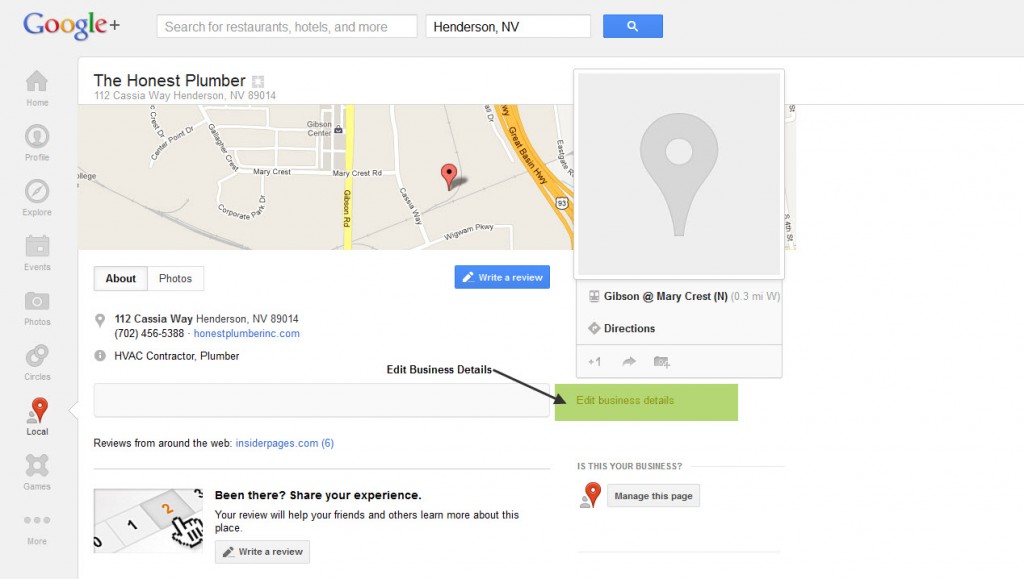 You want to merge the different listings and all you need to do is click on the listing that is a duplicate and then select "edit business details." You will see an option to mark this listing as a duplicate and this will automatically tell Google Maps to merge this listing with your main company profile.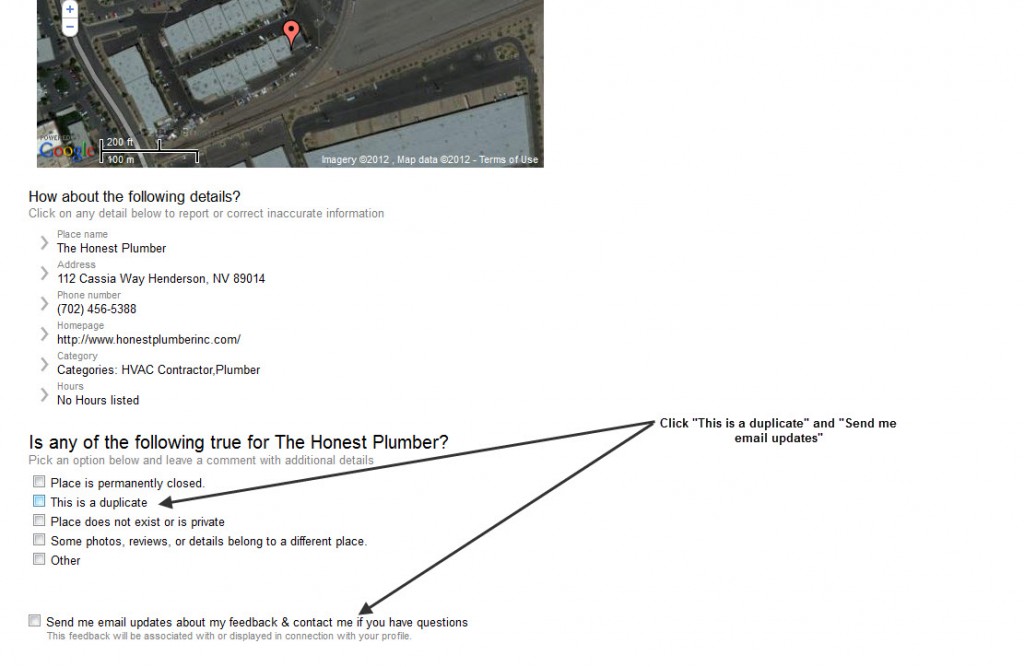 If you have followed all the steps above, then congratulations you have successfully optimized your Google Map listing better than 90% of your competitors. The next step to improve your rankings is to make sure that your N.A.P. (Name, Address, Phone Number) is consistent among all online directory sites across the web. If you would like to download our complete guide on How To Get More Customers From The Internet Without Having To Spend A Fortune On Advertising, you can get access to it by clicking here.