Optimize Your HVAC Company Or Appliance Repair Google Map Listing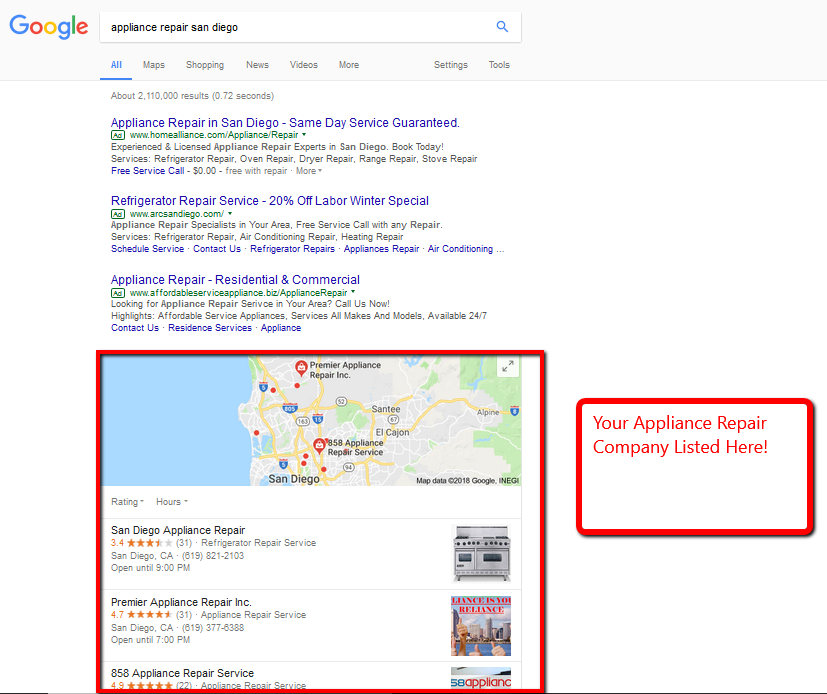 Google Maps aka Google Places or Google Local are all the same thing, the name just changed over time, I just wanted to mention that just in case you are already familiar with one of the other names.
There are 3 main criteria for getting your heating and cooling company or Appliance Repair Business listed in Google Maps for important keywords like "Appliance Repair + Your City."
Optimize Your Google Map listing.
Getting real reviews from your existing customers within your local service area
You are probably saying you can handle #1 and #3 on your own, but how the heck does someone optimize a Google Map listing? In this post we are going to discuss just that.
If you don't already have your Google Map listing claimed and you want to get step by step instructions you can check out one of our other air conditioner repair and appliance repair marketing post on that topic by clicking here.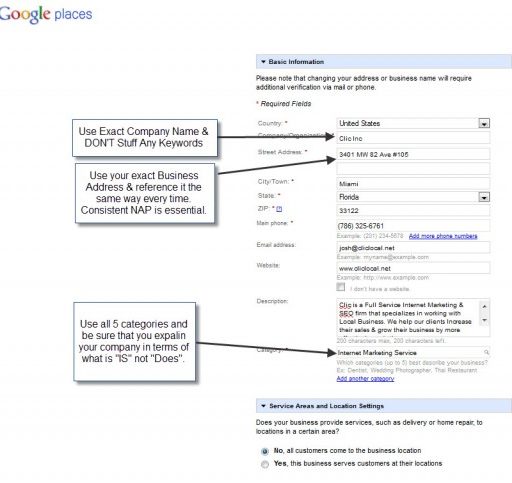 Let's get started on discussing some of the best practices for optimizing your Google Map listing.
Business Name – Make sure that you use the registered name of your air conditioning repair company or appliance service business and don't try to include any keywords here that you would like to rank for. For example, if your legal company name is "Ron's Appliance" do not add keywords to it like "Ron's Appliance Repair Fort Lauderdale." This goes against the Google Maps terms or service and you run the risk of getting banned or not ranking well.
Address – Use your legal address, now if you are a smaller operation and your home address is also your business address, still list it in the address field, you will have an option to not show your address, but Google still needs it so that they can send you a verification postcard to verify your hvac business or appliance repair Google Map listing.
The address you use for Google Maps should be in the exact format as the address that you have on other heating and cooling or appliance service Online directory listings like Yelp, CitySearch or Yellow Pages, etc. In the SEO industry, this is referred to as N.A.P (Name, Address, Phone Number), the consistency of your N.A.P is an important factor in ranking your listing.
Phone Number – You may be tempted to use an 800 number here, but don't. A local number is best as it will help you convert more consumers in your local service area, when consumers see an 800 number they normally think of large nationwide air conditioner and appliance repair companies who will charge them an arm and a leg to fix their home appliances, so instead they are looking for a local guy or gal that is close to their home address. Same also applies for Phone number, make sure it matches the phone number that is on other directory listings.
Categories – You have 5 different categories to use, make sure you use all 5 of them, as this will help you to rank for more keywords. Make sure the categories that you choose describe the services that your hvac company or appliance service business provides such as:
Refrigerator Repair
Washer and dryer repair
Stove Repair
Freezer Repair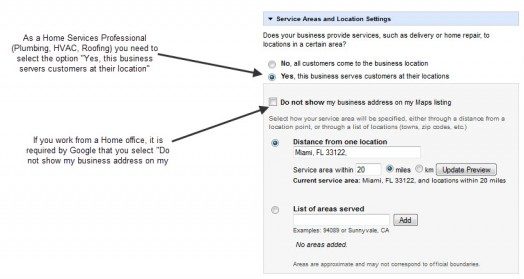 Location and Service Area – This is where you will have the option to display or not display your address, the options you will see are:
NO, all customers come to my location
Yes, I serve customers at their location
Unless you have a physical office location that you want clients to come to so that they can buy parts or if you sell appliances, then your best option is #2. You will see a check box that says, "Do not show my address." If you use a P.O. Box or you have an address with the UPS Store, you won't be able to verify your listings, only physical home or business address will work.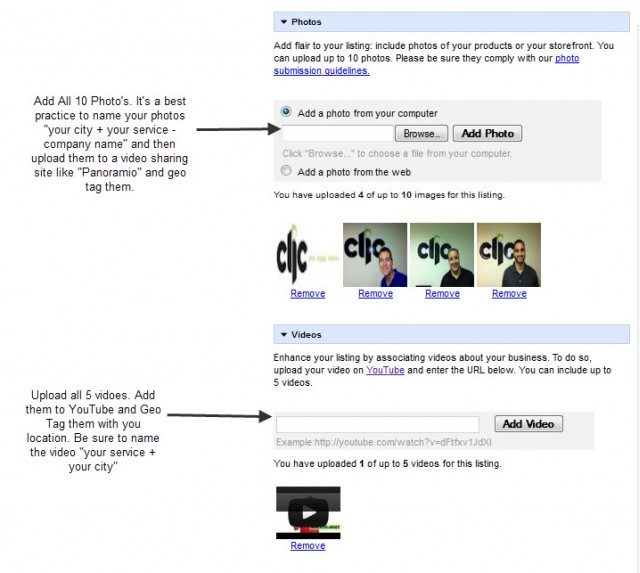 Pictures & Videos – You can upload 5 videos and 10 pictures, I strongly recommend that you upload as many as you can and it's best to use actual pictures that describe your business instead of generic stock photos that you find online. So examples of photos you should consider using are photos of your truck, equipment, the owner, your team etc.
Optimizing Your Pictures – This is another way to expand the number of keywords that your listing will rank for. Save the pictures to your desktop and name them with this format "your city + ac repair – your company name," or "your city + appliance repair – your company name," instead of just whatever file name your camera or smart phone named the image. Using your smart phone to take the pictures will add geo-coordinates to your images. Adding these Geo-Tags is an advanced strategy used by air conditioning repair or appliance repair seo companies to rank their client's listings. If you have images that were already taken by a regular camera, you can still geo-tag them by using a website like https://www.geoimgr.com/.
Videos – Don't think you have to run out and hire a professional videographer to get a Hollywood style video produced. Consumers tend to resonate with videos that are not professionally produced, it gives them more of a family owned and operated feel to it, so by all means use your smart phone or digital camera to create videos to upload to YouTube and you will have the option in the advanced section of the video in YouTube to Geo-Tag it as well. That's an advanced strategy to get your video to not only help your map listing but so that it can also rank in the organic search results.
Important Note: You want to be careful of duplicate listings, so make sure your company doesn't show up more than once, as this can cause confusion for the search engines and as a result hurt your rankings.
To search for duplicate listings, got to https://www.google.com/maps/ and do a search for your company name and city.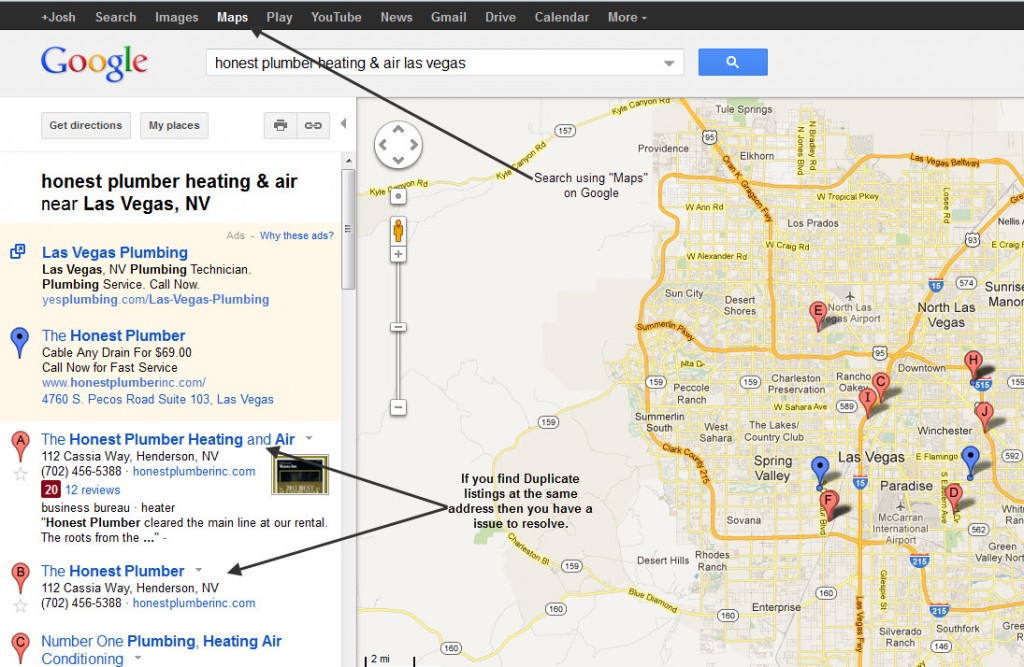 So what the heck do you do if you find a duplicate listing???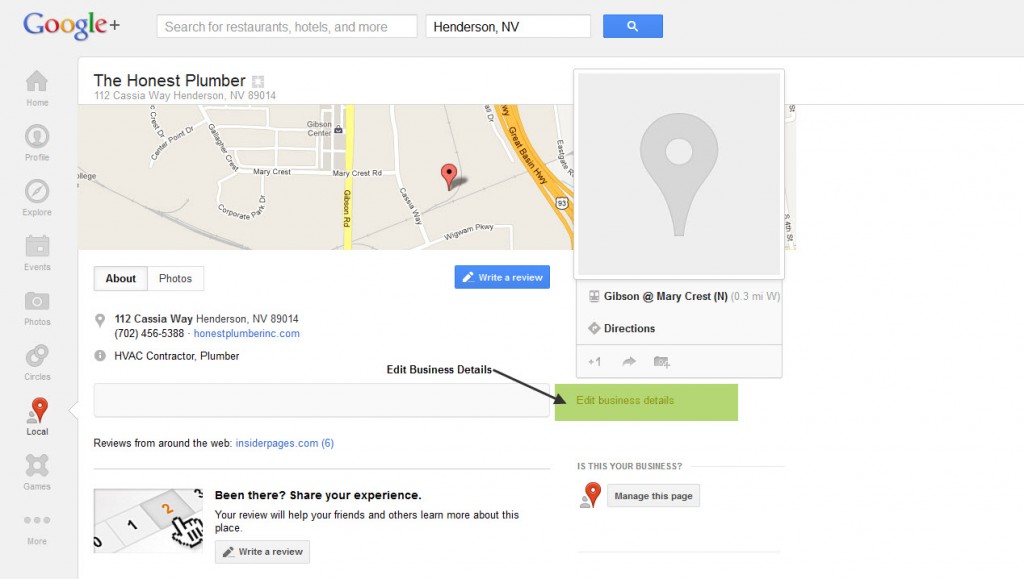 You want to merge the different listings and all you need to do is click on the listing that is a duplicate and then select "edit business details." You will see an option to mark this listing as a duplicate and this will automatically tell Google Maps to merge this listing with your main company profile.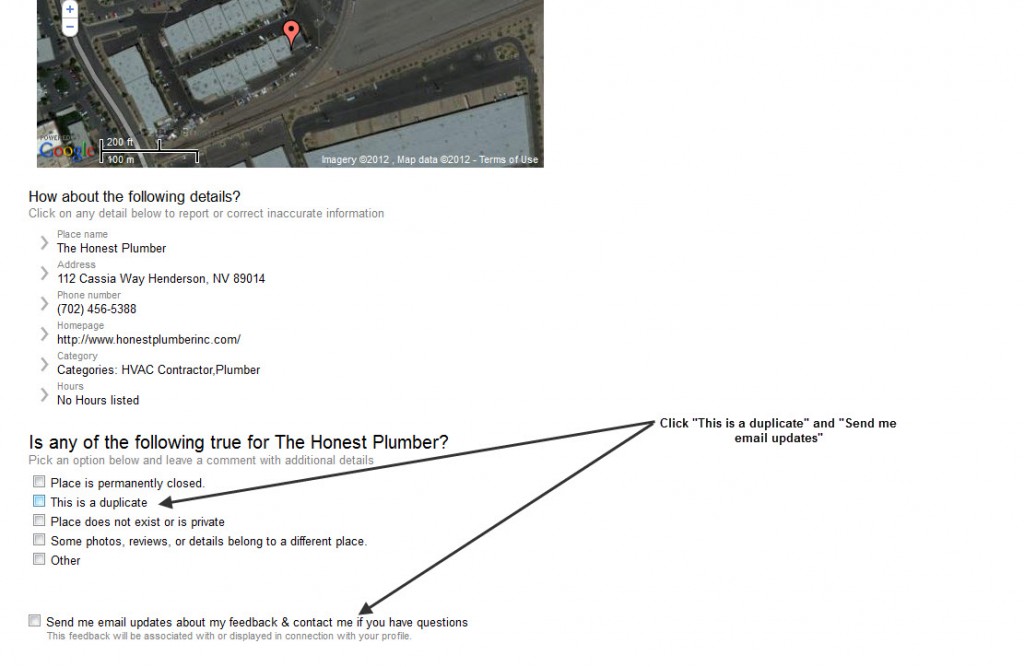 If you have followed all the steps above, then congratulations you have successfully optimized your Google Map listing better than 90% of your competitors. The next step to improve your rankings is to make sure that your N.A.P. (Name, Address, Phone Number) is consistent among all online directory sites across the web. If you would like to download our complete guide on How To Get More Customers From The Internet Without Having To Spend A Fortune On Advertising, you can get access to it by clicking here.