Establish A Consistent N.A.P across the web (Name, Address, Phone Number)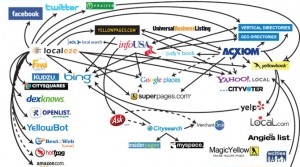 If you are reading this article, then you already have your Google Map listing claimed and hopefully you got all the optimization steps done as well and now you are ready to make sure that your N.A.P profile is established the exact same way on the internet.
Before we go any further, I want to make sure that you understand that just because you claimed your listing and it is optimized, that doesn't mean your listing will be at the top of the map listing tomorrow. The goal of the Google Maps team is to list the most qualified ac repair businesses and appliance repair service providers first.
So how do they decide who to put on page one and how do they filter out the rest of heating and cooling or appliance repair companies?
There are several factors that come into play here, but one important factor that is widely referenced is the air conditioner repair company or appliance repair company on the major online directory sites such as:
Yelp
Yellow Pages
City Search
That's why it's very important that you make sure that your N.A.P is consistent on the different online directories across the web.
And since Google is then going to checking your Google Maps profile against these online directories (Angie's List, Yellow Pages, Yelp, Judy's Book, etc.), you want to take the necessary steps to make sure the information listed on these directories are accurate and formatted the exact same way.
How To Establish Your N.A.P With Online Directory Sites?
It's important to understand that even if you haven't signed up to be listed on some of these directory sites that your air conditioner repair business or appliance repair company is already listed there, as these online directories gather information across the web, and sometimes will add your company without ever speaking to you.
So when you visit these online directories, you will first want to check if your listing already exist, this way you are not creating a duplicate listing and you will see the option to Add or Claim your existing listing on all of these sites. If you find that you already have an existing listing, claim it and review it for accuracy and consistency, you can also follow some of the optimization strategies we discussed for these online directories as well, as these directories can rank on the first page of the search engines and be an additional sources of air conditioning repair or appliance repair leads for you at no additional cost, other than the time it took for you to set up your listing.
The ball is now in your court, it's time to do some research so you can determine the right N.A.P profile and start adding or claiming your hvac company or appliance service company on all the major directory websites. Below I have provided you will a list of citation sources for your appliance service business to help get you started:
60+ Top Citation Websites For Google Maps Optimization
So, how do you boost your listing?
It's simple – just get citations (and ratings) from the sites below.
Google Maps – This is the probably the best place to list your air conditioning repair company or appliance repair business. When your listing is given prominence by Google, you are likely to get more leads.
Yelp – If you are looking for a popular online directory, review, and social networking site, this is the place to be. Apart from giving you the much-needed citation for Google Maps, this site will also send customers to your website.
However, you must be ready to handle reviews from customers who may not be pleased with your service.
Foursquare – It is a popular way of checking into your business via smart phone. Also, it is one of the top citation sources for your ac repair business or appliance repair business, if you have a physical location that consumers can visit.
Universal Business Listing – You must have realized by now that there are thousands of online directories and getting your business listed in these directories can be a difficult and cumbersome process. Universal Business Listing (UBL.org) will help in getting your business listed in online directories including yellow pages, review sites, and social networking websites.
Yahoo Local – Getting your heating and cooling company or appliance repair business in Yahoo local directory can boost your online image. The listing in this directory is linked to Yahoo Maps.
Local.com – You can use this website for event listing, reviews, coupons, and of course business listing.
CitySearch – This website is one of the most authoritative websites for local directory listing.
Bing Local – Even Bing has a local business listing that is tied to its maps. Getting good reviews from customers can help with boosting the online and offline reputation of your business.
Craigslist – Most online marketing experts are of the view that creating classifieds on popular websites such as Craigslist can boost your online presence. However, avoid overdoing it, as it will be considered as spam by Google.
GetListed.org – If you want to know where your business is listed, then you should check out this website. Also, it provides referrals to Localeze and Universal Business Listing. If you need some extra help, they also offer consultancy service for a fee.
Dmoz – This is one of the most authoritative website for business listing. The best part about this website is that they don't charge you to list your air conditioner repair company or appliance repair business on their website. All you have to do is select the city of business and business category. Also, you must have a decent website to ensure listing on this site. Since this site is managed by volunteers and there are large volumes of website submissions, it could take time to get your site listed in this directory.
Superpages – It is a reputed Yellow Pages directory which offers people search, business listing, local deals, and reviews.
Localeze and InfoUSA – These websites offer listing in multiple local directory websites.
Local Chamber of Commerce – Many people still visit the local Chamber of Commerce to get information on the heating and cooling or appliance repair companies in their area. Getting your business listed here can improve your offline reputation.
InsiderPages and Merchant Circle – Both websites are good rating and local directory websites.
Best of the Web – It is a popular web directory that offers both paid and free listing option. They have a Best of Web Local section that is designed to cater to the needs of local businesses.
YellowPages.com – As the name suggests this website is the internet yellow pages. Listing your hvac company or appliance repair business on this website will improve your online presence and help in getting new customers.
Business.com – This website not only provides information on local businesses but also has a good business directory.
Kudzu and Mojo Pages – Just like Yelp, these websites are review sites that can improve your online reputation.
Better Business Bureau – This website will charge for membership and will provide a link to your website from their site.
DexKnows – If you are looking for a good people and business directory, this is the place to be.
Acxiom – This website is a major source of data for many directories and yellow pages. However, they don't accept business submissions like other local listing service providers.
Websites of Local Newspapers – Try to get a local newspaper to write an article about your ac repair company or appliance repair business. If this is not possible, try to get a business listing on their website.
YellowBook.com & MagicYellow – They are good internet yellow pages.
HotFrog – If you are looking for an inexpensive yet effective listing option, you should consider using Hot Frog. They have a free section and a fairly inexpensive paid section.
Angle's List – You should get your company listed in this directory as it contains details of the best service providers in the area.
Judy's Book – This website is visited by people who want to get details and read the reviews of local companies.
Jigsaw & Infospace – It has details of local companies and business owners.
Ibegin – The website has information on companies that operate in the United States and Canada.
OpenList, Citysqares, Brown Book, Yellow Bot and EZLocal – These websites have information on local businesses with ratings.
Wikimapia – It is a wiki-based directory that has information on the businesses, schools, and other facilities in the area.
Manta – This website is usually visited by people who are looking for company profiles.
City Voter – Visitors to this website have the option to vote for their favorite business.
Praized and Tupalo.com – These are social networking websites that allow users to write reviews.
Panoramio – You can add pictures to help people associate with your brand or company. Pictures can also help you give details of the brands or products you service.
Get Fave – It has a business directory that includes a paid feature listing. You can also add videos and pictures.
BizJournals – It is basically a business journal which has information of businesses for certain US cities.
Tjoos – This website will list your business and will also give you an option to add coupons.
JoeAnt – It is a good web directory.
Zidster – You can use this website to list businesses, products, and services. TrueLocal It is decent directory but has limited businesses listed on the site.
ZipLeaf – This website has a network of some good international business directories.
WCities – It has details of events and places in the city. The website also offers details of businesses and their rating.
Lycos – general business online directory.
Local Forums – This forum is focused on local businesses.
Match Point – The website has a list of most service providers in the United States.
USCity.net – This site has information on businesses in most US cities.
Google Custom Maps – You can create annotated, customized, and personalized maps using Google custom maps. When your hvac business or appliance repair business gets listed here, it can improve your ranking for local searches.
Yellowee – Formerly known as Genie, this website is a good local review site.
Mcrae's BlueBook – It is a good local industrial directory.
Discover Our Town – This site includes a relocation guide which you can use to get new customers.
If you follow these practices, you will soon establish your online presence and you can improve your Google Maps and ac repair business appliance repair website rankings in your city local service area. Once you have achieved your goal, you should take steps to get real reviews from your existing customers.
Want more online marketing tips? Go here.