Harnessing data from a Google My Business Listing can be a daunting task for AC Repair and appliance service business owners. You need to know how and where to look for the most important pieces of data. Not only that, but then you have to properly interpret the data.
That brings us to Google My Business, which is a great place to begin. It allows you access to analytics and provides you with extensive insights about the online presence of your air conditioning service business or appliance repair company in the search engines. If you ever decide to get a professional Google My Business audit done, it will provide you with a plan of action for what you should change and what kind of tasks you should perform, as well as goals you should focus on if you want to improve your online presence and get more HVAC leads or appliance repair leads.
Google regularly provides new insights for Google My Business. They continually making new additions too. As new insights roll out and new data points come out, we'll make sure we update this guide.
GMB Insights Data: Why Do You Need All Of This?
Let's get straight to the point, the most exciting opportunity that 2020 has to offer is marketing that is driven by data. Local heating and cooling repair company and appliance repair business owners can leverage this trend, all by using Google My Business Insights. In fact, there are a number of ways to use this data and the top 3 ways include:
Ensure Data Is Updated – Data should be stored in a format that is appropriate. Make sure it's up to date too.
Integrate – Integrated data is important too. You should combine data across different websites, including social media and search. This will provide you with more useful insights.
Improve – Measure the past performance of data. Not only that but focus on how to take the information that the data provides and improve the effectiveness of your marketing. Future improvements can really take your marketing efforts to a new level.
With all that in mind, we want to tell you how to use data from Google My Business to your advantage. Are you ready to use this? If so, then we invite you to check out our guide.
Google My Business Insights, Search Console, & Google Analytics
Google provides an array of data tools to appliance repair businesses. This includes Google Analytics, Search Console and Google My Business Insights, all of which have excellent features. All three tools are different in their own way, and below is more info on each one.
About Google My Business Insights
Think of this tool as being a way to look closer into local search. It contains data on your performance in the local search results, such as how many views your listings have received and how people using Google are finding your appliance service company and the kind of interactions they have had with your listings. For example, these actions can include calling you, clicking the link to your appliance repair website or even requesting directions.
About Google Search Console
Google Search Console consists of reports and tools. They are designed to help you measure traffic to your appliance repair website via search. The tools and reports can be used to find and fix issues and to improve search visibility.
Google Search Console is an advanced tool, when compared to GMB Insights. Appliance Service Website owners can use Google Search Console to add a sitemap and URLs to help the search engine spiders crawl content easier. Not only that, but Google Search Console let's site owners have access to deeper data, such as metrics like search queries, impressions and clicks.
Even if you use GMB insights, you'll want to register your appliance service website with Google Search Console. Google uses Search Console to tell site owners about problems and issues they've encountered with a website. Site owners can use Console to let Google know that they've fixed the issues they were told about.
A lot of local business owners don't understand the difference between GMB Insights and Search Console. Think of Google Search Console as being a maintenance tool, that can show you the health of your website. It lets you look into things such as potential issues like if your site is hacked and mobile usability.
About Google Analytics
Google Analytics is the most comprehensive tool on Google's platform. It lets you get an even bigger and more complete picture. It is the most powerful tool for appliance service business owners.
Analytics allows you to view reports about user-flow, conversions, consumer behavior and the tool has an array of integration options. For example, you can integrate Analytics with Google Search Console and your Google Ads account.
Google My Business Insights: Getting Started
Getting started with Google Insights is easy because it all starts by going into your Google My Business account. You should see the performance box on the home screen; however, you may need to scroll down to find it. This data is from search and maps and it covers a period of 28 days. Another way to access Insights is by clicking on its link via the left-side of the menu.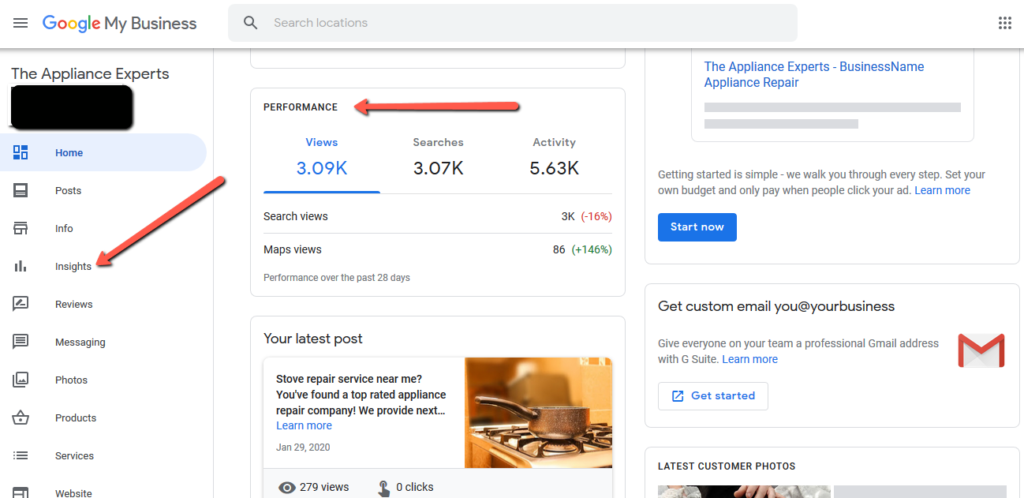 The data in Insights is split via different features. Different ones will help you learn more about your listing. This is why all appliance repair company owners should be using Insights.
How People Search For Your Business
One, you want to know how people are finding your appliance repair company. Second, you can make marketing decisions in a more effective way by knowing how people search for your company. There are three sets of numbers you'll see via the Performance box, and this includes searches, views and activity.
If you click on Searches, then you'll be shown a few types of data. This data will relate to discovery searches and direct searches. You want to learn more about each search.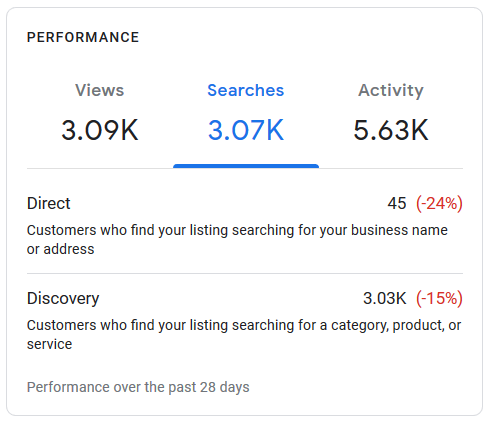 A Direct Search is when a consumer goes to Google and types the name of your appliance service company or address into the search box. If someone does this, the chances are they know something about your business, and they are looking for very specific info about your appliance repair company. This may be reviews, your location and things like that. Regardless of the user's intention, this means they are already familiar with your appliance repair company.
A Discovery Search refers to consumers who have typed in a generic appliance repair search term. This may be something like "appliance repair," or "fridge repair near me." After they search for generic appliance repair related terms, they are shown results and your appliance service company might be shown in those results.
These consumers may know about your appliance repair company or might not know anything about it. These searches are typically generic in nature. Discovery Searches are usually done by consumers who have a specific need for some type of appliance repair.
If your Discovery Search numbers are smaller than Direct Search numbers, then you might want to take a closer look at your local SEO strategy. A high Discovery Search number means you are being found by new potential customers. This also means you are not solely relying on your existing customers who are familiar with your appliance repair services already.
If you click on the insights tab in the left menu of your Google My Business dashboard, you will see this data in a graph form.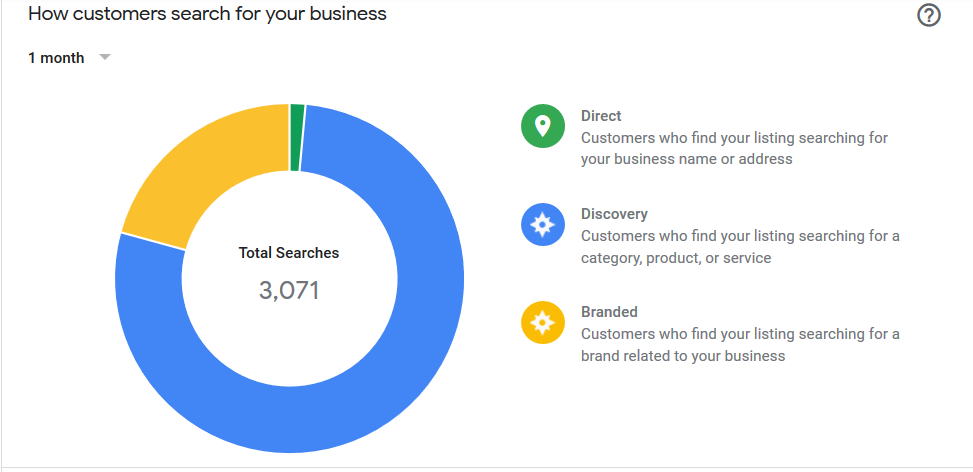 Queries Conducted To Find Your Business
Knowing what queries are being by consumers in your local area to find your appliance repair business is extremely useful. Queries refer to what people are typing into Google as an appliance repair keyword or search term, when they came across your appliance service company or website. You'll definitely want to keep an eye on this data for optimization purposes.
The data lists the top queries being used by consumers to find your business. Use this list or search queries to determine if the right appliance service keywords are being used in your content. This includes content on your blogs, Google My Business Posts and your website.
Both Google Analytics and Google Console can be used. They can provide additional data in regard to these queries. Using both tools, you can compare your Google My Business listing performance against your website performance in the search results.
Where Consumers View Your Appliance Repair Company on Google
There is a section of the GMB insights that allows you to see where your impressions came from. For example, your impressions might have come from Google Maps. Maybe they came from Google Search. Here is where you'll see two different sets of numbers, with one being Listing on Maps and the other being Listing on Search, and you will be able to view these on a quarterly, monthly or weekly basis.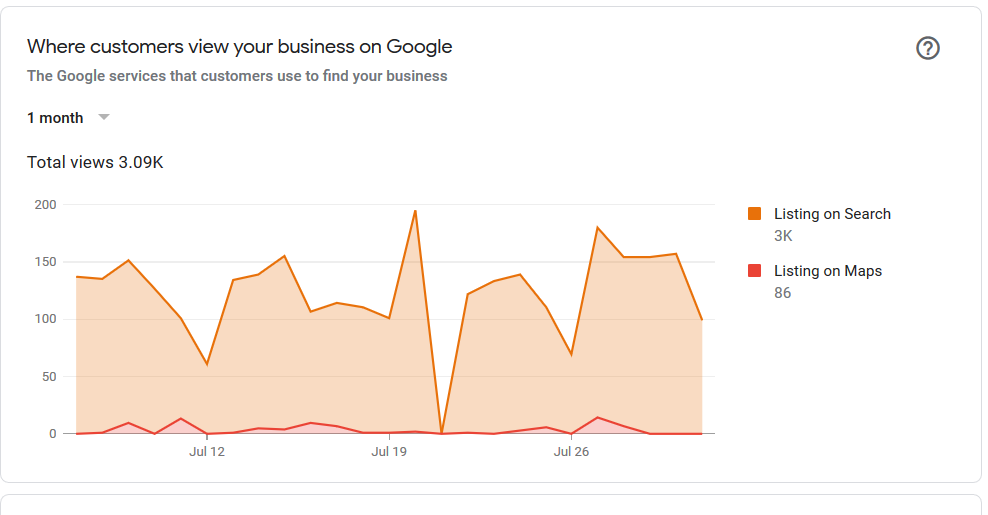 At first glance, you might not think this is valuable. However, you can determine if your site is properly optimized for mobile devices.
In 2018 The Manifest did a study revealed that Google Maps was much more popular than many of the other navigation apps out there. In fact, over 66% of smartphone users chose to use Google Maps over other apps. This would suggest that many mobile users are looking for appliance repair companies. With Google Analytics, you can check the data to see how many consumers are using a mobile device to find your appliance repair company, compared to a desktop computer.
Customer Actions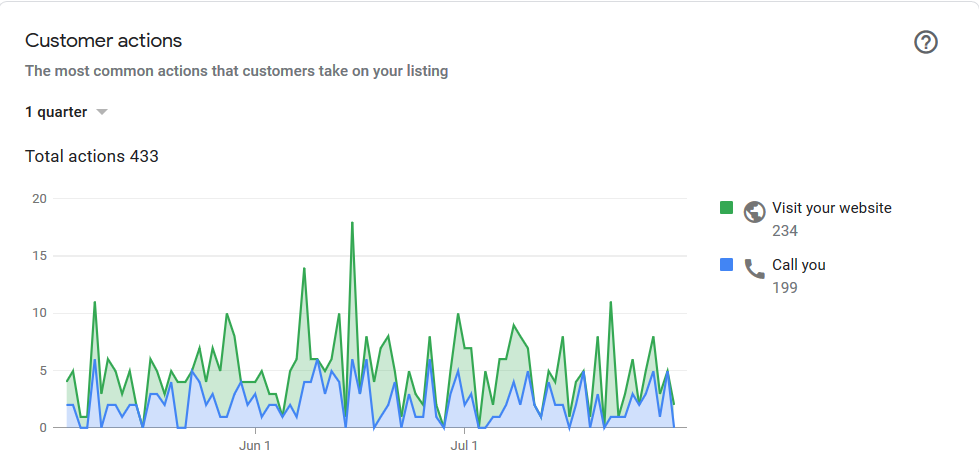 If you're not sure how you should focus your GMB efforts, then you can simply check out the customer actions data. This is an area of GMB Insights that show you what local consumers commonly do when they check out your GMB listing. This may be going to your website or making a phone call.
Phone Calls
If a consumer calls your business after clicking your listing on Google My Business, then you'll have access to data via this section. This data lets you see what part of the day and week generates the most phone calls. Once again, this kind of data can be used to tweak your marketing campaigns, such as what day and time to do Google Posts or run Google Ads.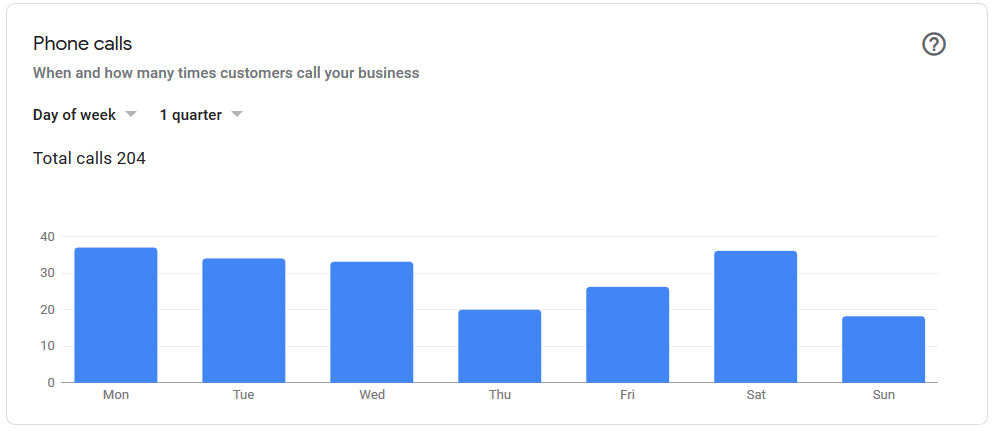 Photo Views
Photos can generate a lot of consumers to your GMB profile. In turn, photos can also play a major role in how much traffic your GMB profile sends to your website. In turn, you can figure out what photos are generating the most views by consumers and which photos are not.
This section of the GMB Insights lets you examine your images' performance. You can determine if your images are doing as good as your competitors and you'll be able to view how many times your photos have been looked at. These are only a few things you can do with the data you have access to.
If your photos are receiving a lot more views than your rivals, then go ahead and keep posting similar photos. If your photos aren't doing that well, then it's time to rethink your strategy in regard to using photos. You'll probably want to research your competition and see what they're doing and then upload better photos or more photos.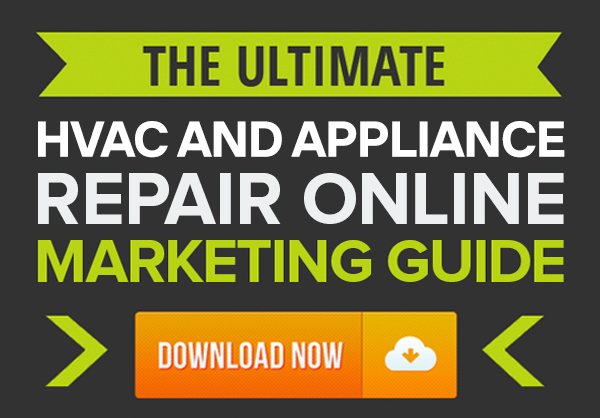 Conclusion
GMB Insights provides you with a lot of data that is extremely useful. You can easily locate the data and understand it in a way that allows you to make better appliance repair marketing decisions. The bottom line is it is a useful tool that provides a ton of information that you can use to your advantage and to help you gain a competitive edge over your local appliance service competition.
GMB Insights is user-friendly and helps even newbies learn as much about data, all without overwhelming them. However, there are various areas where the data isn't that detailed as we would like it to be. Nonetheless, it is a tool that all appliance repair company owners should be using on a regular basis.
Looking for home repair leads? Contact us today to see if your service area is still available.