Google as a whole, needs no introduction. But what about Google My Business? Are you familiar with this tool and what it can do for your appliance repair company?
Google My Business, or GMB, is a business listing service that is not fundamentally different from other online directories, e.g. Yelp. It's an evolution of the service formerly known as Google Local and Google Places. The tight integration between GMB and a range of other services Google provides to its users gives it a high-priority place in Local Search Engine Optimization. If you haven't yet claimed your GMB listing for your appliance repair company, you can find out how to put your appliance repair company on Google here – and read the rest of this article to find out why it matters.
Your GMB profile is more important than profiles in other online directories, like Yelp or Yellow Pages, because it can present a great deal of information about your appliance service business to potential customers. Google also uses your GMB profile to spread that information to other important Google platforms that can increase the online visibility of your appliance service company. Examples include:
Google Knowledge Graph
The knowledge graph appears at the top right of the search results page on desktop and close to the top of the page on mobile, when a consumer searches for your company brand name.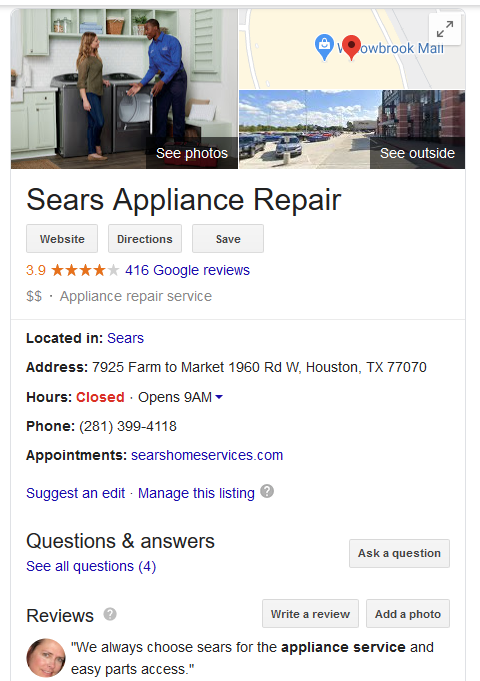 Google Local Pack
When a consumer searches for appliance repair businesses in or near to a specific geographical location (e.g. "appliance repair NYC"), Google will show a map at the top of the results page and the 3 most relevant appliance service businesses will be displayed beneath the map; this is the local pack.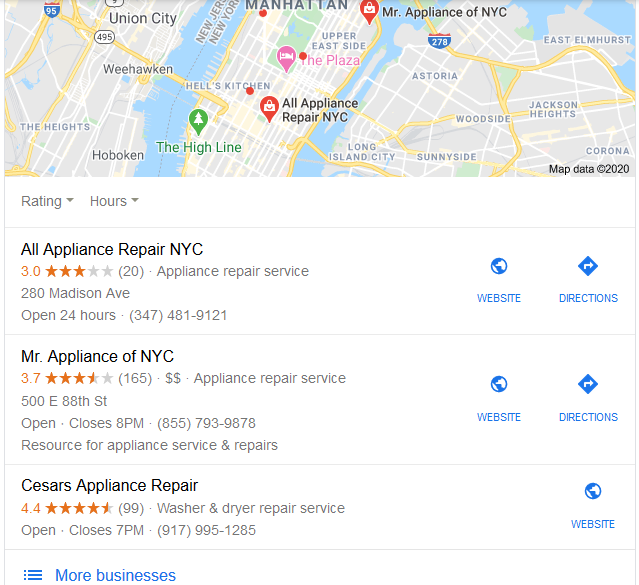 Google Maps
This one is particularly straightforward. Whenever users seek out your business through Google Maps (both desktop and mobile), the location and details that the app provides come straight from your GMB profile.
The core goal of your Google My Business listing is to give a potential customer all the information they need to find your business and purchase products or services from you. After you've claimed your Google listing, you can add additional information about your business, to help it stand out from your local competitors, including coupons, special offers, images, and also respond to your customer reviews. Responding to customer reviews, especially bad reviews, is something most appliance repair companies are lacking, so this would be a great way to show why you are different from the competition.
Passing up the opportunity to control your GMB listing is effectively tying one hand behind your back (at least) in the competition to distinguish your business in local searches. Any local online marketing effort – done by yourself or by a marketer on your behalf, should start with claiming and optimizing your GMB listing.
What Can You Use Google My Business For?
Google strives to provide customized search results with maximum relevance whenever it can tell that a consumer is searching for a business in a specific area. These searches can be executed on many different platforms:
Google App (mobile)

Google website

Google Chrome (mobile & desktop)

Google Maps (mobile website, desktop, and app)

Google Assistant or Google Home Voice Search
Your GMB listing – which is an online site entirely separate from your appliance repair website – is your tool for getting your company into the results for all the above platforms.
With the increasing frequency of mobile device searches, Google can automatically tell if the consumer is looking for an appliance repair business close to their home, so if a consumer uses search terms (like "appliance repair" or "broken refrigerator") they will be shown local search results even without specifying a local intent (e.g. "near me" or "in New York") to their search.
Besides giving you control over the information provided, claiming your GMB listing will grant you access to Google My Business Insights. These are powerful analytic tools that tell you a great deal about how Google users search for you. When combined with other Google Analytics data from your appliance repair website, GMB Insights can take much of the guesswork out of your local SEO efforts. You'll not only see how Google users search for your business, but also what they do after they find it.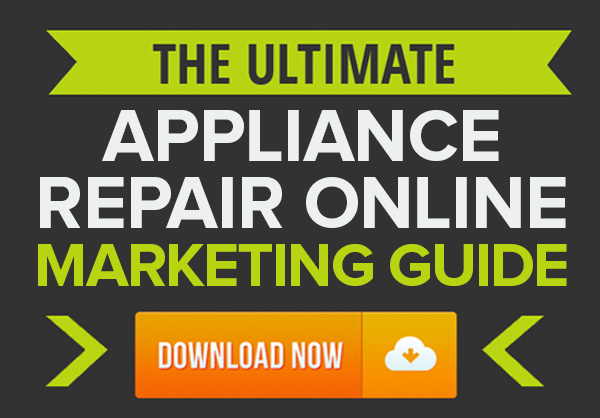 Increasing Sophistication In Google My Business Profiles
Google My Business is a constantly evolving system, and it draws information from many sources, not just the data you provide. This is why it's important to manage your listing and check it regularly for unsolicited changes.
An additional source of information for your listing is User-Generated Content, or UGC. This includes photos taken by customers and "subjective attributes" Google extracts from their reviews.
Your GMB listing also has several interactive features for past and potential customers:
Google Posts: This lets you announce promotional offers directly through Google search results.
Google Q&A: Allows users (and you!) to ask and answer questions about your business on your profile page.
Google Reviews: This is the most important interactive feature on your listing. Good reviews and good responses have a measurable positive impact on your search rankings and the number of consumers who click through to visit your website.
Suggest an Edit: This allows any user – not just you – to suggest corrections to the contact details listed for your business.
Google seems to have plenty more in store for Google My Business; new features and tools are added regularly. Check out Google's own guidelines for GMB listings here.
How To Qualify For A GMB Listing?
The key attribute that enables you to claim and manage a GMB listing is that your company has to have some kind of direct customer interaction during the listed business hours. The criterion does not tie to your business's address so appliance service companies that provide appliance repair services at their customers' homes can still qualify for a listing. (Businesses operating along these lines are considered to be Service Area Businesses, or SABs.)
Could My GMB Listing Take The Place Of My Appliance Service Website?
Although Google My Business is a vitally important tool for appliance service business owners and a useful resource for prospective customers, you shouldn't consider it a complete replacement for a website. Your GMB listing may provide customers with vital information, but your website remains a stronger tool for conveying the personality of your brand and setting customer expectations. Your business's website is an online platform that you have complete control over; the same cannot be said of your GMB listing.
Your website even plays an important role as a source of authoritative information that may be incorporated into other Google offerings in the future. You need only look at the way the search results page has grown increasingly information-rich over the years; it's in your best interest to maintain a current and consistent website as a fundamental part of your marketing strategy.
Your website also matters from an Organic SEO point of view. Even though your GMB listing is hugely important, it mainly gets consumers from Google maps, on the other hand, your website will get consumers from the organic search results. Organic traffic to your website makes a positive difference in how Google ranks you and how easy it is for customers to find your business rather than competitors.
We still recommend operating a high-quality, representative website for all of our clients. You want to make your GMB listing a high-priority part of your online presence, though! A good Google listing can drive tremendous amount of appliance repair leads your way even if you don't have a website. But it's unlikely if it's the other way around.
Claiming and setting up your Google listing is just the start, if you want to get appliance repair leads from online marketing, so if you haven't claimed yours yet, I highly encourage you to do that asap. And if you have already claimed it but only did the basic set up, then I encourage you to fill out all the information on your listing, upload photos and start asking your customers to leave reviews if you aren't and watch your phone start ringing with more appliance service leads.
Look out for more content coming in the future from us to help you better understand how to correctly set up your Google listing, how to get it to rank higher in Google maps to get more leads and how to use it to make your company stand above your competition. And if you are looking for appliance repair leads for sale, feel free to contact us to see if your territory is still available.