Like it or not, the customer is always right and they have the power to control the performance of your company. If the customer is unhappy with the ac repair or appliance repair service offered by your company, they can simply choose another appliance repair company for their needs.
As a heating and cooling company or appliance repair business owner, you must know that attracting potential customers and turning them into customers is essential for the success of your business. But have you wondered why customers choose your competitor over your company?
If you have lost a potential customer to a competitor, there could be several factors that are responsible for this type of problem. Some reasons why you could lose a prospect include:
Poor Search Engine Ranking
Are you aware of the terms used by prospects to find air conditioner repair companies or appliance repair service providers on popular search engines like Bing, Yahoo, and Google?
Is your website or landing page equipped to handle the queries of the prospects?
If you are unaware of the terms used by the customers or if the website of your competitor is ranked better than your website, you are probably losing a lot of air conditioning repair or appliance repair leads to your competitor. This is because most customers rely on the first page of the search results for their appliance repair needs. In a recent study, it was found that more than 90 percent customers use the internet for their appliance repair needs. The best strategy for high ranking on the search engines, is the judicious use of both Pay-per-Click advertising and Search Engine Optimization (SEO) and if you don't know what you are doing, both can be very expensive for an hvac business or appliance repair company.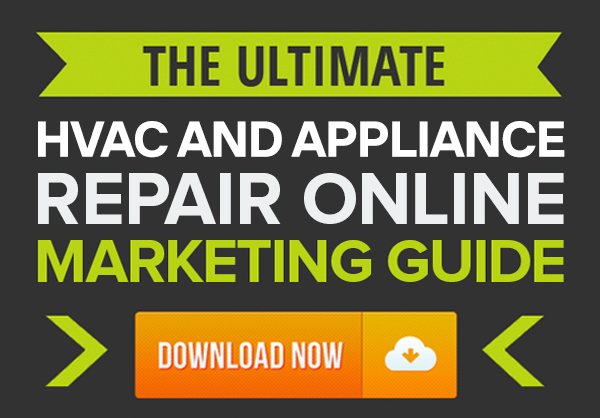 Poor Reputation
The success of your business will depend on your reputation in the market.
Do you know what your potential and existing customers think about your company?
Do you know how your reputation compares with that of your competitor?
Managing your reputation is important in today's connected world. Most prospects will check the online reputation of your business before they. In fact, more than 85 percent respondents of a survey conducted in 2013 said that online reviews have a big impact on their decision. If you have a negative online reputation, your prospects may avoid calling your company. I
f you have a negative reputation, prospects will not approach your company even if you have excellent service team that charges reasonable prices for repairs and part replacement. This problem can be handled by using proactive strategies to address the negative comments and poor reputation on social media.
Quality of Website
Your website is your online business card to the world. It is usually the first place where the potential customers learn about you and the services you are offering. However, if the website is poorly designed, difficult to navigate, or lacks crucial information, your prospects will leave your website and visit competitors site.
You can add several features to your site to make it comprehensive and appealing. These features can help in converting prospects into customers. The money and time you invest in your website will pay off by attracting air conditioning repair or appliance repair leads and keeping them on your site. This will increase the chances of getting new business. Visit appliancerepairmarketingsecrets.com/ to know more.

Poor Response Time
When a prospect contacts several heating and cooling companies or appliance repair companies via an online contact form or leaves a message on the website, you must be the first business to contact the prospect. This is because more than half the sales goes to appliance repair companies that contact the prospect back first. The prospect is a high-conversion lead and you must not waste this opportunity of winning a new customer and business. When you are first to get in touch with the customer, you demonstrate that you are professional and proactive. It gives you an opportunity to answer their queries, establish rapport, and even schedule a service call.
Customer Service
In a survey conducted by ClickFox, it was found that more than 56 percent respondents were of the view that the first customer interaction or the first purchase was the deciding factor in determining the loyalty towards a brand. Quality service is important both at the customer and at prospect stage.
The interaction that you have with the customer or prospect when they contact you, the way you treat them, and the attention you give to their needs, will play an important role in deciding the satisfaction level of the customer. If you provide poor customer service, they are likely to approach your competitor for their air conditioner repair or appliance repair needs. So take time to assess how you treat a prospect when they contact you. If you are able to impress the prospect early on, you have a better chance of converting them.
We'll talk more about each of these topics in greater detail and if you would like to learn more about a specific one let us know in the comments below, we're here to help you get your hvac company or appliance repair company to the next level.
If you would like to know more online marketing tips to grow your ac repair business or appliance repair company, check out our FREE Online Marketing guide here and seo for hvac companies.