Google has been making big and consistent updates to Google My Business listings which have been making the platform increasingly attractive for both consumers and service businesses alike. The platform offers a lot of features that make it a good addition to their search efforts.
While your Google My Business listing still contains your company's basic information, it allows you to pack even more into it than ever before. While it was previously used as a basic directory of sorts, it is now much more of a social platform for businesses to interact with their customers.
Throughout the last few months, Google has been consistently adding in a lot of new and exciting features. If you haven't checked out your Google My Business dashboard in a while, you might want to check out the new and improved features. You will likely find that there are plenty of new and exciting features that make it a worthwhile addition to your hvac or appliance service business.
New GMB Features Included In The Updates:
Questions and Answers.

Booking.

Services.

Videos.

Save feature.
And a lot more!
Questions and Answers Example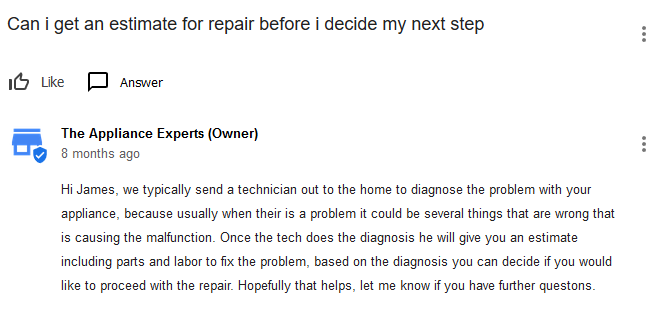 Description Guidelines
However, prior to actually writing out your description and posting it, you should familiarize yourself with the guidelines that Google has laid out. Google tells you exactly what you can and can't include in the description portion of your listing. This is very important to read as you will want to comply with their guidelines. Google will go over and review the description that you write and publish. Therefore, you should look to adhere to the rules and guidelines as much as possible.

If you are going to be writing it yourself, you should look to create different variations of the description in order to have backups on hand in the event that Google rejects your description. This will help to ensure that you can get your description on your listing as soon as possible. Below, we will be going over some of the guidelines that you should be following when creating your own.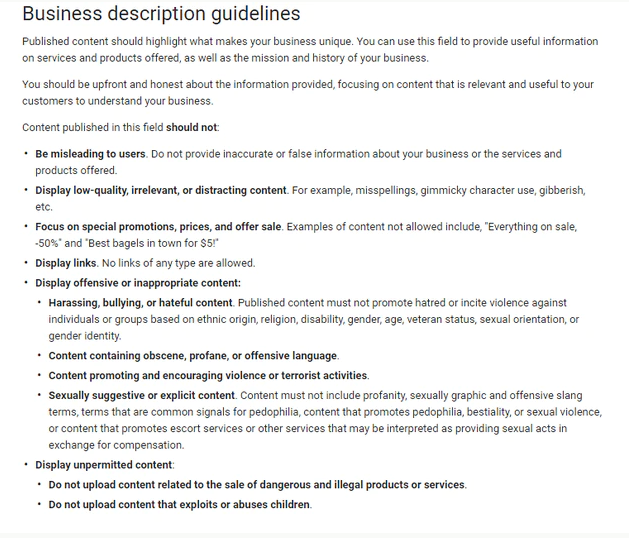 Tips For Creating Your Google My Business Listing Description:
Keywords.
The first thing that you want to do when you are looking to craft the perfect business description would be to think about the different air conditioning repair keywords or appliance repair keywords that you want to directly target. You should be looking for around two main keywords to optimize your description for. You want to utilize the keywords early on in your description and try to discuss what makes your appliance service or ac service business stand out and include the unique selling proposition offered by your business.
Don't Add Links.
Another thing that you are going to want to avoid doing is adding links as it is against the guidelines set by Google.
Don't Spam.
This is very important. You shouldn't be spamming your targeted keywords throughout your description. Write naturally for your audience instead. Sprinkle in the keyword a couple of times and avoid overuse.
Email and Phone Number.
You can add your business' email address and phone number.
Avoid Wasting Space.
Don't Make Offers.
You don't want to include promos or offers in your description. Google doesn't want this here, instead they have a separate Google My Business features for those offers. Therefore, you should use them instead.
Don't Use All Caps.
Don't make your description look "spammy." Avoid using all caps.
How To Add The Description?
Adding your business description isn't difficult at all. All you have to do is log in to your dashboard and click on your listing.
Once you are officially into your listing area, you can go to Info tab to Add Your Business Description. From there, you will be able to click on the "pencil" icon which is the edit icon. This will allow you to edit your description.
This is the place where you will want to input the business description that you came up with. Your description is only going to display partially up until a certain point, when a consumer is viewing it. Therefore, you will want to include the most compelling portion and the most important components of your description prior to the cutoff.
When it comes to ranking, no one knows whether or not your description plays a key role. However, if someone does come across your listing when searching for something, it is going to influence their click. Therefore, you want to make it as compelling as possible. Thus, you should optimize it for your local consumers rather than the search engines.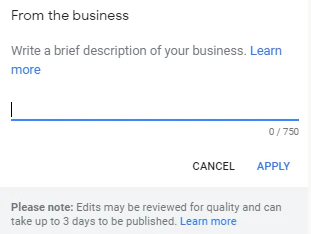 Understand that you have a limited number of characters that you are able to use. Therefore, every character should matter. You don't want to waste space within your description. Thus, you should take a good amount of care when crafting it to ensure that you are including only things that are going to help your listing stand out and convert clicks at a higher rate.
Once you have inputted your company's description, you will want to click "Apply." Then, you will simply wait around 3 business days for Google to review your description. Once it is reviewed and approved, you should see your Google My Business listing updated with the description you published.
Google My Business is a very important component of any business. It is only becoming increasingly prominent within the search engines and with all of the feature updates, consumers are going to continue to flock to it and use it much more like a social search engine of sorts. Optimize your description as part of your monthly appliance repair or ac repair seo strategy and continue to use the platform to it's fullest potential and you should be able to stay ahead of your competition.
Looking for appliance repair leads for sale? Contact us today to see if your service area is still available.