Yelp is definitely a platform that has a high level of visibility given the fact that it has more than 31 million app users in addition to its millions of web visitors. Most air conditioning and appliance repair companies therefore wouldn't want to have any bad experience that gets amplified on the Yelp platform because that results to immediate fallout with customers and has a huge negative impact on any business' ability to make profits.
Yelp's own research has been suggesting that about 90% of users on its platform usually make the decisions to buy or get services from companies within a period of seven days after visiting the platform. So in order to ensure you are maintaining good reputation as an HVAC business or appliance repair company you need to be quickly acting to protect your business by monitoring the kind of reviews you are getting on platforms like Yelp.
If you want to remove a bad Yelp review, there are some steps that you can take to make the process easier. Here is a guide on how to remove bad Yelp reviews and why a business might need to delete them. Firstly, you should be aware that reviews on Yelp can be faked. In many cases, businesses will pay their employees to leave reviews while they are away from work. This is a good way to create a positive review, but it's still possible for customers to detect the fake reviews.
How To Delete A Yelp Review
When someone writes a fake review about your air conditioning repair business or appliance repair business, you might be wondering how to delete it. While Yelp does not take third-party content lightly, the platform does offer a few options. You can reply to the reviewer and encourage them to update their review, or you can request that the review be removed. Either way, make sure your response is professional and sincere.
First, claim your AC repair business profile or appliance repair business profile. Some reviewers are part of a larger fake review campaign. In some cases, the fake reviews may be posted under different usernames. Regardless, the removal of fake reviews is possible by contacting the Yelp moderators. Once you've done this, you can start responding to the fake reviews as quickly as possible.
Responding angrily to the review won't help your reputation, and may even alienate potential customers. The author of the review might try to get back at you, and you may lose customers if the exchange takes place. In addition, defensive language may make users think the review was fabricated. Furthermore, fake reviews submitted by friends violate Yelp's terms of service.
Why A Business May Need To Remove Bad Yelp Review
There are a few reasons a business may need to remove a bad Yelp review. One is that it may draw unwanted attention to the business. Another is that it might make customers feel more comfortable leaving a review. However, if a business fails to respond to negative reviews promptly, it may encourage the person who left the review to go back to Yelp and leave even more negative reviews.

Another reason to remove a Yelp review is that the content contained in it is not true. Some users may post reviews under false names or use multiple usernames. In this case, a business can report the review and Yelp will remove it if it violates its TOS.

A business can also delete a bad Yelp review by asking the person who posted it to remove it. The best way to do this is to apologize for any mistake the reviewer made and encourage them to leave a positive review. This way, a negative review can be replaced by a positive one that shows how well the business treats its customers.
Can Yelp Reviews Be Faked?
The first sign that a review is fake is the use of unfamiliar words. Many fake reviews are written by foreigners and will appear as if the reviewer was a native English speaker. In addition, the words may not sound natural to the average American. For example, the word "100" might be used instead of "a hundred dollars" and the "$" might not be a US currency.
If you suspect a review is fake, you can try to remove it from Yelp by reporting it. You can do this by hovering over the "report this review" button on the review. A drop-down list will appear. Here, you should choose the reason you want to report the review.
In recent years, Yelp has taken steps to combat the use of fake reviews. The site has been cracking down on air conditioner repair businesses, appliance repair businesses and other businesses mostly in the home services industry that tend to use third-party companies to write fake reviews. The company has also introduced stronger punitive measures for violators.
Fake reviews have generally been noted to be on the rise in spite of the efforts made to keep pushing them down try and make them less visible. The Harvard Business Review says there's a large market which is thriving for fake reviews across different digital platforms. Research is also suggesting suggesting how most customers feel confident that we have come across fake reviews. 26% of consumers confidently say they have come across fake reviews on Yelp.
How Does Yelp Handle Fake Reviews?
Fake reviews are those that focus on the experience of someone else, or on content that is plagiarized. If you find any of these reviews on a Yelp business listing, you can file a report. Yelp will investigate and take down the reviews as long as you have a strong case. However, you need to be aware that not all reports will be approved.
Consumer Alerts On Profiles With Fake Yelp Reviews
Yelp has a zero tolerance policy for any business that manipulates reviews, and has instituted a Consumer Alert program to punish these shady practices. Whenever a business is found manipulating reviews, the company will post a visible alert message on the business's profile page. These alerts will include a link to relevant evidence.
It is possible to identify a fake reviewer by their first and last name, as well as other identifying information that isn't published on the business's profile page. Using the Yelp privacy guidelines, the company can confirm the identity of the person writing the fake review. In some cases, fake reviews can be chosen for a legitimate reason, such as an ex-employe or competitor who is upset about a business's service.
The FTC also has guidelines about purchasing reviews from businesses. If a business does this without disclosing their intentions to potential customers, it faces a search ranking penalty. Thankfully, the penalty is temporary and will be removed after 90 days. However, businesses should take note that a Consumer Alert can negatively impact the reputation of their business and prevent potential customers from engaging with the business.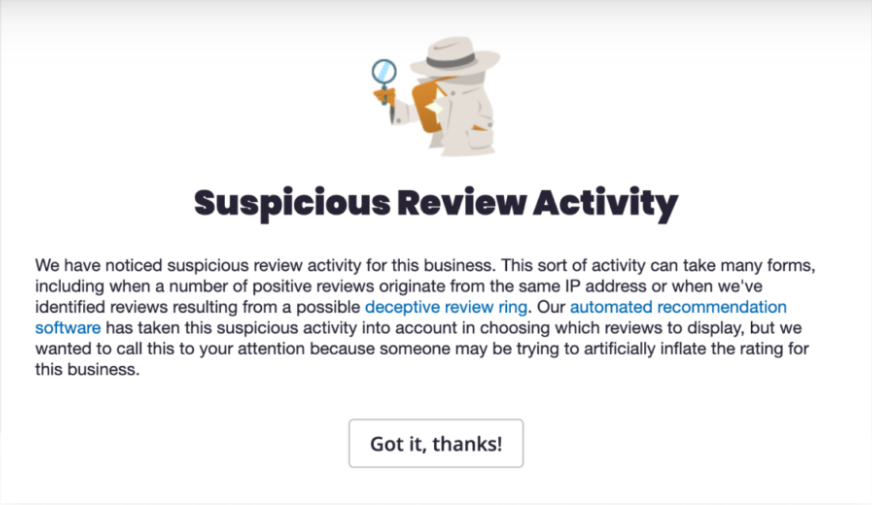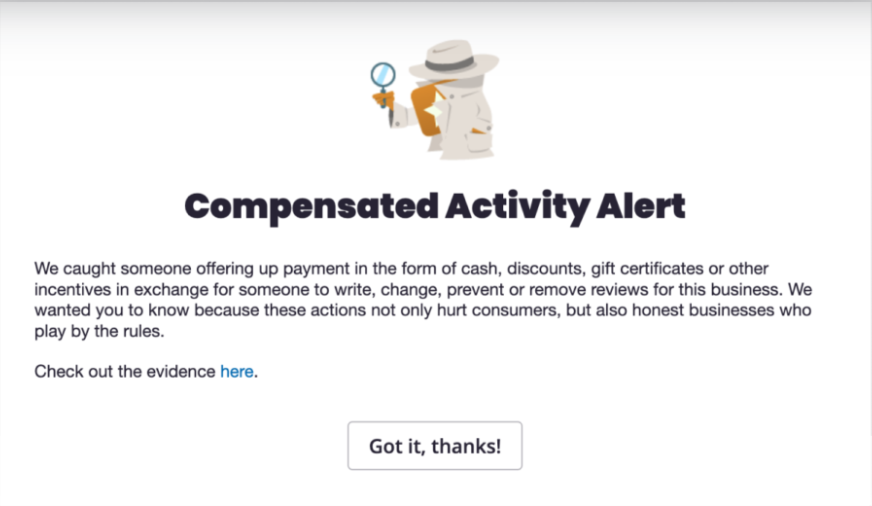 Yelp's Recommendation Software for Evaluation of Reviews
One way to analyze Yelp reviews is by using recommendation software. This software evaluates signals across millions of reviews to make recommendations. As a result, it can help you move from not recommended to recommended over time. It works by looking at every single review posted worldwide.
The latest update to Yelp's algorithm has resulted in the removal of many positive reviews. While Yelp has since fixed this problem, many users still find this process incredibly frustrating. The company wants to promote only the most helpful reviews, especially those that are photo-enhanced and have friends and family members that rate the business highly. They also want to highlight the most recent reviews.
Yelp's recommendation software filters reviews by their quality, reliability, and user activity. It recommends the most helpful reviews, while unrecommended reviews are hidden at the bottom of the business page. By analyzing all reviews, the software will help you to make the right choice for your business.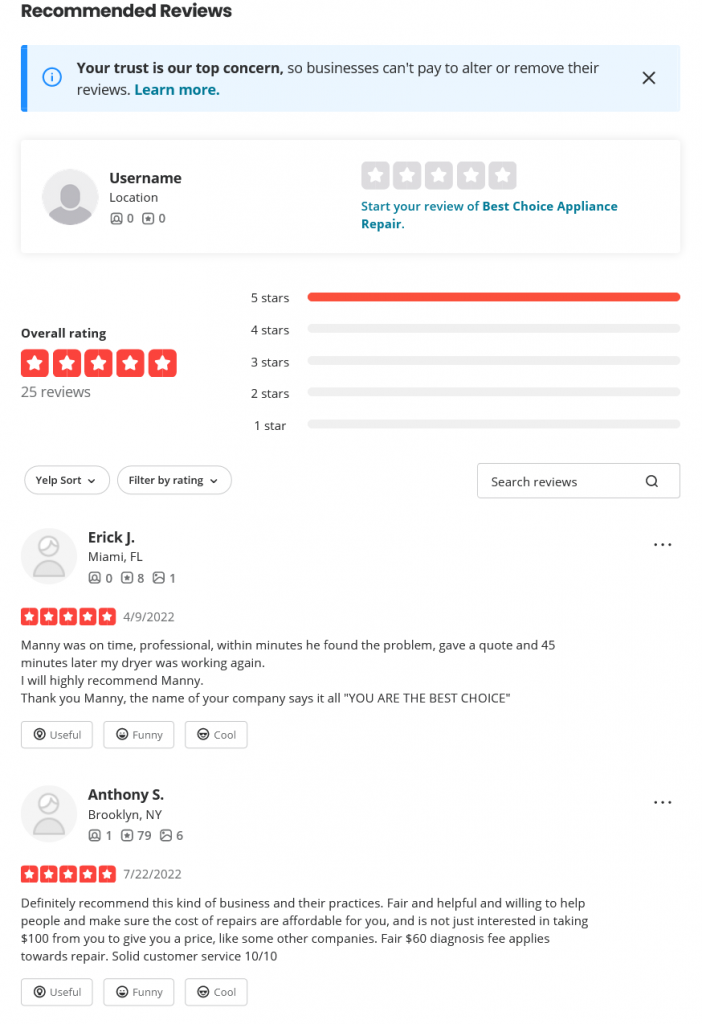 Human Moderators On Yelp Reviews
There are a number of ways to get a human moderator to remove a bad Yelp review. First, it's important to state why the review should be removed. When you provide reasons for a review to be removed, people are more likely to grant your request. The more compelling your reason, the more likely someone will remove the review.
If you are having problems with a fake review, you can ask Yelp to remove it. You can remove it by following the instructions provided on their blog. Log into your Yelp business account and navigate to Reviews. Next, click on the three dots next to the review text. From there, select "Report Review." Once you click the Report Review button, a moderator will review the review and remove it.
In recent months, Yelp has removed nearly four thousand reviews because of complaints that violate the company's content guidelines. The company has also introduced a human moderation system to deal with questionable reviews.
How Do I Remove A Bad Yelp Review?
There are many ways to remove a bad Yelp review. You can respond to the review, delete the bad one, or report the review to Yelp. If you find a review that is based on lies or false information, you can take steps to correct it.
Responding To Bad Yelp Reviews
Responding to bad Yelp reviews should be a personal touch. It should let the reviewer know that you will investigate and try to make things right. You should also invite the reviewer to reach out to you in the future if necessary. This will help improve the brand perception and show that you care about the review. If you don't have time to respond to every bad review, try sorting them by importance so that you can address the most critical ones first.

If possible, try reading the review aloud before you reply to it. Ideally, you should read the entire review several times before responding. Moreover, you should try to be as polite as possible, since future Yelp users will be able to see what you wrote in your response.
Deleting A Malicious Yelp Review
If you have recently received a review that is not favourable, you should take steps to remove it. Yelp has a tool to help business owners report and remove these reviews. Click the three dots next to a review to report it. A Yelp moderator will review the review and take action if the review violates the content guidelines. However, this may take a few days.

It is important to note that Yelp moderators have the right to delete the review, so if you suspect it to be malicious, you should report the review to them. It will take up to seven days for them to review the review. However, if the review has violated their guidelines, the review will be removed immediately. This procedure works for both positive and negative reviews. However, it is important to remember that the removal of a review may not result in any compensation to the business.

Once the review has been removed, you should contact Yelp directly to explain your situation. If the review is from a customer, try to contact the business and try to resolve the problem with them. Sometimes, the customer service department is able to solve the problem without resorting to legal action. But if the resolution is unsuccessful, you should still take steps to learn from the experience.
Report The Review To Yelp
If you have received a fake Yelp review, you can easily report it to Yelp and ask them to take down it. However, you should note that fake reviews are often part of larger fraudulent campaigns. Some fake reviews use different usernames to spread the word. In such cases, you can take legal action to get the fake review removed. The first step in this process is to claim your business profile on Yelp.
To report a fake Yelp review, you must follow the steps set forth by Yelp. You must first identify the reviewer and the reason for reporting the review. In many cases, a fake review can lead to a negative impact on a company's brand and revenue. Hence, it is important for a business to report a fake review to Yelp.
How To Submit A Fake Reviews Report To Yelp:
1.    Claim Your Yelp Business Profile
2.    Log In And Find The Yelp Review
3.    Go To The 'Report Review' Button
4.    Complete The Form
STEP 1: Claim Your Yelp Business Profile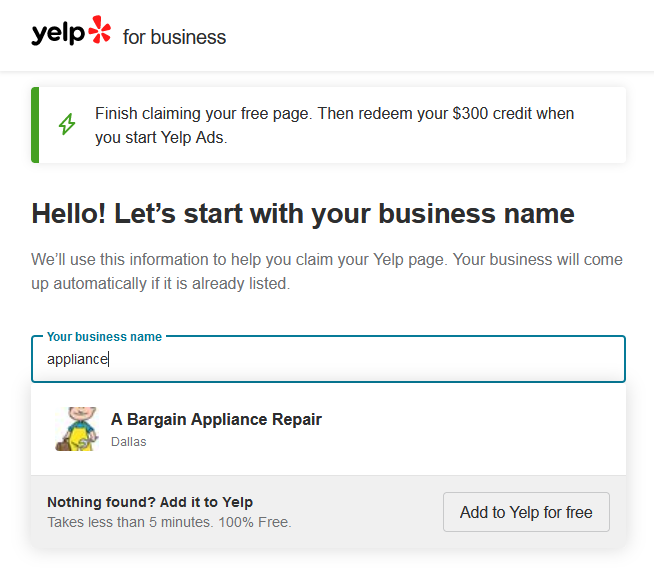 STEP 2: Log In And Find The Yelp Review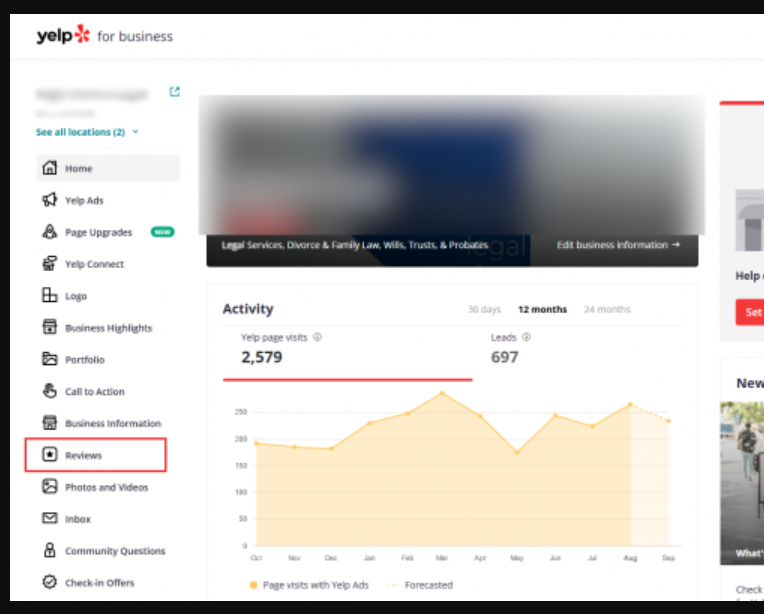 STEP 3: Go To The 'Report Review' Button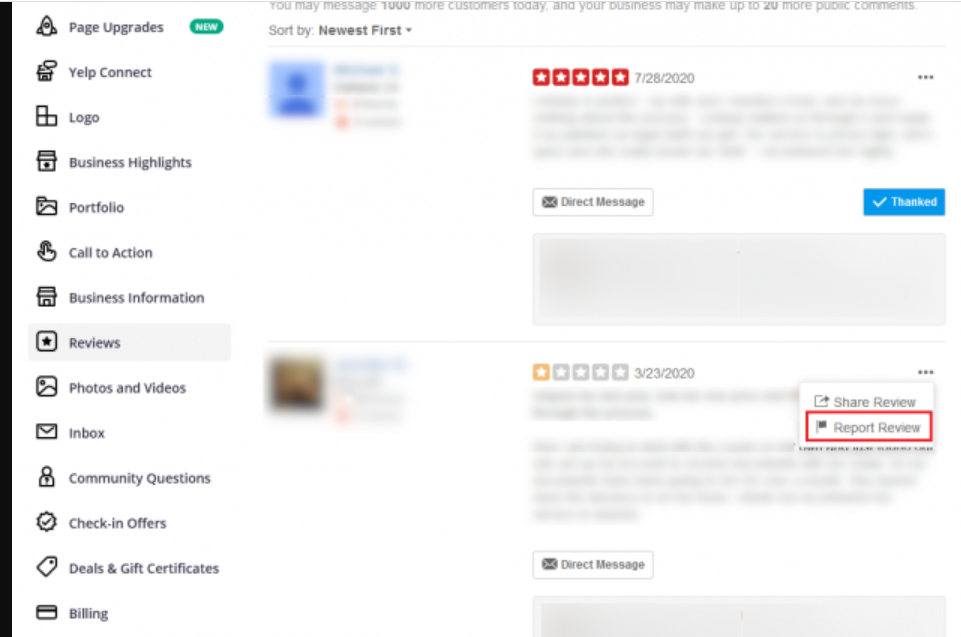 STEP 4: Complete The Form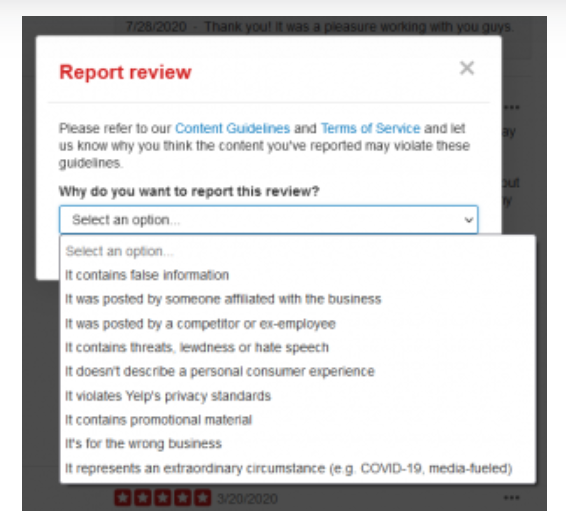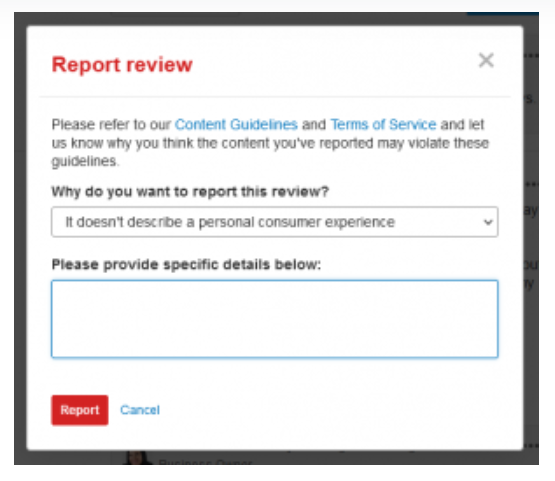 What If The Yelp Review Isn't Removed?
First, you should try to contact the Yelp customer service department to have the review removed. Many situations can be resolved this way. Customers want to be heard, and effective customer service will work to address their concerns. If, however, you are unable to resolve the situation, there are legal options.
While Yelp remains a great digital platform that provides a high level of visibility for businesses in the home services industry, consumers are increasingly submitting reviews on the platform not just reflecting on great experiences but also bad experiences with service providers.
Since Yelp reviews are critically important in providing the peer feedback heavily relied upon in the modern consumer decision making process, some users on the Yelp platform get motivated to leave fake or malicious reviews on targeted business profiles.
More than 85% of consumers take into account the average star rating of businesses on platforms like Yelp before they choose where to spend their money. Fake reviews can severely damage your the reputation of your air conditioner repair company or appliance repair business. They must be effectively dealt with in a timely manner.
Customers avoid Yelp business profiles with two or lower average star rating, so it is important to take the right steps in getting rid of any fake or malicious reviews that contribute to lowering your average star rating on Yelp.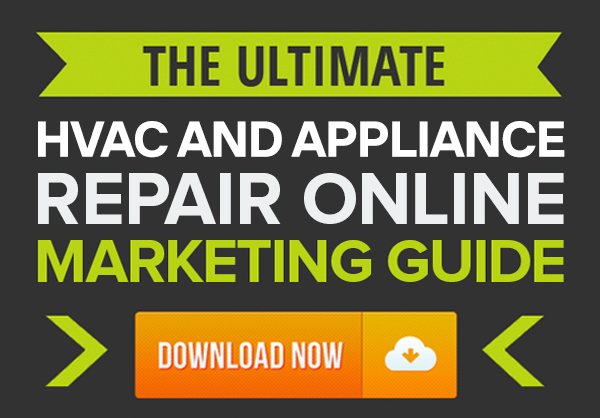 To boost your average star rating on your business profile on Yelp, you can get the necessary help from our appliance repair and hvac online marketing experts. They are extensively experienced on online platforms that provide business listing rating and review systems like Yelp, how they handle fake reviews and the process of getting them removed. It is not an easy process but with the help of experts you can manage to effectively deal with fake reviews that are currently hurting your business. The goal is to improve your overall star rating, earn more trust and start getting a decent flow of leads and more customers from your Yelp business profile.
Yelp is one of the key online business directories that should be part of your local citation building for local SEO (Search Engine Optimization) efforts. Local citations count as a ranking factor in Google search results. It is critically important to avoid any negative feedback on your business profile on Yelp and similar online directories for local business listings.
Get Your Free Digital Marketing Review Session