A well-optimized Facebook Business Page plays a crucial role in boosting the local online presence of your HVAC business or appliance repair company. Similar to your Google Business Profile, it serves as a structured citation, offering vital business details to potential customers and serving as an official platform to connect and interact with your audience.
Did you know that Meta reports a staggering one billion users engaging with businesses on Facebook's platforms each week? Although this figure encompasses apps like Instagram and WhatsApp, it underscores the immense importance of Facebook for businesses like yours.
Given the recent developments, such as the transition from Facebook Business Manager to Meta Business Suite, updated page designs, and new location management features, it's understandable if you feel uncertain about where to begin.
To help you navigate this landscape, we have outlined the following steps:
Creating a new Facebook Business Page specifically for your HVAC business or appliance repair company.
Establishing and managing multiple Facebook Business Pages effectively.
Requesting access to existing claimed pages to ensure accurate representation of your business.
By following these guidelines, you can harness the power of Facebook to enhance your online visibility and engage with potential customers efficiently.
Creating a New Facebook Business Page for Your Local Business
Step 1. Creating a New Facebook Business Page for Your Local Business
Start by logging into your Facebook account and visiting https://www.facebook.com/pages/creation, which is specifically designed for creating pages for your HVAC or appliance repair business.
As you proceed through the steps, the page preview in the center will update in real time, allowing you to customize and provide the necessary information for your business. Additionally, you can easily switch between desktop and mobile views by clicking the icons located in the top right corner.
Step 2. Add your business information
On the left side of the page, you'll notice fields specifically tailored for your HVAC or appliance repair business information. It's crucial to provide the necessary details, with a special emphasis on the required fields. However, keep in mind that adding more content will greatly benefit your page.
To begin, enter your page name, ensuring that it accurately represents your HVAC or appliance repair business. Next, select the relevant business category from the provided drop-down menu. While optional, you have the option to include a business description during this step, which can be edited and refined later on as needed.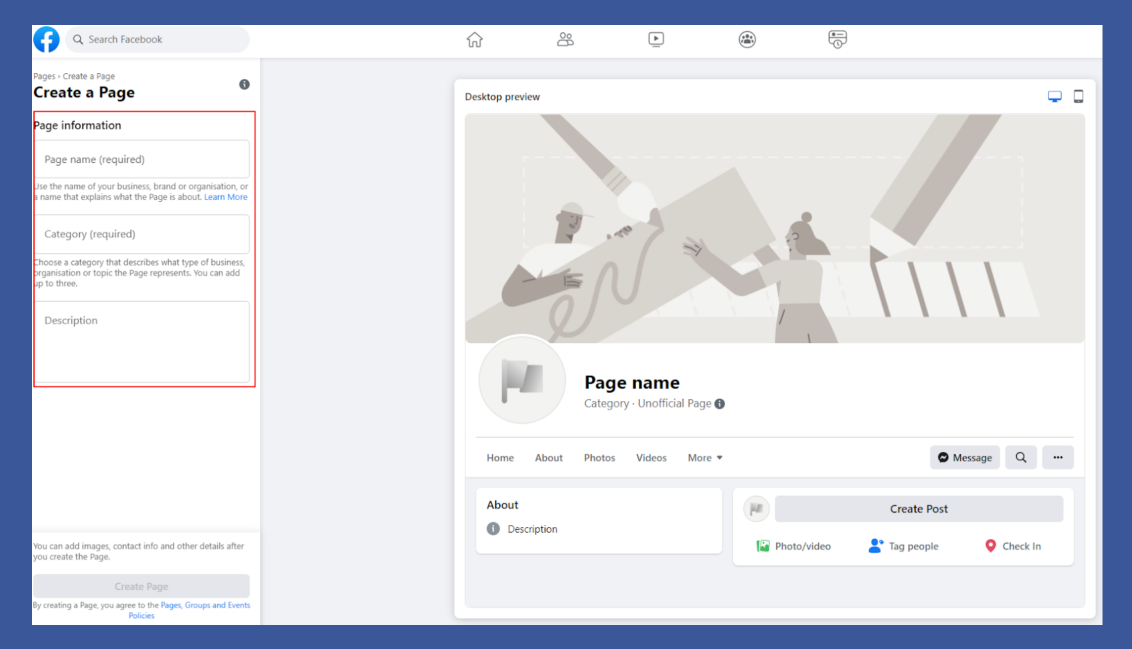 Step 3. Incorporate your business logo
After providing the essential information for your HVAC or appliance repair business, proceed by clicking on the "Create Page" button to initiate the page creation process.
On the left menu, you'll notice additional fields specifically designed for your business needs. This is where you can upload your HVAC or appliance repair business logo and profile picture, although it's optional and can be added at a later time if you prefer. Additionally, you'll find toggles that allow you to manage notifications and promotional emails according to your preferences. Once you have made the necessary selections, simply click on "Save" to finalize the process.
Step 4. Establish a connection with WhatsApp
As an HVAC or appliance repair business owner, you'll have the opportunity to establish a connection between your Facebook page and WhatsApp by providing your mobile number. It's important to note that this step is entirely optional, and if you decide not to proceed with the connection, you can simply close the pop-up window without any further action.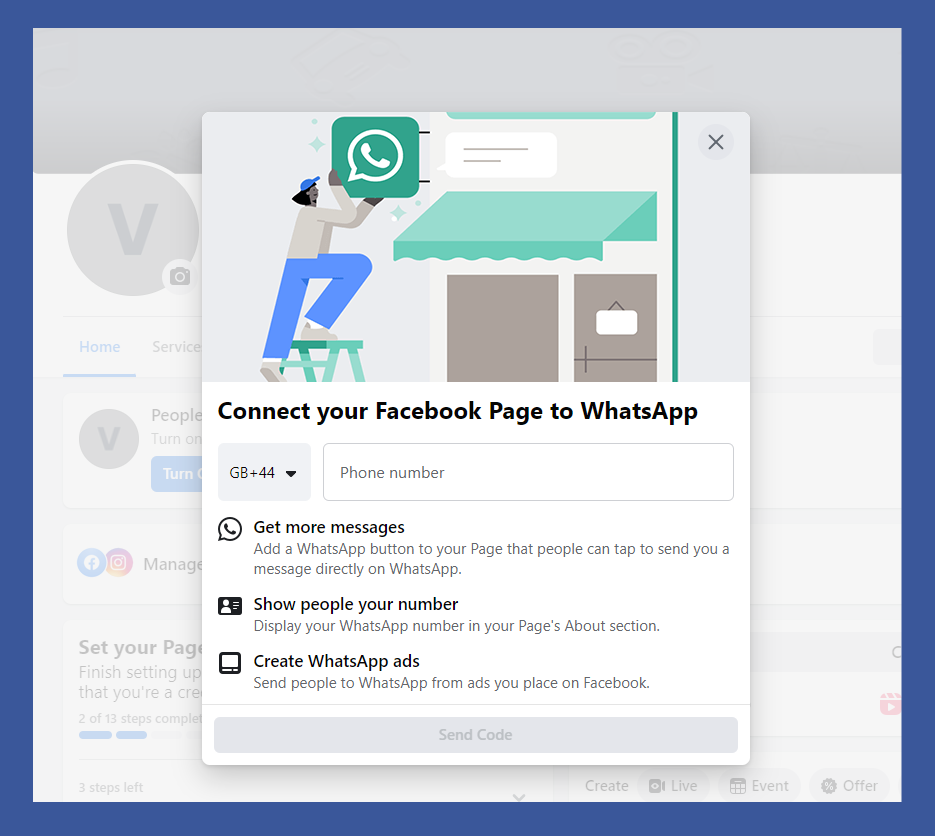 Step 5. Fine-tuning your page details
After creating your page, you'll be directed to the newly created page where you can provide additional information about your business.
There are two options to proceed. First, you can navigate through the "Set your page up for success" section displayed on the main page screen. This section will guide you through the remaining sections that can be updated. Alternatively, you can click on "Edit Page Info" located in the left menu.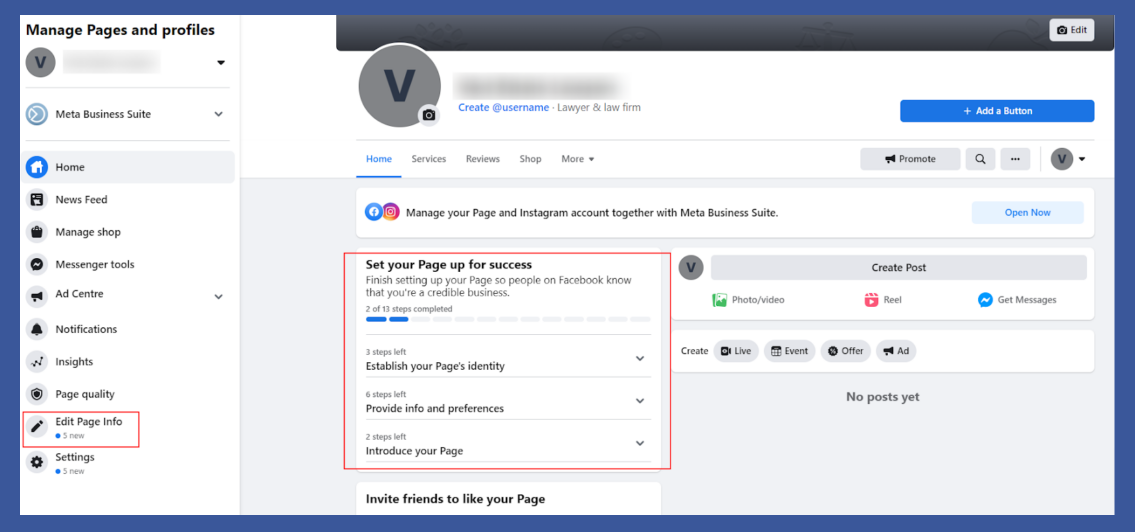 Step 6. Accessing the page settings
Selecting "Edit Page Info" will open a new page where you can conveniently add all the necessary business information at once. Rest assured that any changes you make will be automatically saved, as indicated by a brief pop-up notification confirming the successful saving of your updates.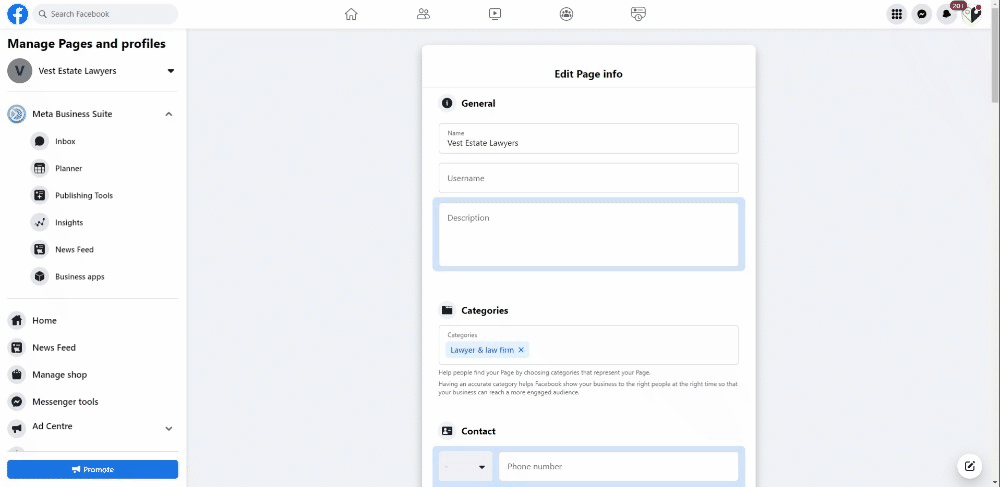 Creating Multiple Business Pages for Your Local HVAC Business or Appliance Repair Company
Before efficiently managing multiple pages for your HVAC or appliance repair business under a single account/dashboard, it's essential to have ownership of at least one Facebook Business Page. This initial step establishes a main page, which serves as the foundation for linking and managing other related pages seamlessly.
Step 1. Logging in and locating your page
Begin by logging into your Facebook account.
From the available options in the left menu, select "Pages":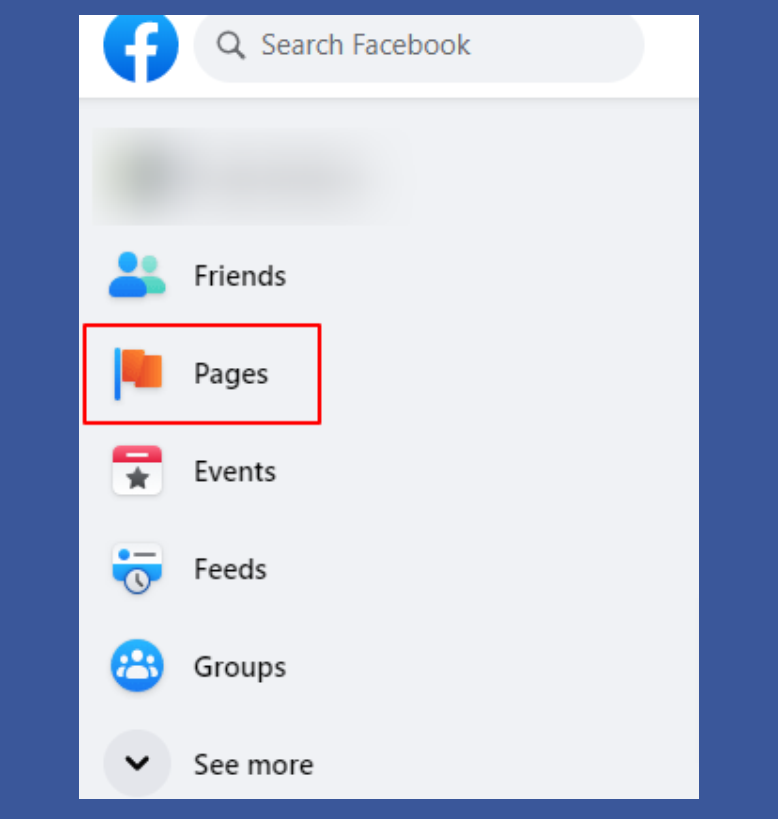 Open the desired page.
Take note of the string of numbers located at the end of your page URL. This sequence represents your page ID: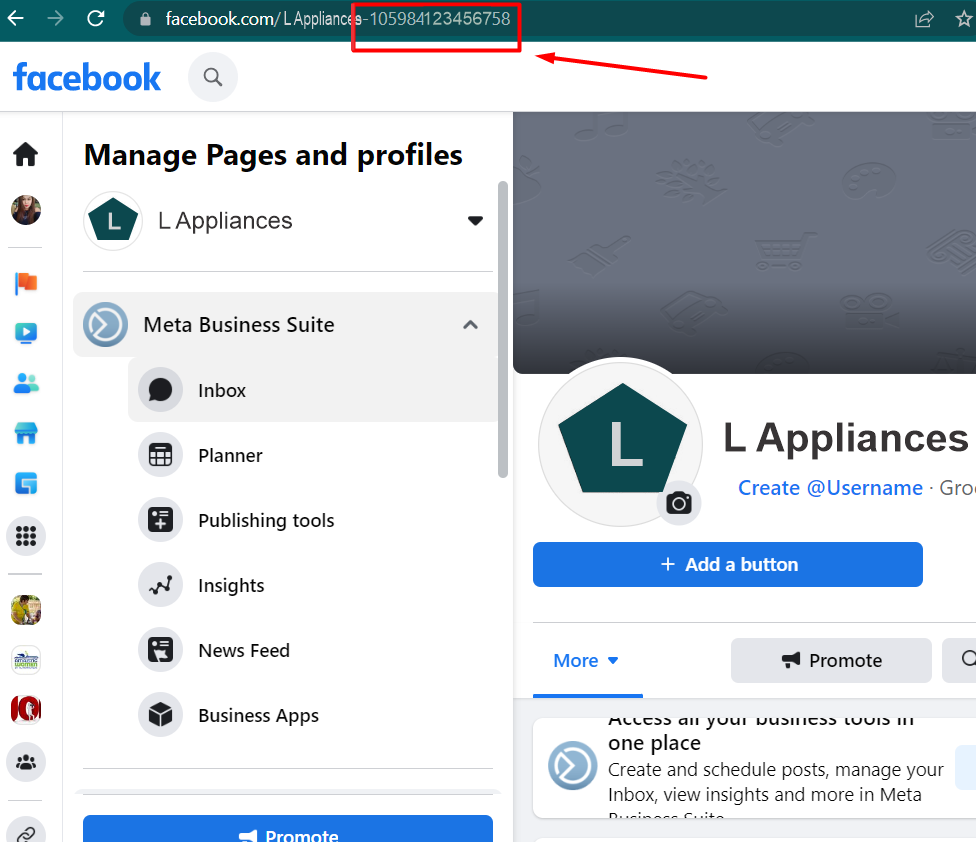 Step 2. Establishing the page connection
Paste the previously copied number into the search bar located at the top right corner of the page. When your page appears as a suggestion, select it from the options provided: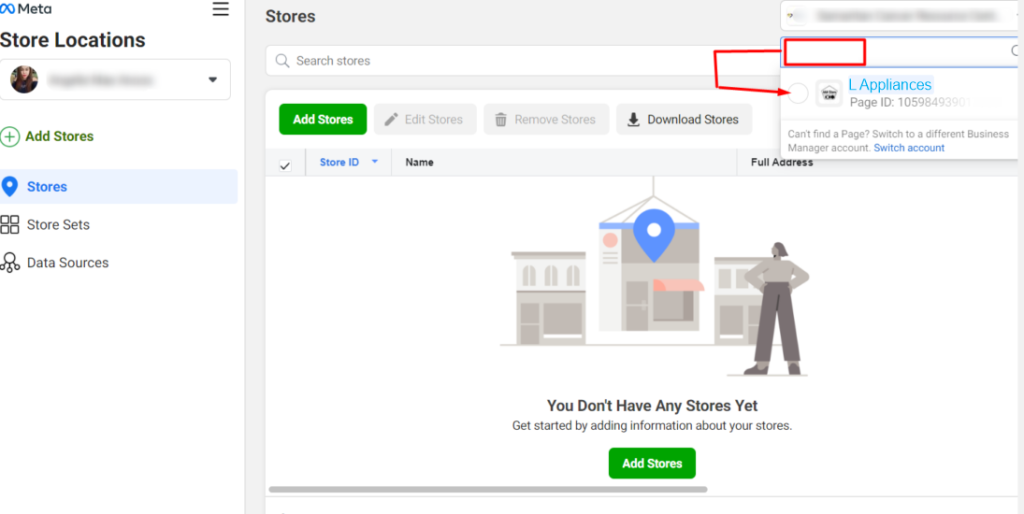 If your page is relatively new, you may encounter the following message. In such cases, you will need to revisit the process after a waiting period of two days to proceed further.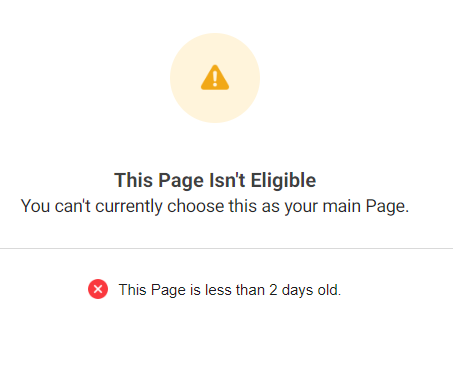 When proceeding to manage multiple pages for your HVAC or appliance repair business, it's important to note that the main page should not have an associated address. If you come across the following message during the next steps, it means you will need to remove the address or select a corresponding checkbox to proceed accordingly: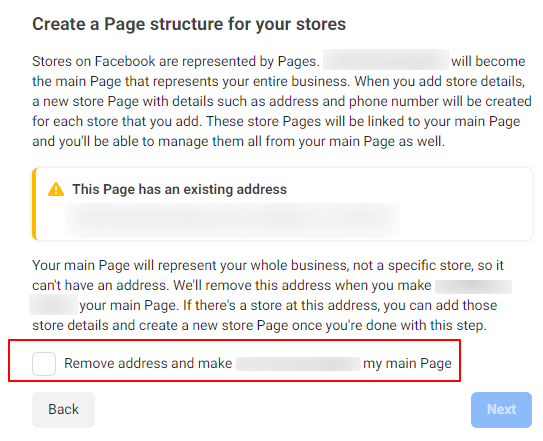 Step 3. Confirming the setup of your main page
After a two-day period, if your HVAC or appliance business page is ready, you will see the "Get Started" button displayed on the main page screen:

Select the checkbox to confirm your intent of designating the current page as the main page for your HVAC or appliance business/brand.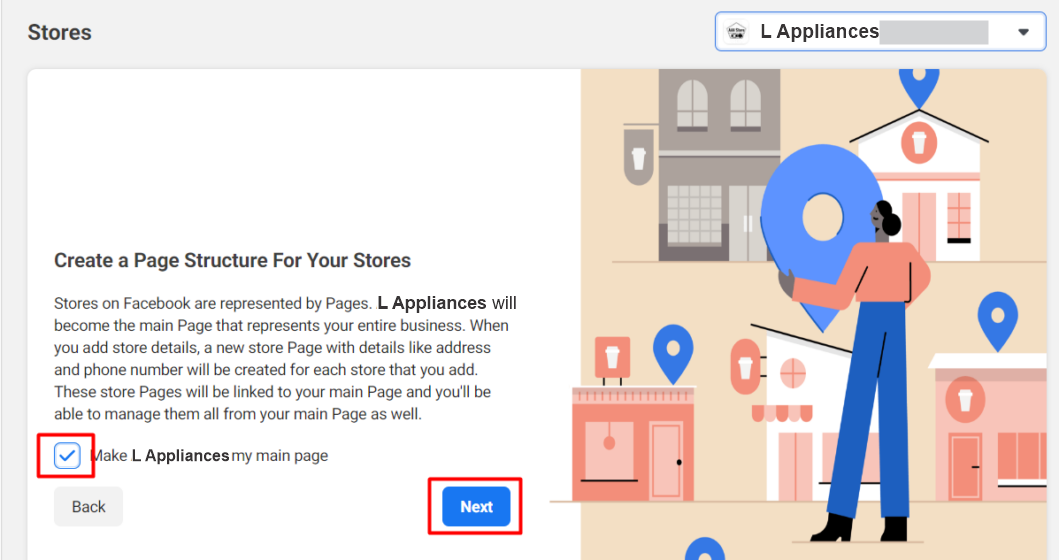 By completing this step, you will establish the necessary structure where all location pages will be grouped under the main page. Consequently, you will gain access to the main dashboard, providing you with the ability to efficiently manage your HVAC or appliance business's various stores. The initial task at hand is to add the remaining locations to your page.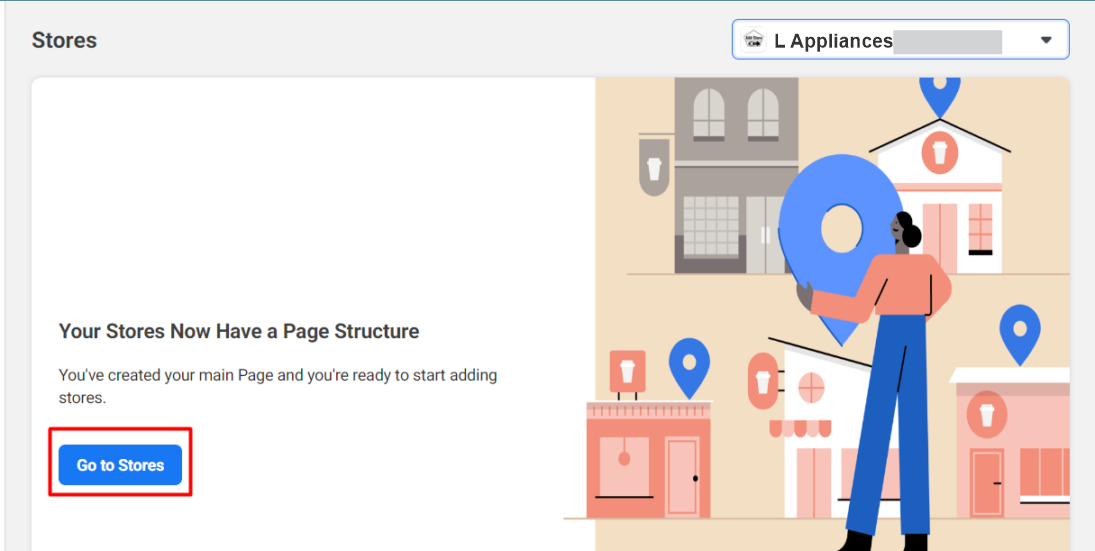 Step 4. Adding Location/Store Pages
Click on the "Add stores" button to initiate the process of adding location or store pages to your main page.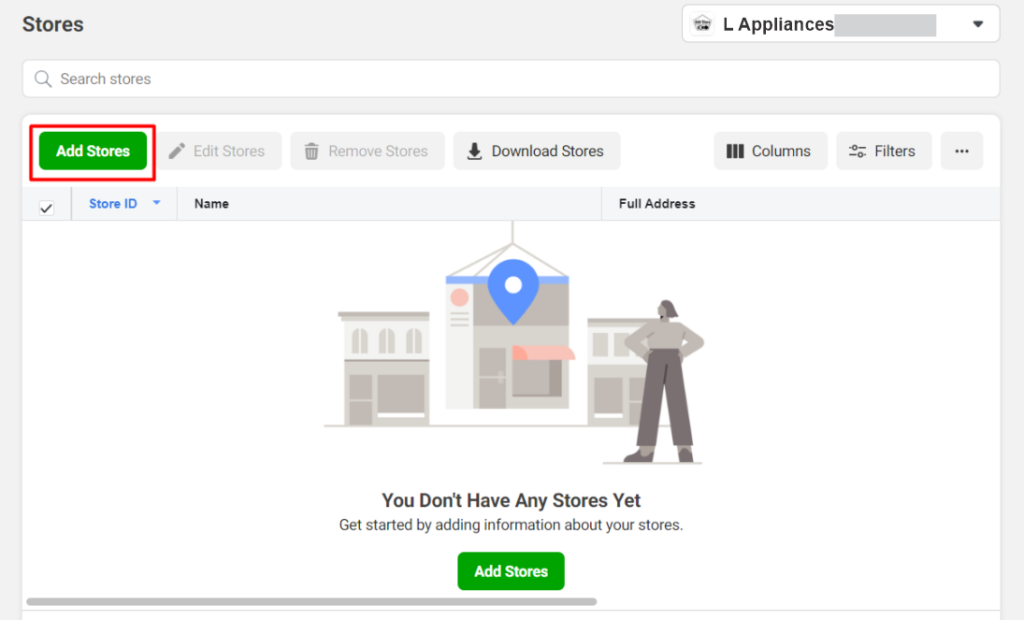 Choose the preferred method for adding a new page. You have several options to select from:
Add manually
Add multiple stores
Connect via API
Connect a Page
Select the option that best suits your needs and follow the corresponding steps to add the desired location or store pages to your HVAC or appliance business.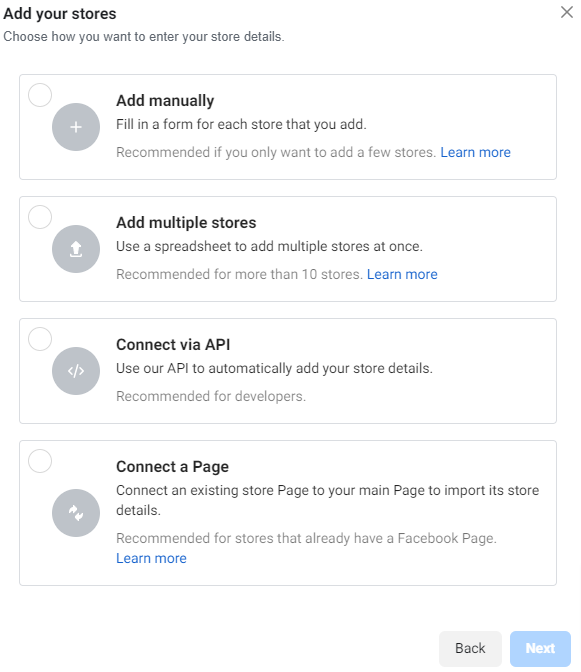 If you have a limited number of pages to add, the most suitable option is "Add manually." This method will prompt you to provide essential information about your HVAC or appliance business, including:
The business name: Facebook will automatically pre-fill this field, assuming that all locations share the same name as the main page.
The default name: It will include the existing page name with a location descriptor. The descriptor typically follows the format "(City)" or "(Address, City)" if there are multiple locations within the same city. Please note that you can modify the name later in the page settings to accurately reflect each location.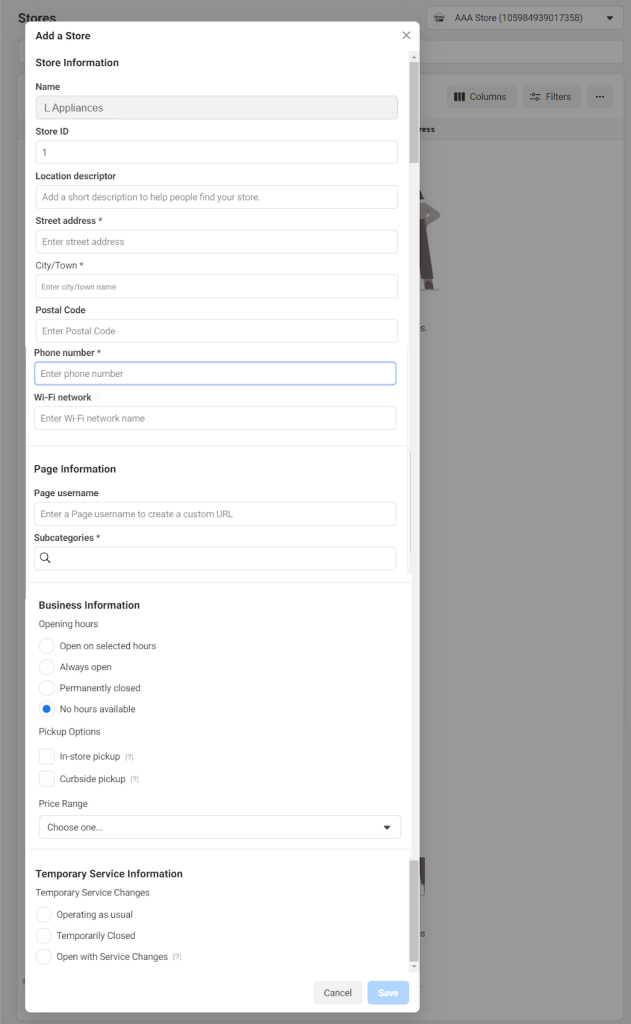 If you have more than ten locations to add, it is recommended to utilize the bulk upload method via file upload.
The ideal option for this scenario is "Add multiple stores." This option facilitates the process by providing you with an example template that demonstrates how the information should be filled in. Additionally, a blank template is also available for your convenience, which you can use to input the details of your HVAC or appliance repair store locations.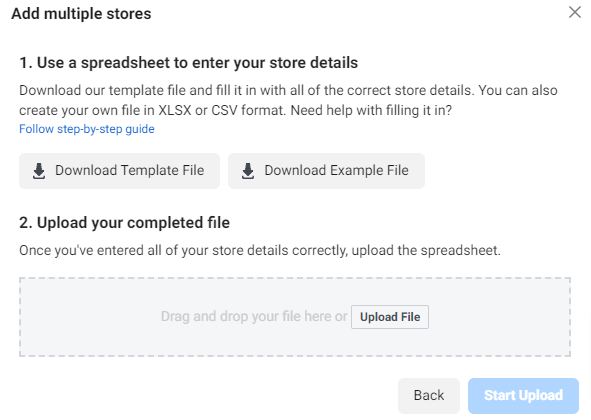 How to Request Access to HVAC or Appliance Repair Claimed Pages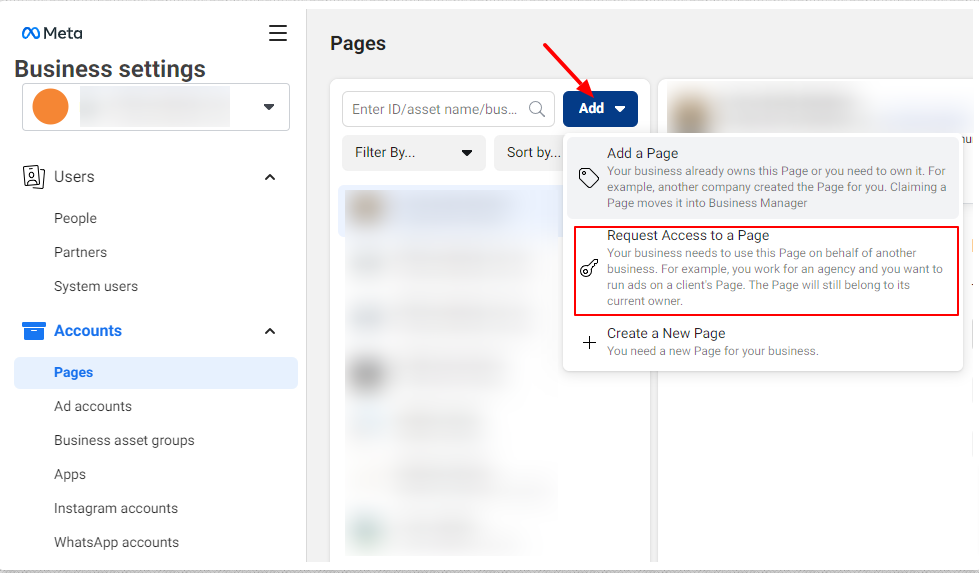 Enter the name or URL of the Facebook Page for your HVAC or appliance repair business.

Tip: When searching for your page, it is advisable to use its URL. This approach is more precise because typing only the name can yield multiple options, making it unclear which page to select unless you intend to claim all of them or are certain of their ownership.
After selecting the appropriate page, utilize the toggles to specify the permissions you require. If your intention is to maintain accurate and up-to-date business information, it is recommended to request full control.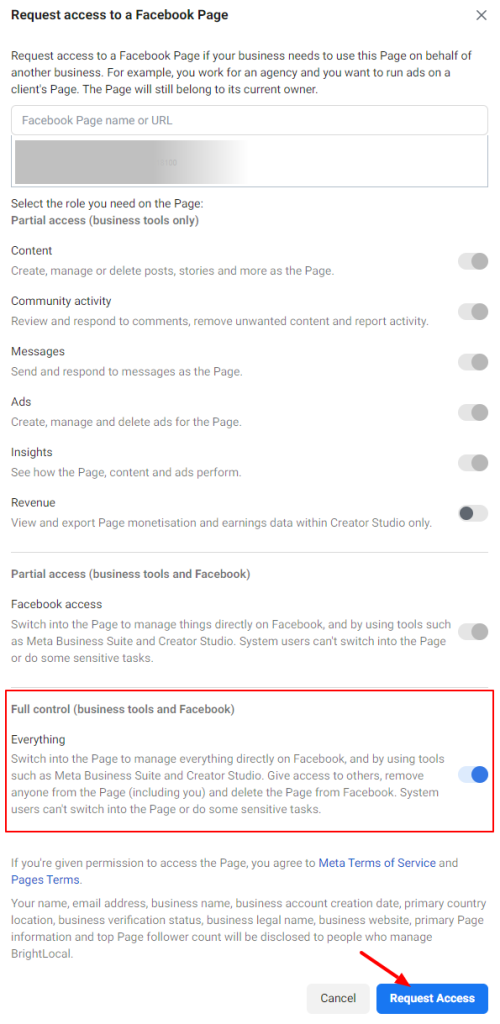 • Click on the "Request access" button to initiate the access request.
• Once the request is submitted, it will appear as "Pending" in your dashboard.
We trust that the steps covered have provided assistance in the initial stage of adding or claiming your Facebook Business Page for your HVAC or appliance repair business.
Managing Your Facebook Business Page: Overview and Tips
Your HVAC or appliance repair Facebook Business Page is a valuable platform for engaging with your audience and attracting new customers. Here is an overview of managing your page effectively and some tips to optimize its layout and encourage customer reviews:
Regularly Update Your Page: Keep your page up to date by posting relevant content, such as maintenance tips, industry news, special offers, and before-and-after project photos. This helps to keep your audience engaged and informed about your services.
Optimize Page Layout: Customize the layout of your page to reflect your HVAC or appliance repair business. Use high-quality images or videos as your cover photo and profile picture. Ensure that your page's About section includes essential information, such as your business hours, contact details, and a brief description of your services.
Utilize Facebook Features: Take advantage of Facebook features to enhance your page's visibility. Create events for promotions or workshops, use the Offers feature to provide exclusive discounts, and utilize Facebook Live to showcase repairs or demonstrate DIY tips.
Engage with Your Audience: Respond promptly to messages, comments, and reviews on your page. Engaging with your audience shows that you value their feedback and builds trust with potential customers.
Encourage Facebook Reviews: Positive customer reviews play a crucial role in establishing credibility and attracting new customers. Ask satisfied customers to leave reviews on your Facebook page. You can also consider offering incentives, such as a discount or a giveaway, to encourage reviews.
Showcase Customer Testimonials: Highlight positive customer testimonials or reviews on your page. This social proof helps potential customers trust your services and increases your page's reputation.
Promote Your Page: Spread the word about your Facebook Business Page by adding a link to your website, email signature, and other social media profiles. Encourage your existing customers to like and follow your page.
Remember, managing your HVAC or appliance repair Facebook Business Page requires consistent effort and interaction. Regularly monitor your page's analytics to gain insights into your audience's behavior and adjust your content strategy accordingly.
In conclusion, establishing a strong online presence through a Facebook Business Page is vital for the success of your local HVAC or appliance repair business. By following the steps outlined in this guide, you can confidently add or claim your page, optimize its layout, and engage with your audience effectively.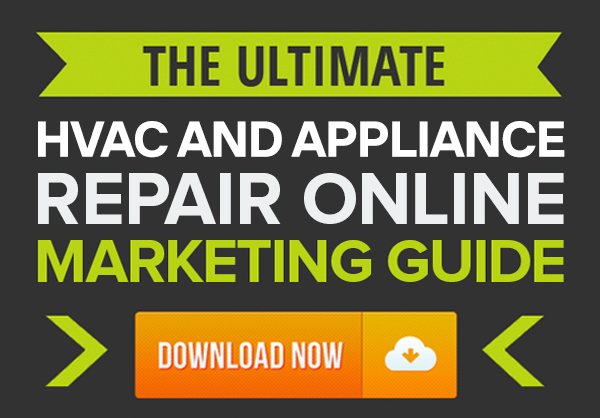 Supercharge Your Online Presence and Generate Tons of Leads!
Are you looking to elevate your HVAC or appliance repair business with effective online marketing strategies? Don't tackle the digital landscape by yourself. Our team of experts specializes in HVAC social media marketing and generating appliance repair leads. We're here to ensure that every aspect is done right. Whether it's optimizing your Facebook Business Page or creating a consistent flow of leads, we have the knowledge and tools to propel your business to new heights. Get in touch with us today and let's supercharge your online marketing strategy for unparalleled growth and success!
Get Your Free Digital Marketing Review Session
Looking to elevate your AC or appliance repair business? Gain a competitive edge by downloading our FREE Online Marketing guides. Unlock exclusive insider tips and valuable insights that will supercharge your business's growth and optimization. Take advantage of this opportunity today!