WHAT'S INSIDE?
Webinar Replay: Google Local Service Ads Overview
What Is Google Local Service Ads And How It Works?
What Cities Are Google Local Service Ads Available In?
Benefits to Google's Local Service Ads
The Google Guarantee – Gain Trust For Your Appliance Repair Company
Why You Need To Show Off Your Positive Ratings & Reviews?
Paid Search Ads – Expand Your Reach With LSA
Why Your Appliance Repair Company Needs To Be Included In Voice Searches?
No Keywords or Ads To Manage – Stop The Madness!
How To Get Started With Google's Local Service Ads?
How To Manage Your Appliance Repair Leads?
How Is Ad Rank Calculated For Local Service Ads?
Webinar Replay: Google Local Service Ads Overview
Let's Get Started – Google Local Service Ads And How It Works?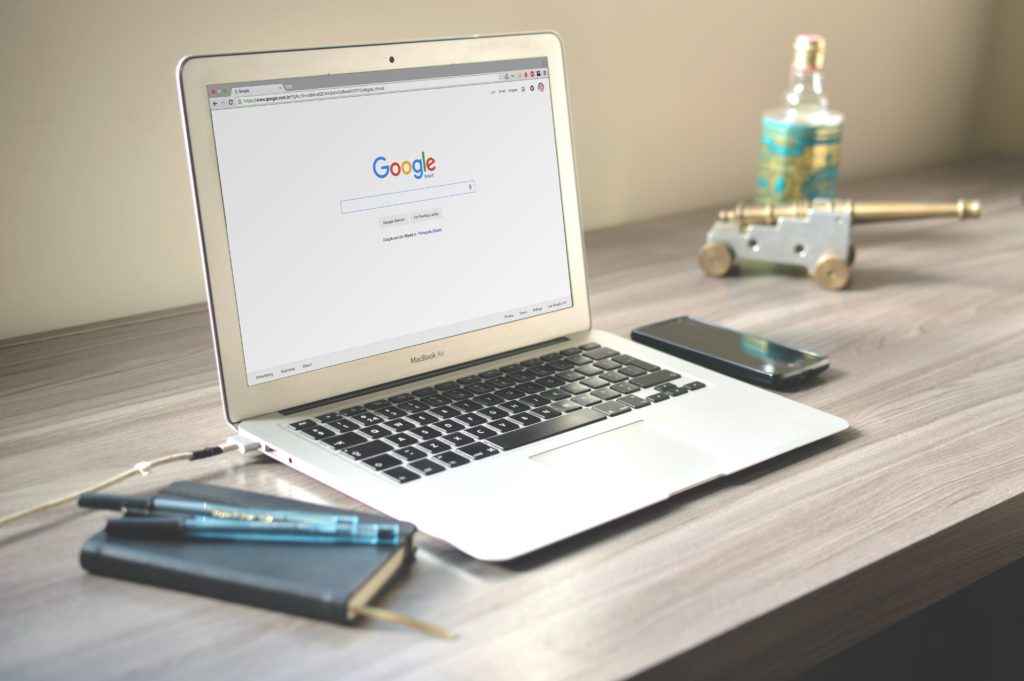 Google is the #1 search engine and for a few years now, they have put priority on delivering local results for their end users. End user or consumer experience is very important to them, that is why when they realized that more consumers are using their smart phones or mobile devices to search online, they developed voice search and in 2018 they moved from a desktop index to a mobile first index.
Google pays close attention to consumer wants and needs, after all, consumers are responsible for turning them into a Multi-Billion Dollar Empire!
They also understand that when a consumer searches online for an appliance repair company, there are some concerns that consumers have and at the top of the consumers list is, when they hire an appliance repair technician to fix their appliances, who exactly are they letting into their home?
You can do a search on YouTube for "appliance repair scams" and you will find a few videos, from news channels across the U.S., where consumers were taken advantage of by an appliance repairman.
To help solve this problem, Google has now introduced Google Local Service Ads (LSA) for the appliance repair industry. Now to be fair I don't think Google did this only for the consumers, I think they also saw how much revenue lead generation companies like HomeAdvisor (another Billion Dollar company) is making and saw it as an opportunity to compete in the lead generation space.
That doesn't mean their Local Service Ads program works like HomeAdvisors', but they do have a qualification process that is similar to HomeAdvisor where they do require licenses, insurance and a background check.
When a consumer now searches in a city where LSA is available, they will see a few trusted professionals and these LSA ads show up above the regular Google Ads section and these LSA ads include reviews, ratings, hours and contact number.

Google wants to make sure they are connecting consumers to the right appliance service advertiser, so LSA ads go one step further than traditional Google Ads. So when the consumer clicks on the appliance repair company listing, they are then prompted to confirm the type of appliance repair job that they are looking for and their location. If your appliance repair company does service the appliance that the consumer needs fixed and your company services the location of the consumer, then you will be matched to the consumers and from there the consumer can check out your reviews, ratings and qualifications before calling your business.
If your business is NOT a good fit for a particular appliance service job or if it's outside your service area, then Google will not charge you for that appliance repair job lead and instead they will connect the consumer with a better option by showing them more Local Service Ads to better match their search criteria.
LSA will display on mobile, tablet and desktop searches, but the reach will be greater than with regular Google Ads. LSA is now part of Google Assistant's responses for relevant voice searches, in which the Google Assistant will ask the consumer their location and what appliance repair service they are looking for, to better match them to the right appliance repair company.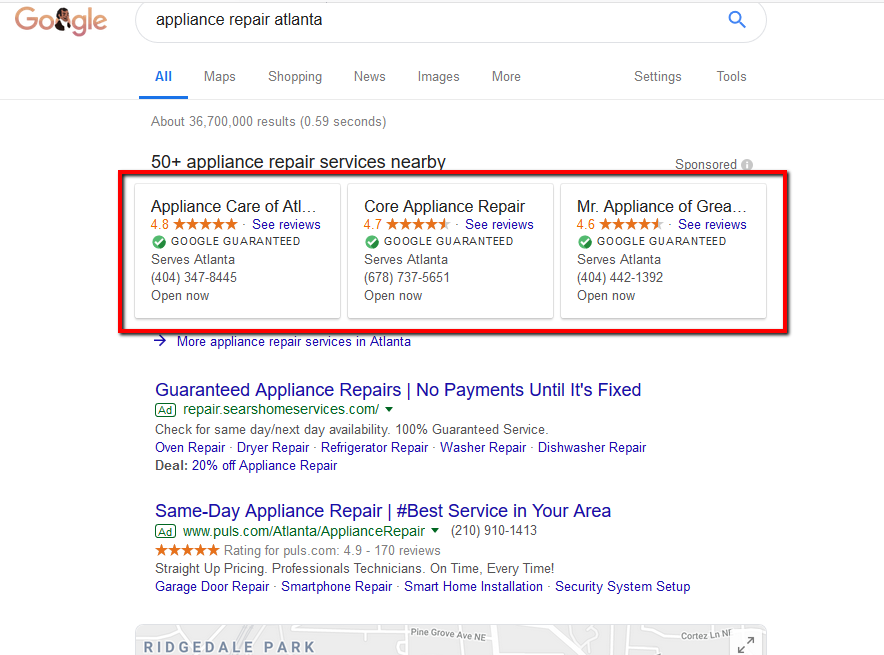 When we do our appliance repair keyword research, it's not uncommon for us to find new keywords that include "ok google" if you have the Google Home device, an android smart phone or tablet then you are probably already familiar with seeing "ok google", but just in case you don't have any of those or have just never heard of "ok google," that phrase is used to activate the Google Assistant feature. In our keyword research we will see things like "ok google find me an appliance repair company near me."
What Cities Are Google Local Service Ads Available In?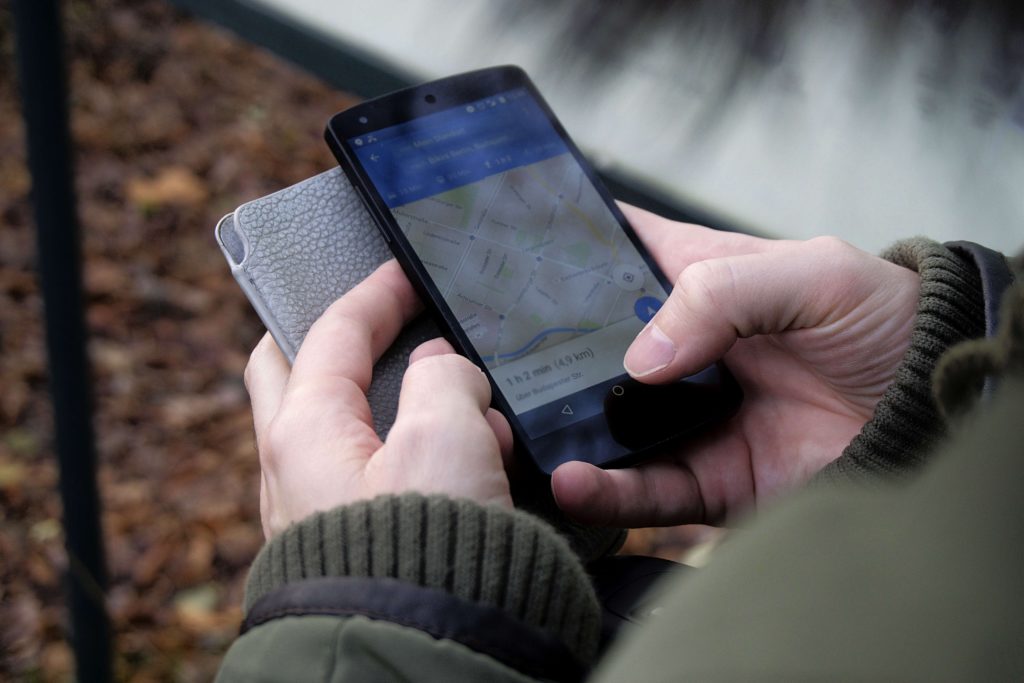 As of December 2018, Google Local Service ads are available for appliance repair companies in the following markets:
• Atlanta
• Dallas
• Houston
• Los Angeles
• Minneapolis-St. Paul
• Orlando
• Philadelphia
• Phoenix
• San Diego
• Tampa
• Washington, DC
Benefits to Google's Local Service Ads
Probably the most important one for appliance repair companies is that they Pay per Lead – not Click!
If you currently use or have used Google Ads in the past, then I don't have to tell you what a pain it is, for clicks when the consumer doesn't call or if it's a bad lead like a warranty or parts call, when you don't do warranty work or sell parts.
LSA will help appliance service business owners to connect with the right appliance repair service leads, which will help with the problem of getting low quality appliance repair leads that typically happen with regular Google Ads, as consumers can sometimes use very broad search terms, such as "appliance repair" when they are really just looking to buy a specific appliance part.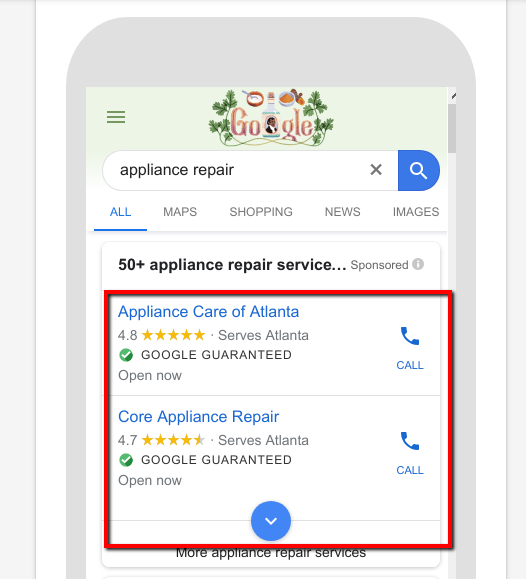 Or another example would be when consumer calls from their mobile phone and they work and live in 2 different cities, Google will show them an Ad that is based on their mobile phone GPS location, which could be location you service but because they live in a complete different city which is where they want the appliance fixed, then it could be too far outside your service area.
With LSA, you will only pay for valid leads and depending on your service area and job type, you will pay around $26 per appliance repair job lead. If you do get a lead that you think is not valid such as one of your competitors calling you, poor match, such as being outside your service area or a telemarketing lead, you can start a dispute to get a credit.
The Google Guaranteed – Gain Trust For Your Appliance Repair Company
There is no question that consumers trust Google, this is exactly why Search Engine Optimization and Google Ads has been the best ways for appliance repair businesses to get new appliance job leads for the past few years. If your appliance service company shows up on the first page of Google, then in a consumers mind, they assume you must be a good company.
Google has leveraged this consumer trust with LSA and now consumers will not only see your appliance service business on the first page, but they will see you at the very top and the Ad will have a green check mark along with "Google Guaranteed."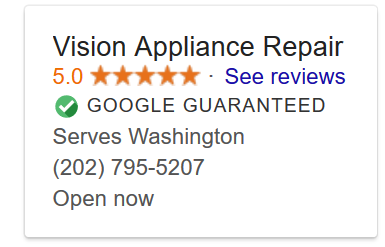 Not only will the Google Guaranteed help you to grab the attention of more consumers in an already busy Search Engine Results Page, but your appliance repair company will get an additional benefit of having a very powerful endorsement from Google. This endorsement is much more than just Google backing your company by reputation, but also the Google Guaranteed is in place to protect customers who may have not been happy with the completed job, with a lifetime cap coverage of $2000.
Show Off Your Positive Ratings & Reviews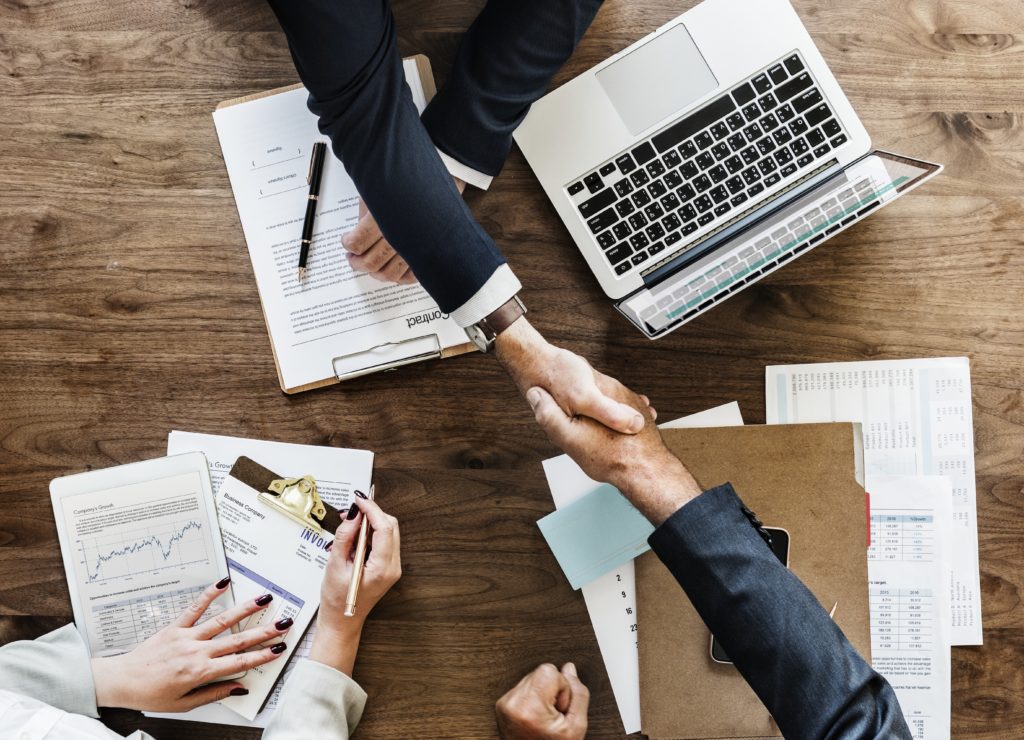 For regular Google Ads, you can no longer add review extensions, but with LSA you can include existing customer reviews to help you gain more trust from potential prospects and this is one way to ensure that your past customer reviews show up in the Google Search Engine Results Page.
Paid Search Ads – Expand Your Reach With LSA
LSA show up at the very top of the search, above the Paid Ads section, Map results and the organic listings. LSA wasn't designed to replace any of these sections, this is because in addition to creating another revenue stream for Google, they know that some consumers will want to still take a look at your website, before making a final decision on whether you are the best appliance repair business in town. However, we know that being at the top of Google is prime online real estate and with LSA being in this prime location and with the help of good customer reviews, these factors will help to convert more prospects into customers once they get a chance to check out your appliance repair website.
Why Your Appliance Repair Company Needs To Be Included In Voice Searches?
Isn't it a lot easier to just talk into your phone to send a text message, instead of typing it in?
I know I don't have to tell appliance repair technicians this, as they are probably all doing it already, one hand working on the appliance, the other one using their mobile phone, it's how appliance service technicians get things done and efficiently. Google Assistant powers over 400 million devices, as Google has caught on to the trend that customers prefer to simply talk into their phone than to open a browser and type a search query into the search engines. Voice search is now responsible for about 20% of online searches and with LSA, you can guarantee that your appliance repair company will be included in Voice Searches for local appliance repair companies.
No Keywords or Ads To Manage – Stop The Madness!
Ok so you can probably tell I am a big fan of Shark Tank, which is where I got that "Stop The Madness" line, thanks to Kevin "Mr. Wonderful" O'Leary.
One of the challenges with traditional Google Ads, is that it requires a lot of maintenance and testing different ads to find the best converting ones and finding new keyword ideas, seem to be an ever-ending task. And if you weren't managing your ads and keywords then it may have been one of the reasons you didn't see success with Google Ads in the past.
I have some good news for you!
With LSA there are no ads or keywords to manage, instead LSA will automatically get trigged when a consumer types in any appliance repair related keyword, and there are thousands of appliance repair related search terms, so no matter if its as broad as "Appliance Repair" or as narrow as "my fridge is not cooling," Google will use the information in your business profile to determine if they should show your LSA ads.
How To Get Started With Google's Local Service Ads?
Find Out If You Are Eligible
LSA is not currently available in all cities, at least as of January 2019, so depending on when you are reading this it may or may not be available in your city, however, you can find out by going here:
https://adwords.google.com/localservices/signup/eligibility
If after filling out the information at that link and you find out that LSA has not rolled out to your city yet, don't worry, it will be soon, as Google is expanding LSA into new cities at a very fast pace, and you have the option to sign up so you can get notified as soon as it becomes available in your city.
If on the other hand you are eligible, then you will be guided through the steps to get your account set up so you can start and manage your Local Service Ads. Currently LSA is managed in a completely separate account from what you may be using for Google Ads Express or traditional Google Ads (AdWords), so you will need to set up a new account to give LSA a try.
Set Up Your Business Profile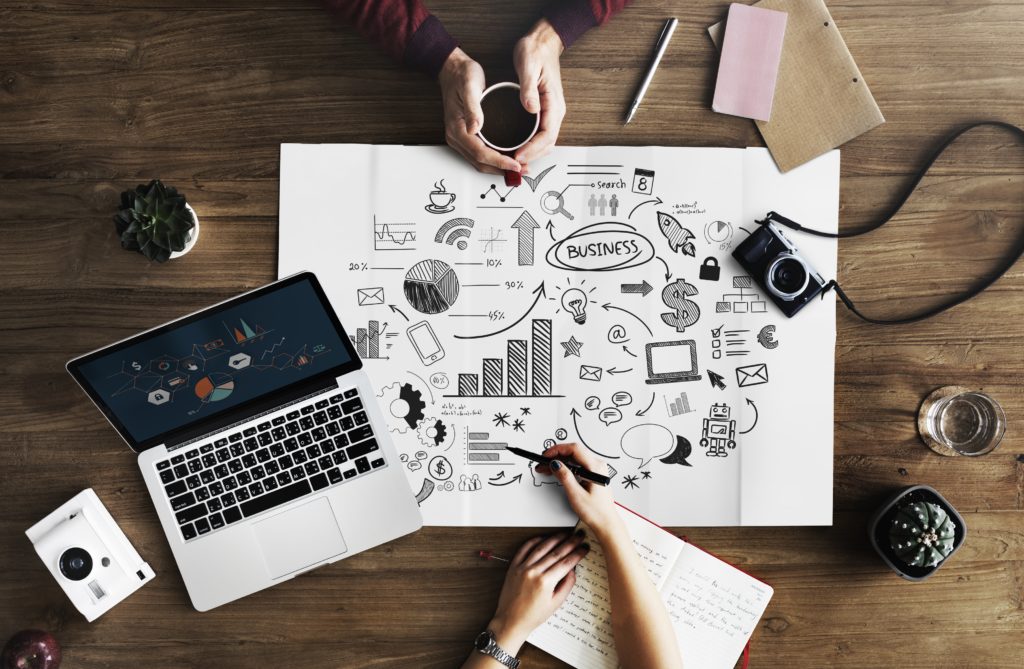 It's important that you set up your business profile accurately and completely, because your profile is going to determine the types of appliance repair jobs that your appliance company gets matched to. So let's say you don't want microwave repair jobs from LSA, then don't list it in your profile, just because you can fix microwaves doesn't mean you have to list it, since you are paying for appliance repair leads from LSA, then you may want to just focus on the jobs where you have more profit margins like high end appliance repair or refrigerator repairs. The same would apply to your service area, if it includes low income areas, then you may want to leave those out and just add the mid to higher income areas that are within your service area.
Here are a few things you can edit within your business profile:
· Business hours
· Weekly budget
· Job types
· Service areas
There is also an option for you to add things that will highlight your profile, don't skip this step as it's an important one, these highlights will improve the conversion rate of your LSA ads, as they show on both your business detail page as well as along side your LSA.
Here are some ideas of things you will want to highlight in your Appliance Repair Local Service Ads:
· Locally Owned and Operated
· Military Discounts
· 24 Hour Service
· Same Day Service
These highlights are optional, however, it's also important because it will help consumers to choose your appliance repair business over your competition.
Include Your License & Insurance Information
You will need to prove that you are insured and licensed to be able to run LSA and to earn your Google Guarantee badge. So, make sure your documents are up to date before submitting your professional licenses and your general liability insurance paperwork.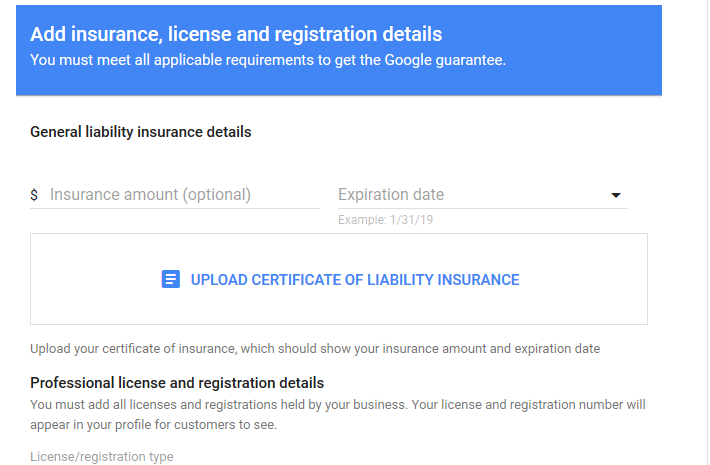 Submit Your Background Check
Before Google will start to send appliance repair technicians into consumers' homes, they are going to want to make sure the consumers are safe and that they can rely on LSA appliance repair advertisers who are covered by the Google Guarantee.This is why appliance repair companies and their technicians will be required to pass a background check.
Pinkerton is the company that Google has partnered with to do this and there is no cost to complete the background checks.
How To Manage Your Appliance Repair Leads?
Once you set up your appliance repair business profile and it's complete, you will be able to start running your Local Service Ads to get new appliance service leads in your local service area. You can manage and view your new appliance repair jobs leads here:
Once you are in your dashboard, look for the "Leads" tab in the drop-down menu in the upper right corner of your screen. There is also an LSA app for IOS and Android phones, so you can manage your inbound leads on your mobile device.

It's important to note that all leads are not booked jobs, and that is why you want to make sure that all inbound leads get followed up on and in a timely manner. You can click on an individual lead within your dashboard to view all the details for that lead, such as location, job type and listen to the call recording.
After reviewing the details of the leads, you will see 3 different options for you to use, to follow up on these hot prospects:
· Call the lead on the phone number they provided.
· Reply to the lead by text or email.
· Decline the lead. When you decline a job, the customer will be notified of this and it will be removed from your dashboard, you also have the option to recover declined jobs if you declined it in error.
You also have the option to label your leads as booked, to help better keep track of your return on investment and you can use this feature to also do the following:
· Collect customer reviews
· Send confirmation emails
· Schedule jobs
Budget Management
You will have the ability to adjust your LSA budget from within your business profile. You have full control of your budget and how much you want to spend, so you can lower or raise your average weekly budget. However, when it comes to budget, LSA and regular Google Ads have some thing in common and that is even though you set your weekly budget at a specific amount, Google can spend more or less than that amount on a weekly basis, but it won't exceed your total monthly budget.
Keep in mind that since you are paying per lead with LSA and not per click, when you decrease or increase your budget, you will see a direct impact on the amount or appliance service job leads that you receive.
When you set up your account, you will see an option to choose the amount of leads you want to receive, if you are wondering what a good amount of leads to start out with would be, I would recommend 20 leads per week and that will give you a good indication of how things work and what type of ROI you can expect to see with LSA.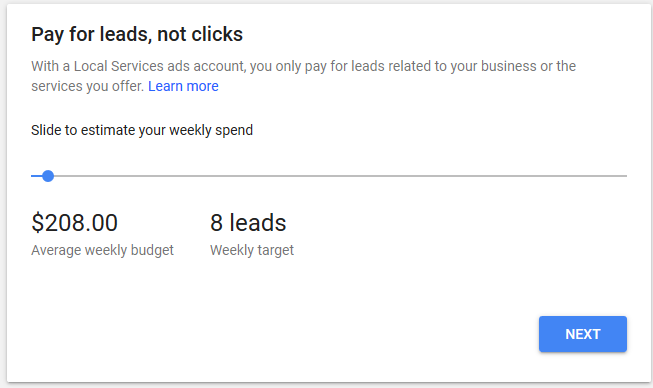 And since your LSA budget is separate from your AdWords budget, then if you are running ads on both platforms, then you will want to specify a budget for both since you will now have combined costs of both platforms.
How Is Ad Rank Calculated For Local Service Ads?
There was already limited space on the search engine results page even before the introduction of LSA and currently the set up is that 3 local service ads will show up on a desktop computer, 2 on a mobile device and 1 for Google Assistant. And just like with regular AdWords if you want your ads to show up first, you will want to ensure that your ad has an ad rank that is high.
You will NOT have to worry about these ranking factors however, with LSA:
· Landing page
· Ad relevance
· Click through rates
Instead, this is how the Ad Rank for your Local Service Ads are calculated:
· How close your appliance repair business to the consumers location
· The number of reviews you have and the total review score.
· How responsive you are to inbound lead requests and inquires
· Hours of operation
· Complaints – whether you receive complaints, the seriousness of the complaint and if you get repeated complaints.
Don't Forget Reviews
I have been saying for years now, how important reviews are becoming for appliance service companies and why it should part of your every day business plan. That's why it is no surprise to me, that reviews are an important ranking factor for LSA, so make sure you ask all satisfied customers to leave you a review to help with improving your LSA rankings, but to also improve the overall online reputation of your company. The good news is that Google has make it very easy to use the LSA platform to contact customers that scheduled their appointment through the LSA platform to ask them for their review.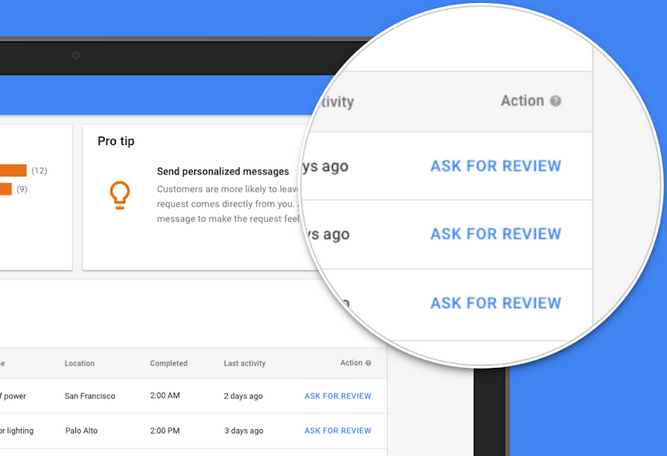 Once you are logged into your LSA dashboard, go to the "Reviews" tab, where you will see a list of jobs you completed and from there you can directly ask the customer for a review. If you want to increase the likelihood of customers that leave reviews, then try personalizing the message to them.
Frequently Asked Questions
What Is A Valid Lead With LSA?
Valid leads can occur when local consumers find your Appliance Repair Local Services ad on Google and one of the following occurs:
• You receive an email or text message from the lead.
• You receive a voicemail message from the lead.
• You speak to the lead on the phone.
• When there is a missed call (even if the lead doesn't leave a voicemail), and if you respond to the missed call or voicemail with a call, email or a text message, where you either leave a voicemail or speak directly with the customer.
If you don't get charged for the lead, you'll see the following message in your dashboard:

What types of leads are considered INVALID?
If you were charged for a bad lead, you can dispute the charge in your account.
Here is a list "bad leads" that are eligible for a credit:
• Appliance repair job requested is not listed on your company profile.
• Lead's location is outside your service area.
• Not a consumer (for example: solicitations, telemarketing or wrong number).
• Not a human (automated telemarketing calls).
• If you got billed for the same lead within a 15 day period.
• You received a lead with invalid contact information, so you had no way of following up.
If you got charged for a lead that you think is bad, but it doesn't fall into the categories listed above, then you can always contact LSA support and explain the situation at 866-2-GOOGLE.
Although you have up to 60 days to dispute a lead, you also have the option to immediately dispute the charges within your dashboard. Before Google issues a credit, they will have a support agent to listen to the call recordings to verify that one of the above and approved reasons apply.
Examples of valid appliance repair leads that you shouldn't expect to get a credit for:
• Lead came in after your normal business hours.
• Lead wanted advice over the phone to troubleshoot their appliance.
• Lead called back to cancel after scheduling the service call.
• Lead was only researching prices for service call or to fix the appliance.
• Lead didn't return your message or call.
• You have refrigerator repair service listed on your profile, but you don't service all types or brands of refrigerators.
Do both owners and appliance service technicians have to do a background and drug test?
No, drug tests are not part of the on boarding process but a background check is.
How are the top 3 appliance repair advertisers chosen?
Proximity to the consumer who is searching for appliance repair or related search is the biggest factor and the 2nd biggest is reviews. However, it is important to note, that if you are not logged into your dashboard and following up with leads, in what Google would consider to be within a timely manner, your ads will not show as often in the top 3. Also, if you are turning down a lot of leads, Google will start to assume that you can't handle the current volume of leads and display your ad less.
Do all technicians have to do the background check?
If you are running appliance repair ads and have 5 techs, all 5 techs will need to be verified with a background check.
Why isn't the Google Guaranteed badge not showing on my Ad?
Once you go through the verification process (i.e. all background checks for all techs, professional license & general liability insurance submitted and approved), the Google Guaranteed badge should show whenever your ads are running. However, if you turn off your ads then it will not show while the ads are off. Yes, that means Google still shows your ad even when you turn them off, but you won't be charged for any customer requests while the Google Guarantee badge is not showing.
If LSA is not available in some zip codes within my service area, can I still sign up for the zip codes that LSA is available in?
Yes.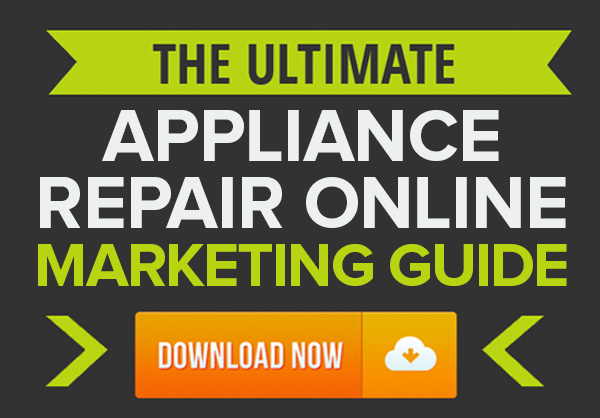 Conclusion:
Like all sources of advertising, whether online or offline, it's worth testing to see if it will work for your appliance repair company and since Local Service Ads already have the tracking features in place, you will be able to decide if it's right for you. If you have tried Google AdWords in the past and it didn't work for you, it doesn't mean LSA is also not a good fit and if you compare both LSA and Google AdWords simply because they are Google products, you are not comparing apples to apples.
This also doesn't mean you should replace AdWords with LSA. If you are having success with AdWords, I would recommend you figure out how many clicks it's taking you to get a phone call or a good lead, once you know that number, you can then try LSA and see how they compare. For some appliance repair companies, they will find LSA provides a better ROI, while some may see that AdWords will work out better and others will like both.
We highly recommend that if you want a consistent flow of incoming leads to your appliance repair business, then you have to use multiple sources of advertising or lead generation, like shown in the image below.
We just wanted to review some of details about Google's Local Service Ads, as it may be one of the tools you want to include in your appliance repair marketing toolbox.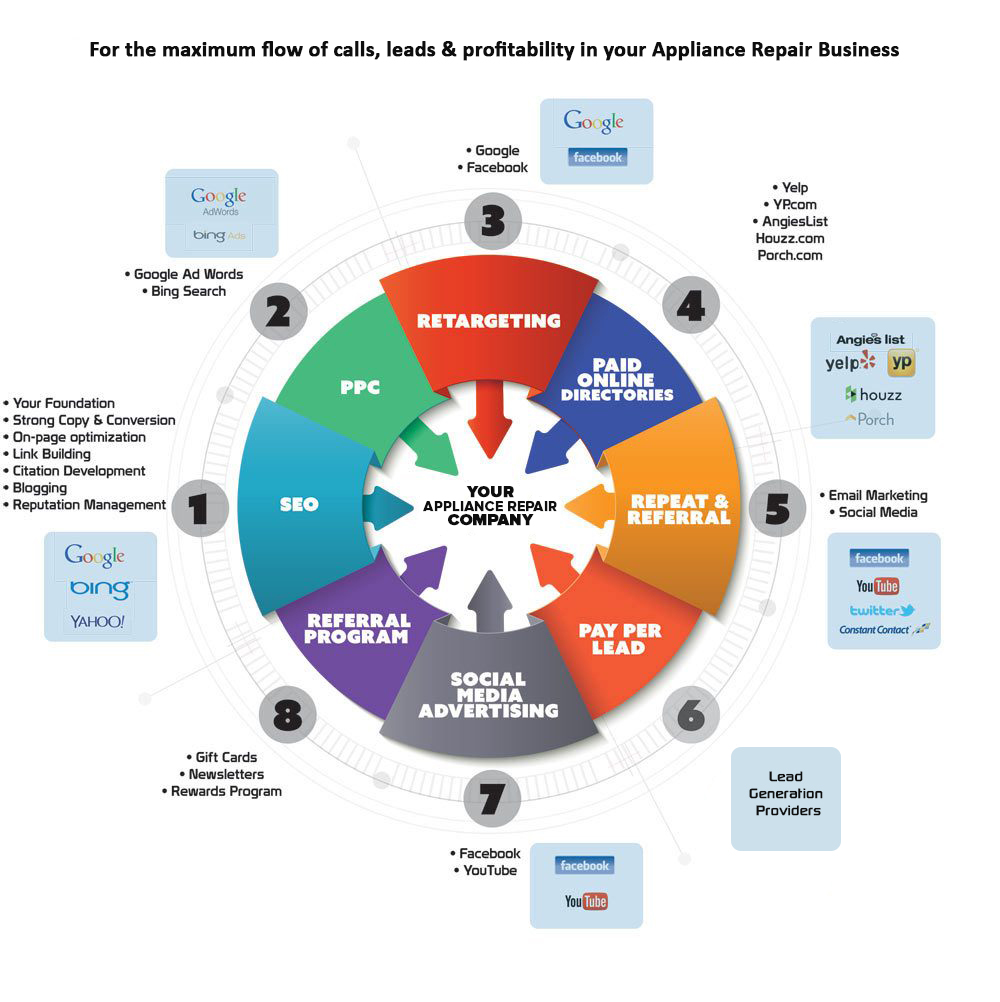 If you would like to set up a FREE online marketing strategy session to review your current marketing or if you would like to learn more about our exclusive appliance repair lead generation program that can help to take your business to the next level, give us a call at 866-561-5627 or visit the link below: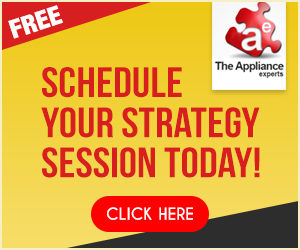 You can listen to the audio version or podcast below: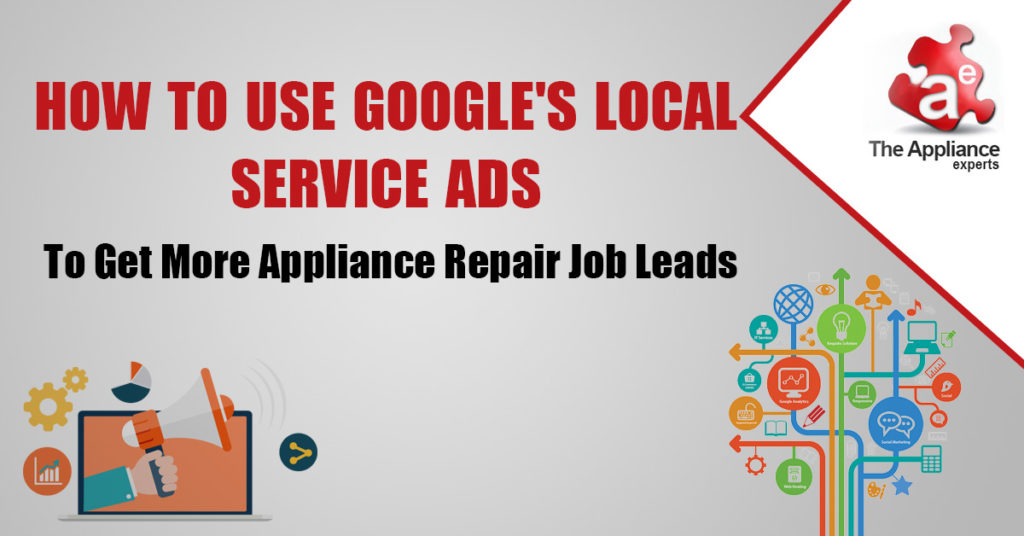 Podcast: Play in new window | Download
Subscribe: Apple Podcasts | Android | Google Podcasts | Stitcher | RSS | More