The home service industry is increasingly becoming more competitive than ever before, considering that the average monthly searches for "ac repair" are now estimated at 74,000 and for "appliance repair" at 135,000.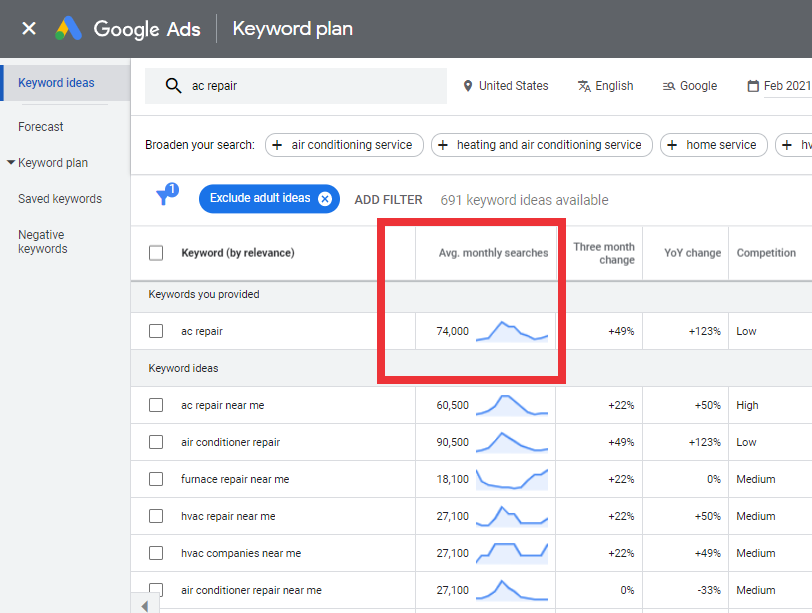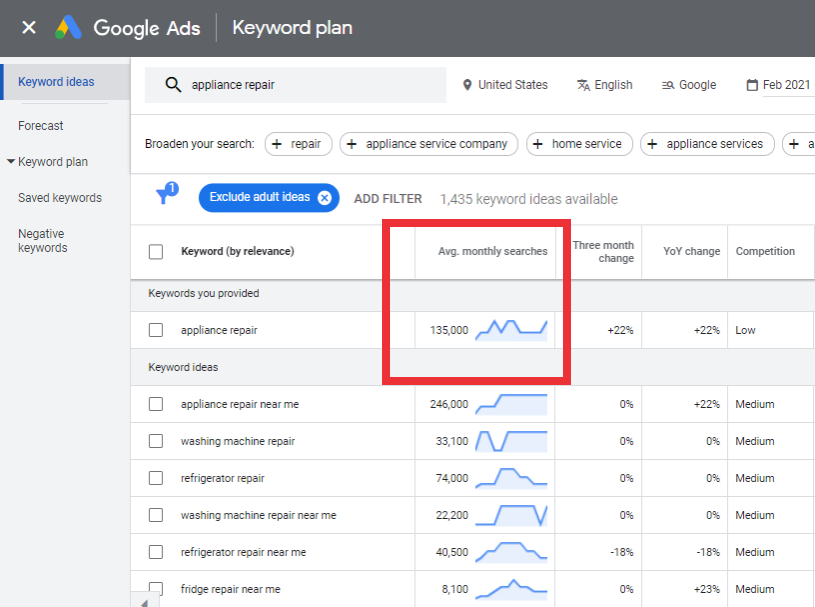 The statistics for the HVAC and appliance repair industry in the US estimate the market size close to $5 billion, with the number of established businesses now more than 30,000.
Individual home improvement companies like air conditioner repair and appliance repair companies will now have to compete with large online home service and price quotes comparison sites and apps.  It is hard to compete with them because of their huge  influence and resources that make it possible for them to slash down prices when they need to do so.  In the face of such challenges as the air conditioning repair and appliance repair industry or home improvement industry at large continues to change, many HVAC businesses and appliance repair companies will be forced  to "join them if they can't beat them". While that makes perfect sense, sometimes the move also attracts premium fees charged for the customers booked for appointments from such online platforms. 
Direct bookings for air conditioning repair or appliance repair and other home improvement services are without doubt more lucrative, estimated at around 10% more profitable compared to the bookings that are usually made through heating and cooling or appliance repair company partner sites. 
While keeping all these numbers in mind, there is more pressure on the part of business owners to craft winning local SEO (Search Engine Optimization) strategies. That's because your appliance repair company needs to be found more on Google search and attract more visitors or potential customers to your own business website. 
Google will keep evolving the way they feature heating and cooling businesses or appliance repair company listings in their search results. So for your appliance repair business, keeping up with the changes that are pertinent to your business as far as local SEO is concerned is a must.
In recent years, Google has been increasingly introducing a whole host of new features that air conditioner repair businesses and appliance repair companies can take advantage of. Some of these features include "Book Now" buttons within search results, new layouts and also location tabs found within knowledge panels.
Since 2015, Google started experimenting with what they called Google Home Service Ads that started in specific locations but increasingly rolled out into more cities throughout 2017 and 2019. It was later rebranded into what is currently known as Local Service Ads (LSA), an offering from Google that competes with HomeAdvisor, Thumbtack and similar platforms advertising or promoting local service businesses like AC repair business or appliance repair companies. 
At this rate of changes that Google keeps rolling out, who can tell what 2022 holds for HVAC businesses and appliance repair companies?
What's important though, you have to stay on top of the best practices as far as local search is concerned.
That's why in this article we are interested in sharing some of the most easily actionable tactics you can start implementing for your HVAC company or appliance repair company to become more visible online, increase website visitors, and in that process get more paying customers.
1. Do Your Research Well To Implement Most Relevant Keywords
Successful HVAC company or appliance repair company websites usually develop a list of relevant keywords that are constantly reviewed and revised as needed.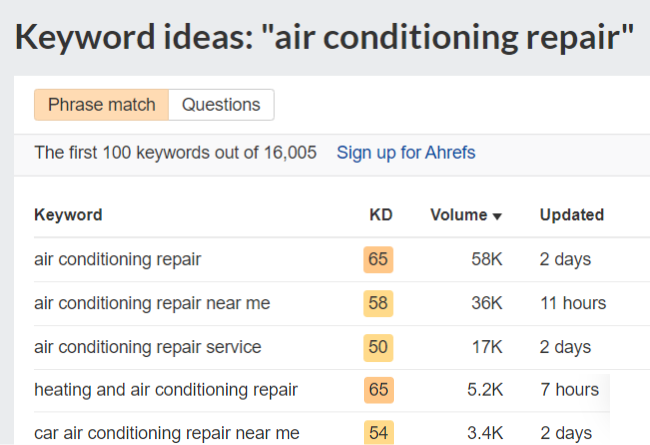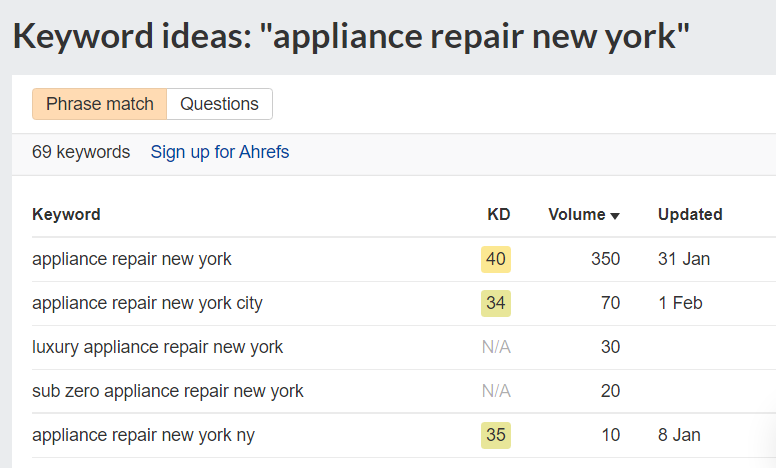 Consumer behavior in terms of buying and their searching habits as well as search engines and their algorithms are all constantly changing. So you need an ongoing process rather than a one time task on developing the list of your target keywords. As your  heating and cooling company or appliance repair business and its customers keep evolving so does your keyword list.
How To Research For Your Keywords
Start by considering what a potential customer would search if they are looking for a company in the local area to fix their broken appliance. If your heating and cooling business or appliance repair business website ranks in search results for more specific keyword phrases like "same day HVAC repair near me" or "same day appliance repair near me", it helps to drive visitors with a high buying intent to your website.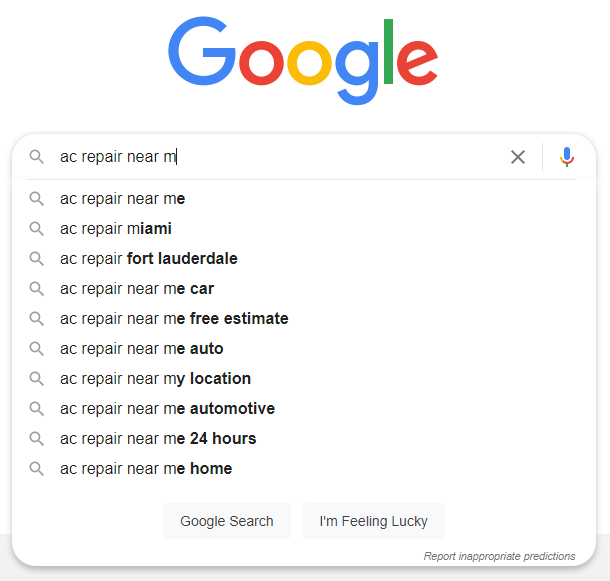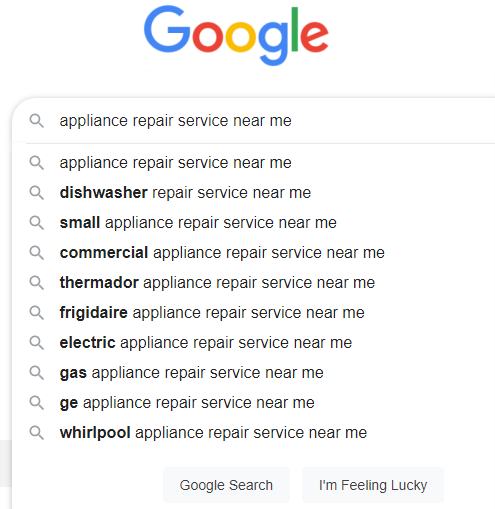 As you can see in the above images Google autosuggest is a great tool for identifying more specific terms that people are searching for. Same applies to Google's People also ask (shown below), as well as the freely provided Google Ads Keyword Planner tool. Ahrefs and BuzzSumo are popular alternative tools used for keyword suggestions as well.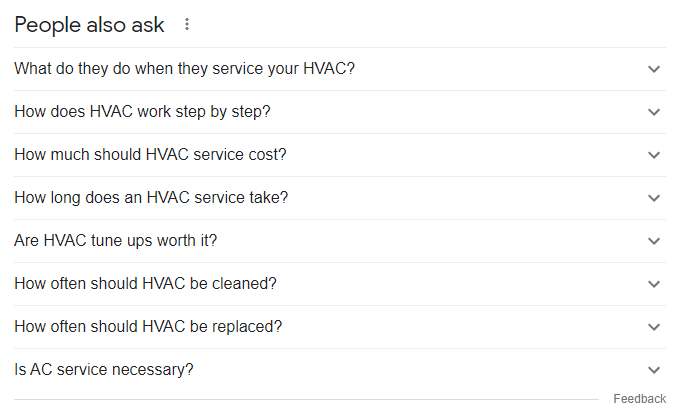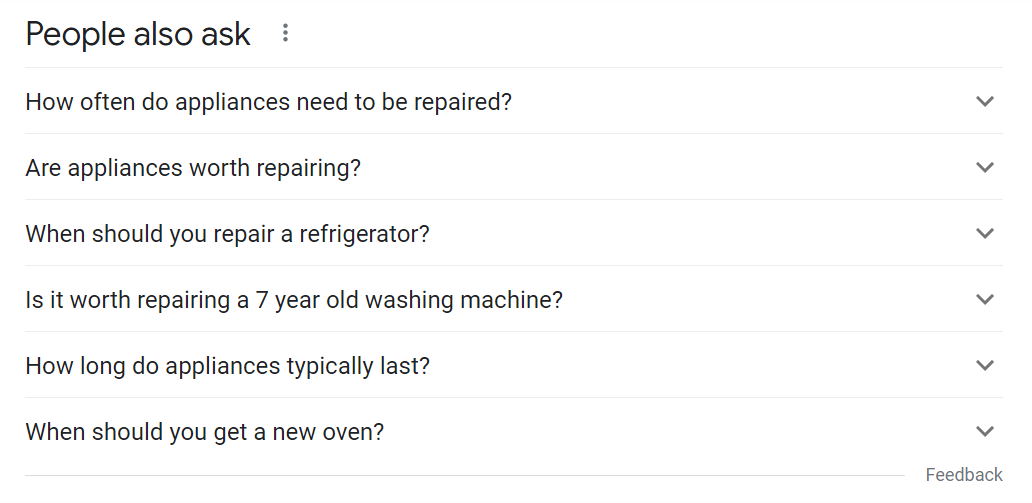 Once done with research and settled for your list of keywords it is time to start adding them to your content.
If your keyword research points towards people searching for local HVAC businesses or local appliance repair companies, it is important to make it clear in your content the proximity of your business to communities and the specific locations you cover in your service area. You basically want to be seen as the closest air conditioner repair business or appliance repair company that local homeowners and other customers can trust to quickly respond to their appliance service requests.
You have to be careful to avoid keyword stuffing in the website content. You may easily end up attracting penalties for your website from Google if you stuff keywords in your content that earned backlinks to your HVAC business website or appliance repair website. When writing the content for your air conditioning repair business or appliance repair website, your keywords should only act as a prompt and the foundation, while your main focus should be on meeting the needs of your website users to find what they are looking for.
Tracking the success of your keywords
The performance of your keywords should be regularly monitored while adapting your target phrases accordingly.
It is possible to undertake this kind of a process manually by setting up a spreadsheet that shows the relationship of your target keywords to the ranking content and SERP (Search Engine Results Page) position.
If you succeed in identifying keywords that may not be working as expected, you have the opportunity to continue with your research and further refining the keywords. That can be best considered as an ongoing process until you find the right keywords, so don't expect to get it right the first time you try.
Taking proximity into account
Homeowners are increasingly interested in looking for local companies as opposed to companies with technicians located far away from them. They are looking for a business near their location, the closest one that can quickly respond to their service request and probably provide same day air conditioner repair or appliance repair services.
If your HVAC company or appliance repair company service area covers many locations like an entire county or several countries, you need to be making sure you are checking rankings for each of the locations. You will need the right tools for checking local search results from each of the locations. You can also use tools that show you exactly how your keyword performs for a given number of local searches across an area.
When choosing keywords it is important to make sure you have the right mix of primary keywords, secondary keywords and long tail keywords, so that you may be able to capture people that are at different stages of the buyer's journey.
2. Create content that meets high-quality standards with a local focus
A great way to start when trying to improve the local search rankings of your business is with high quality content that is localized. Relevant local content is also useful for providing better user experience as well as increasing conversions. It provides your visitors with the information they need before they can start booking appointments for your HVAC business and appliance repair services.
Taking customer experience into account, it is one of the best tactics that local companies are able to use and in many cases manage to beat large national home services and price comparison websites that only offer basic and generic information. A local heating and cooling company or appliance repair company has the opportunity to inject personality into their local content to show their potential customers from a local perspective how they can effectively deliver HVAC or appliance repair solutions that will meet their needs.
Your local content should be tailored to include any useful information about authentic local experiences that may be relevant to the services you provide. Sometimes local HVAC Businesses or appliance repair companies may even try partnering if that enhances their service delivery or provides experiences that improve customer satisfaction. For example, in certain locations and situations it is possible for appliance service companies to partner with each other to increase availability and ability to respond quickly to appliance repair service requests from customers. All that and anything else you do should be shared online with your potential appliance service customers.
Make sure that you do thorough keyword research that should be used to enhance the process of creating your local content.
3. Getting found on Google Maps
Setting up your Google My Business (GMB) profile, recently rebranded to Google Business Profile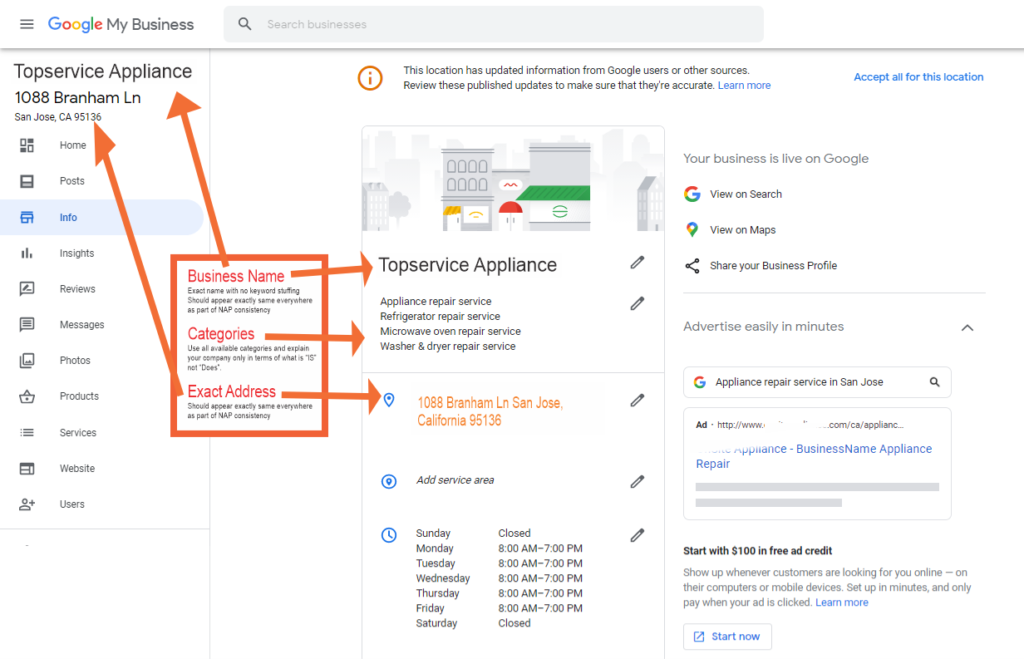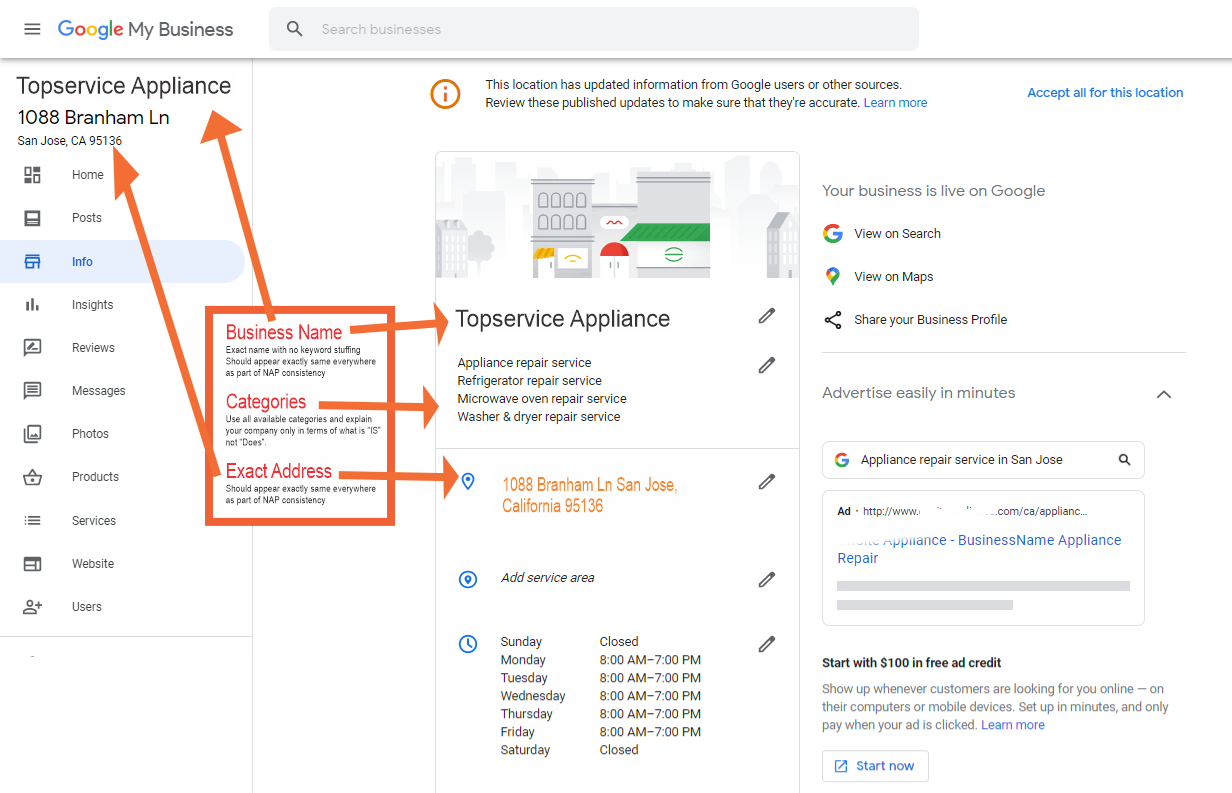 It is vital for heating and cooling companies and appliance repair companies like many other local businesses to try and gain visibility online in order to attract new potential customers.
Google Maps remains as one of the greatest tools for businesses and consumers, so any business without a listing is definitely missing out a lot. You can't be found on Google Maps if you don't have a GMB listing or Google Business Profile.
In addition to setting up your Google Business Profile for local consumers searching online to find your service company on Google Maps, it is also worth registering with Apple Maps and Waze even if they are less commonly used.
Optimize your GMB listing or Google Business Profile
Considering the competitive nature of the HVAC and appliance repair industry, merely having a presence on Google Maps is not enough. The GMB listing must be properly optimized in order to drive more traffic to your website and win more customers for your HVAC or appliance repair company.
When people are Searching online, Google will try to show the nearest and the most relevant results for the search term provided. In addition to proximity Google will also try to  take into account the completeness and accuracy of the GMB listing to determine which of the local businesses should take the top spot in search results. 
Providing more information to Google is the best way to increase your chances that Google will see your business as authentic and consider it more relevant to the consumer's search query.
Every piece of information you try to add to your GMB listing should be the most up-to-date, relevant to your potential customers and the most accurate concerning your business.
Make sure your GMB listing information is a reflection of the information you have shared on your company's website and that it also matches what you have on offline materials like flyers or business cards. While Google considers NAP (Company Name, Address and Phone Number) consistency as an important requirement, it is also necessary to avoid confusing your customers.
Standing out among competitors
Considering the ever increasing level of competition in the air conditioning repair and appliance repair industry, making your GMB listing as engaging as possible should be a top priority. It's a great idea to include videos, images as well as Q&As.
You can make use of videos and images to show your AC repairmen or appliance repair technicians in action. It is important to include images of personnel and the appliance repair service vans as well as any other equipment and tools you use in your business.
Images for all the different types of appliances you repair should also be included. Your business logo, Branded equipment and materials can be prominently featured images and videos.
Use Q&As to address specific aspects of your heating and cooling or appliance repair services if it has to do with questions that people ask often. For example, you may use Q&A To explain if you offer free estimates with repair, warranty on parts and labor, availability for same-day appliance services, etc.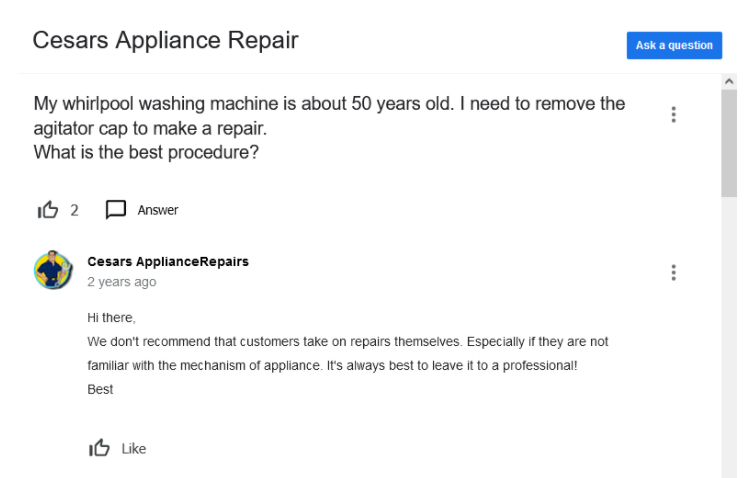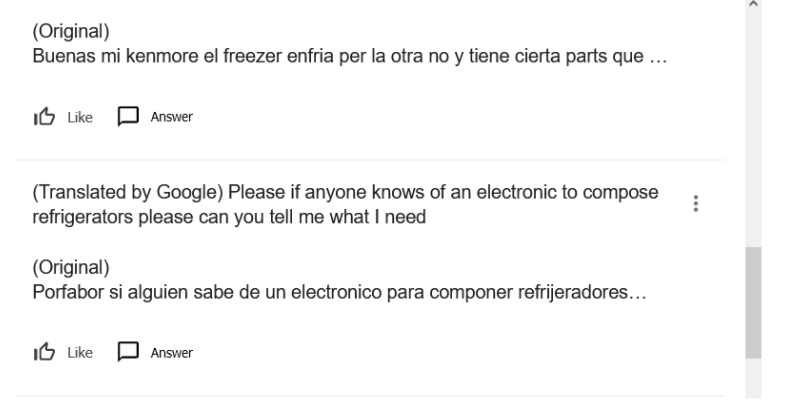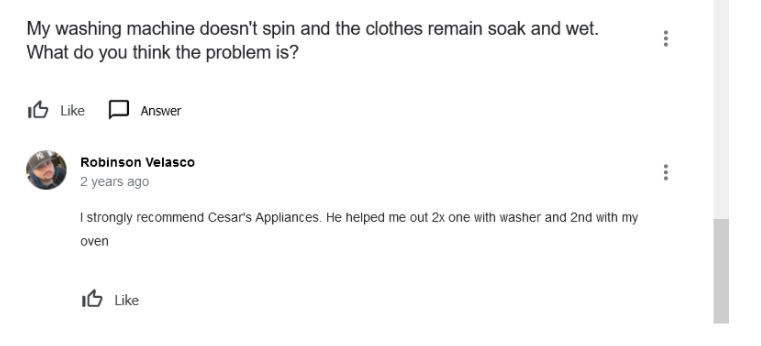 You can use Google's Q&A feature to add your own questions and provide the answers. Just think of Google's Q&A as an FAQ available in search results to help customers find out more about your HVAC Business or appliance repair company.
Making your GMB listing or Google Business Profile more visually attractive and engaging will significantly increase the chances of your business being found in local search and converting most of the searchers to your customers.
4. Develop a strategy for reviews
Another important aspect for your air conditioner repair or appliance repair company GMB listing optimization is obtaining reviews. The Review generation process may sometimes seem intimidating but it shouldn't really be difficult to implement.
A strategy for review generation and management should be highly prioritized for any air conditioning repair company or appliance repair company that doesn't have one in place.
It is important to try and generate a high volume of quality reviews from customers that have tried your heating and cooling company or appliance repair service and enjoyed the experience. There are many ways of reaching out to those customers including through email, SMS, business card with a link to your GMB profile, and so on.
Appliance repair companies rank among the top five when it comes to customers reading online reviews. 47% of the customers reading online reviews will only choose an HVAC company or appliance repair business with a star rating above 4.
So you have to start requesting reviews right away if you haven't been doing that already.
The moment you start receiving all those great reviews, you have to make sure you are responding and doing so in a timely manner.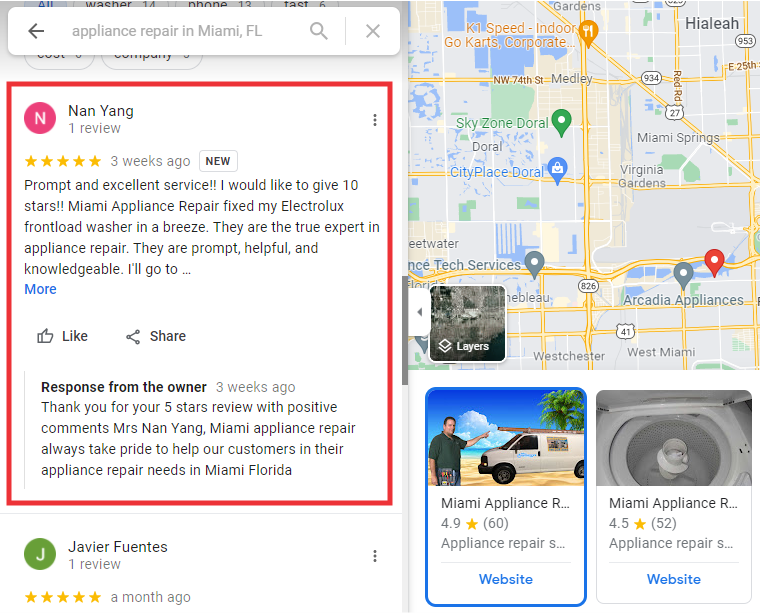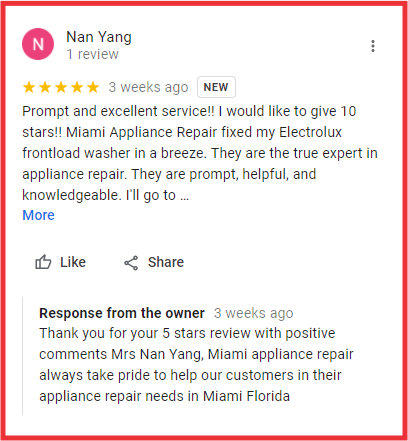 Up to about 97% of the consumers that actually read online reviews, 97% of them will actually read businesses responses to those reviews. So it is important to take the time and communicate or respond to the consumers who have given you their feedback. Responding to reviews is not only important to help you in maintaining existing customers but also to showcase your potential in providing excellent customer service to new customers.
Remember while responding to reviews you have to do it for all the positive ones as well as the negative reviews.
5. Improve your page load speed
Mobile search has been dramatically rising in recent years and from the look of things it's not stopping. By 2025, CNBC predicts that up to 72.6% of all Internet users will be sorely accessing the web using their mobile phones. Mobile search has especially been of great importance to the AC Repair and appliance repair industry considering that many homeowners with broken appliances are likely to search for "AC Repair near me" or "appliance repair near me" even while on the go and need immediate results displayed. Potential customers nowadays will hardly wait even for a minute so that a page can load, because they can easily jump onto a competitors website and access the information they were looking for in just seconds.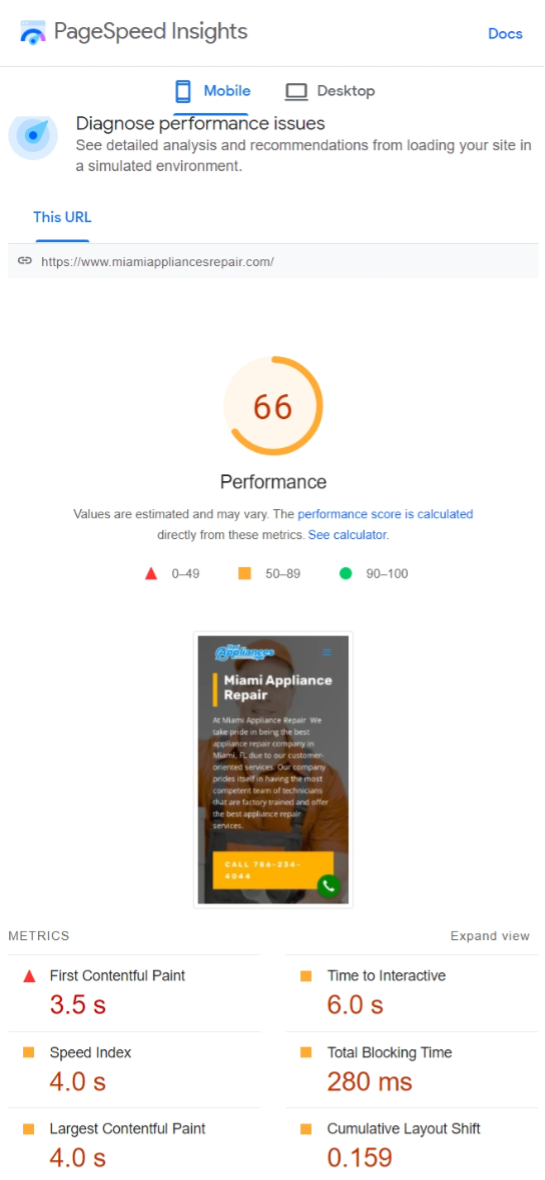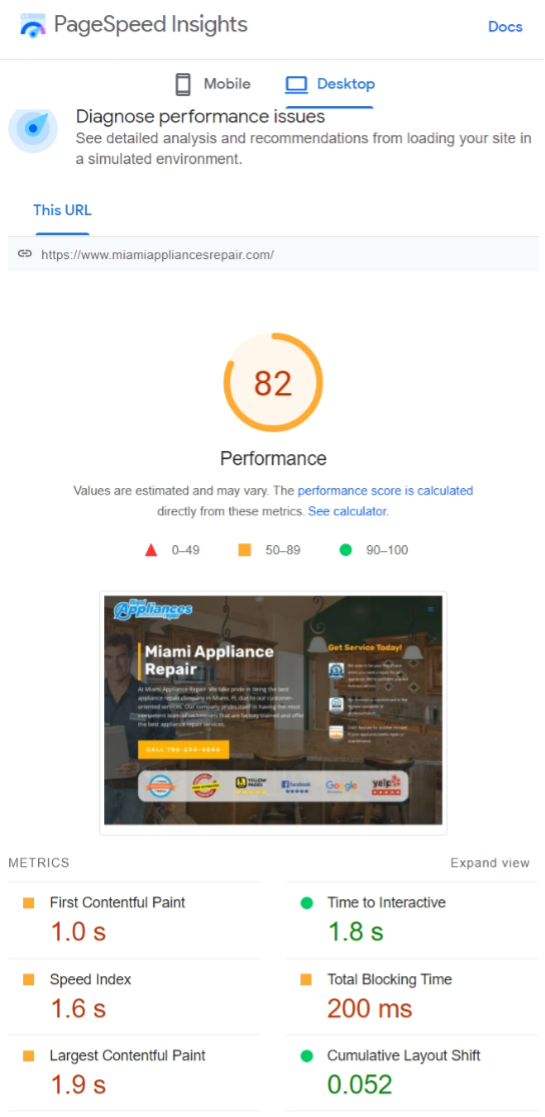 Today there are numerous tools available online for checking page speed including Google's Page Speed Test (as shown in the above screenshot images). It is highly recommended to check several key pages for their load speed because it could vary across the website. With images becoming critically important for great air conditioner repair company sites and appliance repair business web designs, getting the right page load speed can be a tricky thing, because many high quality images can also significantly increase the time needed for loading web pages. However, one of the simplest solutions to address that problem is to install a WordPress plugin like Imagify.
Page load speeds by any means cannot be ignored because Google's ranking algorithm actually takes them into consideration. Taking the time to get it right with the page load speed is definitely important, also considering that a slow page will lead to a bad user experience and lost customers.
If your HVAC Business or appliance repair website has decent page load speeds, it will likely enjoy better rankings on Google and also in the process attract more customers through searches.
6. Build quality local links
Building links or getting backlinks remains as one of the oldest SEO practices that are still critically important for any business's website and for heating and cooling or appliance repair companies this is not an exception. The major problem however occurs when appliance repair companies start to look for quantity in backlinks rather than quality. Any websites you want to get backlinks from have to be vetted to make sure they are authoritative and relevant not only to the appliance repair industry but also geographically relevant. You will simply need to ask yourself if the link makes sense for your appliance repair website.
Links you can get from air conditioning repair or appliance repair training and DIY sites, home improvement websites, AC or appliance parts sites, HVAC and appliance sales websites, AC units and appliance manufacturers or any other business that is within the HVAC or appliance repair industry, are all great examples of links that would be highly relevant for an HVAC or appliance repair company website. Linking to some of these authority websites can be a great idea to start building relationships that can lead to securing backlinks.
7. Help users to find you online
In addition to creating your Google Business Profile or GMB listing, it's also important to add your business listings on relevant online directories. Make sure you have your listing on local business directories as well as air conditioning repair and appliance repair industry-specific directories.That is considered part of building citations online for your HVAC or appliance repair business, which is not only a local ranking factor but also importantly a way of ensuring that potential customers can easily find you online. While building these local citations, you have to make sure you include the same business name, address, and phone number, that is, NAP consistency. For your existing online presence, check to make sure you don't have any duplicate listings or inaccuracies that could result in any NAP inconsistencies.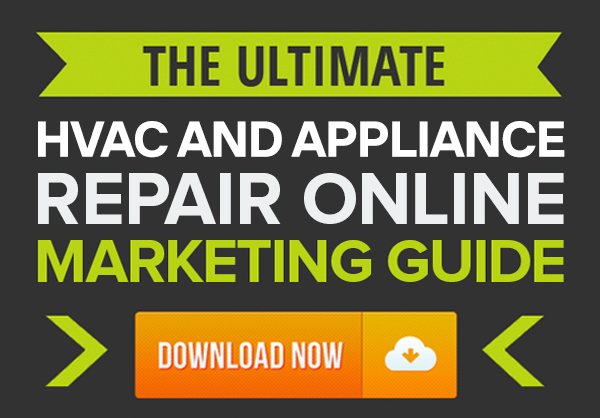 The market for home services like AC repair or appliance repair is increasingly becoming more competitive, but you can still find many tactics and strategies that you can employ and successfully drive more traffic to your website so that you can become more visible in local search results.
To succeed in staying ahead of the competition, heating and cooling business or appliance repair business owners must keep up with the speed of the ever changing consumer preferences as well as Google updates.
If there's one takeaway you can get from this article, that should be to know that an air conditioner repair company website or appliance repair business website will never be "finished". It is a marketing tool that keeps evolving and if used effectively it can help to generate leads and significantly keep enhancing your brand awareness.
Your HVAC company or appliance repair business website should be reviewed on a regular basis, through professional website SEO review that ensures the site is kept properly optimized for online search.
2022 can turn out to be a very great year for your AC repair business or appliance repair business — especially if you follow through with the implementation of the simple steps discussed in this article, so that you may end up with a winning local SEO strategy and roadmap, as part of your hvac marketing plan or appliance repair marketing strategies for lead generation. Schedule for your free evaluation if you would like our home appliances lead provider experts to help you today.